ESPN Music:

Guns N' Roses
May, 23, 2012
5/23/12
9:23
AM ET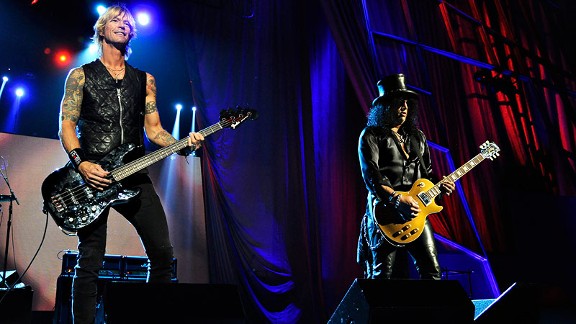 Kevin Mazur/WireImageDuff and Slash performed together at the Rock and Roll Hall of Fame induction in April.
Musician Duff McKagan's column runs every Wednesday on Playbook Sounds.
There seem to be so dang many sports topics over the last week that it is now too difficult for me to choose only one to write about. I will just shoot from the hip here:
• The Oklahoma City Thunder trounced the Lakers in five games. It didn't ever seem close, as far as knowing who really had the energy to win it. Being a lifetime Sonics fan, it was a strange thing trying to take a side in those five games. The Lakers are longtime rivals -- that just goes with being in the Pacific Division (even though the Sonics are gone; old habits die hard, I guess). But it seems I despise the owner of the Thunder even more ... and I found myself rooting for the Lakers on Monday in Game 5. Weird, for sure.
• The Bayern Munich stadium is ridiculous. I went to my pal Steve Jones' house Saturday to watch his Chelsea team upset the favored Munich team, whose home stadium is one of the most grandiose-looking arenas out there. State-of-the-art on steroids.
• The old Dallas Cowboys stadium, Texas Stadium: Yes, I know it had a hole in the roof so "God could watch his favorite team," but GN'R had its worst-ever gig there in 1988. We sucked it up pretty good. Thank god for Iggy Pop that night. He saved it all.
• It may be an obvious point to make now, but the L.A. Kings' story is kind of ridiculous. They are dominant and completely self-assured. All of this out of an eighth seed?
May, 16, 2012
5/16/12
11:53
AM ET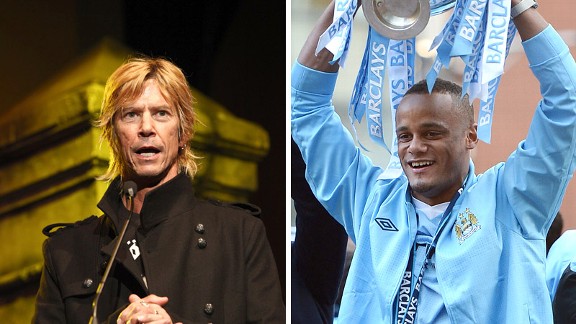 Getty ImagesDuff McKagan relates to Manchester City's triumphant season after years of suffering for City fans.
Musician Duff McKagan's column runs every Wednesday on Playbook Sounds.
In August 1987, I was headed out to play my first-ever arena tour. The Cult gave GN'R the opening slot for a tour that would cross Canada, come down the West Coast, and then shoot across to the Southwest and finally end in New Orleans.
I met Cult guitarist
especial
Billy Duffy on that first night in Halifax, Nova Scotia -- that was nearly 25 years ago now -- and even way back then, his soccer team Manchester City was on an epic losing streak of 20 or so years.
I could empathize. I am, after all, from Seattle.
You can't mess around when talking or writing about English football. If you are an American, and don't know much about that whole scene over there, be careful about saying such throwaway things as "I think I'll pull for Liverpool this year." I did that once in an interview with some UK magazine. I mean, why not? The Beatles are from Liverpool, and I thought it was a fairly innocuous and tame thing to state. No. I caught a whole rash of crap from each city I went to in England after that.
Manchester, England, is a city about the same size as Seattle or, say, Cleveland. Imagine if Cleveland had the Browns
and
the Steelers both hailing from the same city? Or if Seattle had the Seahawks
and
the Raiders? And both teams had originated from different sides of town, and had somehow split the fandom somewhere right down the middle of town.
May, 9, 2012
5/09/12
2:52
PM ET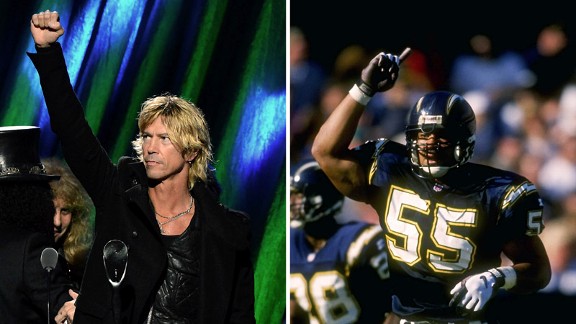 Getty ImagesDuff McKagan empathizes with the post-stardom struggle for athletes like Junior Seau.
Musician Duff McKagan's column runs every Wednesday on Playbook Sounds.
With the much-too-early passing of Junior Seau last week, we lost a giant of a football player. We lost a guy who was good outside of football, too. A mentor. A philanthropist. A good human being. At 43 years of age. We all probably looked at Seau's life from the outside as one that was just beginning.
Of course, none of us can be certain of the reasons for a person's suicide. Once in a while there is a note. Once in a while, there are clear-cut reasons that will inform us. But in Seau's case, there is just the blank emptiness of sudden loss, with no real answers.
It's a far stretch for me as a writer to try to bring anything more than assumption into this conversation. At this point, I would never want to try anything so base. Seau has a pristine reputation that he earned in his short life by being a stand-up man -- both on and off the field.
But something that really must be paid attention to now is how a player is supposed to transition into "normal" and civilian life, after the weekly rush of the game, and perhaps even undiagnosed brain trauma.
I can speak a little bit about the "rush of the game" part.
April, 25, 2012
4/25/12
4:15
PM ET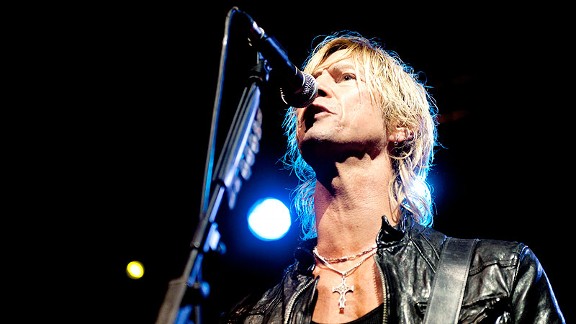 Ollie Millington/Getty ImagesDuff McKagan is touring with some huge names, such as Gene Simmons, in South America.
Musician Duff McKagan's column runs every Wednesday on Playbook Sounds.
To start off: You will read that I am far away and on the move, and it is tough for me to keep up on American sports, or really anything else for that matter. But I did see that elbow that Metta World Peace threw on James Harden. Dude should be thrown out of the league. If that elbow made contact with Harden's temple, he very well could have been a dead man. There is just no room, nor should there be temperance for this. Period.
And yes … I saw that the Mariners had a perfect game thrown against them. Here we go, Seattle baseball fans. Dig in. Ugh.
On to the current road trip:
About three months ago, I received a call from [Guns N' Roses/Velvet Revolver] drummer Matt Sorum, about me possibly doing some gigs with him and some "other dudes" down in South America in the spring. Matt seems to always have a few balls in the air, and I sort of chalked it up as something that only might happen.
Spring is here, and I am indeed in South America with Matt and those "other dudes."
In Los Angeles, there is a rock band called Camp Freddy. It is actually more of a collective, if you will, with a core band of Matt Sorum, Dave Navarro, Chris Chaney and Billy Morrison. Camp Freddy specializes in getting big-name guest singers -- from Ozzy to Lemmy to Elton John, Iggy Pop and Steven Tyler. It's always fun to see one of your rock heroes just kind of get up and jam with Camp Freddy. It's raw and refreshing, and some of you reading this have most likely been to a CF show somewhere or another.
April, 19, 2012
4/19/12
12:56
PM ET
Walk-up music is a way for baseball players to express themselves. For Carlos Beltran, it's about kissing up.
OK, maybe not kissing up. But he instead chose to honor his hitting coach with the St. Louis Cardinals.
According to Derrick Goold
of the St. Louis Post-Dispatch, when team officials asked Beltran what song he wanted to use before his at-bats, he didn't even know the name of the song, just who used it.
"I told them to give me the song that Mark McGwire had in all of his years in St. Louis," Beltran told Goold. "I wanted that one. He had good years here."
That song was "Welcome to the Jungle," the oft-used Guns N' Roses classic that has become a stadium anthem. But it was also McGwire's crowd-rousing music in 1998 when he hit 70 home runs. It became so associated with McGwire in St. Louis that the
team played it for him
when he publicly resurfaced in 2010 at the team's Winter Warm-Up convention, after the infamous Senate hearings and his
public steroids admission
.
April, 18, 2012
4/18/12
10:31
AM ET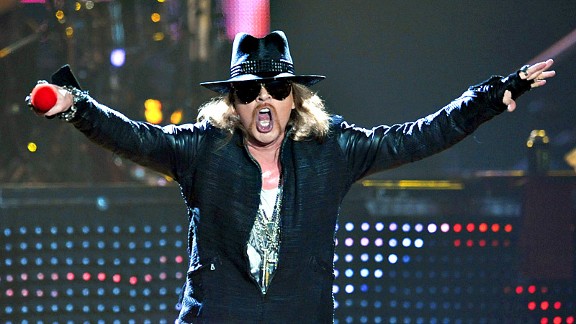 Mark Davis/Getty ImagesAxl Rose and Dan Gilbert both really want Cleveland to know they're very sorry.
Regardless of
claims made by its promotional materials
, Cleveland's got it bad. Its teams rarely demonstrate success. Its
rivers spontaneously combust
. And people always feel compelled to apologize to it for things.
First there was Dan Gilbert, whose sic-heavy
Comic Sans denunciation of LeBron James
conveyed outrage and remorse over the pitiful circumstances that had befallen Cavs fans. "I PERSONALLY GUARANTEE THAT THE CLEVELAND CAVALIERS WILL WIN AN NBA CHAMPIONSHIP BEFORE THE SELF-TITLED FORMER 'KING' WINS ONE," the team owner e-hollered, making an impossible promise that set up fans for additional disappointment.
And then most recently was rock legend and documented jungle-dweller Axl Rose (formerly William Rose, Bill Bailey, William Bruce Bailey, and William Bruce Rose Jr.), who
opted out of induction
into the Rock and Roll Hall of Fame and then wrote a
mea culpa letter to the downtrodden Clevelanders
. Please read the letter in its entirety, per Axl's wish, at the link provided, and then consider the similarities between his letter and Gilbert's.
For instance, each letter takes time to reassure the townspeople that it's not their fault, that they are faithful fans, that they don't suck as humans.
"Cleveland does in fact rock!" Axl claims, presumably with a straight face.
"You have given so much and deserve so much more," Gilbert writes. "You simply don't deserve this kind of cowardly betrayal."
Gilbert then goes on to say, "Some people think they should go to heaven but NOT have to die to get there." Translation: "Cleveland may be hell on earth, but put in your time and heaven will be all the sweeter."
In all seriousness, though, Cleveland ain't that bad. (Just an hour drive to Cedar Point!) But it should be noted that its best-reviewed hotspot on Yelp
is a cemetery
.
April, 11, 2012
4/11/12
10:00
AM ET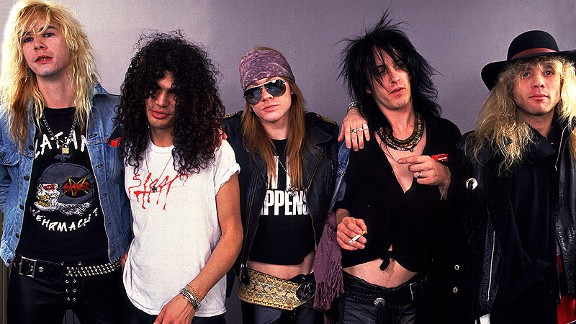 Paul Natkin/WireImageGuns N' Roses in 1987: A lot of attitude, even more hair, and a Hall of Fame future.
Editor's note: This column was published prior to Guns N' Roses singer Axl Rose's statement that he would not attend the Rock and Roll Hall of Fame ceremony, and wished to decline induction.
Some of you may know that my band Guns N' Roses will be inducted into the Rock and Roll Hall of Fame this weekend in Cleveland. My editor has been hoping that somehow I could write about what this whole thing is like from the "inside."
Truthfully, it has been hard for me to find a good place from which to start and write such an article, head-space wise.
We are not a band anymore, and haven't been for some time. We are all still alive and well, but there has been some muddy water that has gone underneath the bridge. But water, muddy or otherwise, does indeed flow past and forever away, and I have nothing but the best of memories and highest level of love and admiration and feelings of brotherhood with all of those dudes. Seriously.
I was sent a sort of open letter addressed to us guys in GNR from a fella named Chris Gehert on behalf of "Worldwide Guns N' Roses Fans," and it sort of stopped me short. I will run it now in its entirety:
"Dear Guns N' Roses,

On Saturday April 14th 2012 you will be inducted into the Rock and Roll Hall of Fame. This gave a great hope to every GNR fan on the planet for a one time reunion show. Our one and only chance to see the original lineup on stage together again, if only for five minutes. Something we've been told for years would never happen. Rumors swirled, the band denied, and the fans prayed. It will always be okay because you never promised us anything.

With less than 2 weeks before the induction, the fans are watching as our reunion hopes start to disappear like Marty McFly's family in a polaroid picture. Each day it seems like there is some new story about how there has been no communication, nobody knows what is required of them, nobody's talking, and nobody really seems to care.

We care.

It would be easy for you to just show up, accept the induction, spend a few awkward minutes together at a podium and not talk again until somebody's funeral. But this time we need more.

We are not trying to be selfish, God knows you have given us plenty of legendary songs, spectacular shows, and classic rock moments. You are sincerely the best rock band in the history of the world. All of your solo efforts and reincarnations of the group are awesome too.

Your music has inspired billions of people. Each one of you is still a fan inside. You loved Elton John, Aerosmith, Queen, Kiss, The Misfits, ELO and more. Please remember how great it feels to see your favorite band play.

We beg you to pick up the phone, grab your instruments, drag Izzy to Cleveland and play together.

You can make music history. Please do it. Give us one more memory. We deserve it.

We will continue to support you no matter what, but at the end of each concert Axl tells the crowd to "Not take ... from anyone." And that means ANYONE!

Sincerely,

Worldwide Guns N' Roses Fans."
And to this point: The one reason that I am going to Cleveland this weekend is not to savor in some polite accolade or because an award show is
that
important to me. I am going because I have realized how important this is all to those many, many fans that supported us and believed in us, and showed up for us in droves.
Music is not like sports, and hence, a Hall of Fame in music is almost a false pedestal to sit upon. There are no statistics in music and art. No band or artist is "better" than another. Music comes from a primal place. Thin air. Dreams. And a lot of really hard damn work.
No one worked harder than us back then, and we were very fortunate to have met each other in those dirty back alleys of Hollywood sometime in 1984. We meshed and wrote, created thunder and beauty, and parlayed our real-life experience into an album that somehow related to a whole angsty world that felt just like us right then and there. It was a brilliant time.
I, too, now hope that we can just play a couple of songs there, and just sort of throw the microphone down on the stage and walk off. The rock-and-roll world would be set ablaze once again ... and we could make a bunch of fans happy and sated to some degree.
But alas, I am only responsible for me, and can only speak for me. I have forgiven and forgotten. I have grown up and manned up. Part of me growing has been to realize I am powerless over others.
This whole deal, I hope, goes off without a hitch. I do hope we can achieve some grace in our acceptance. And I hope this grace, is enough, in the end, for the best rock and roll fans in the world. The Guns N' (f---ing) Roses fans.
-- Duff