November, 2, 2012
11/02/12
12:00
PM ET
By
Playbook Sounds
| ESPN.com
Here's a list of songs from performers featured on ESPN's programming, links to the artists' websites, and links for you to download and buy the songs and/or albums:
NOVEMBER MUSIC on ESPN PROGRAMMING
Daddy Yankee featuring Emelee
"Lose Control"
from the "Prestige" album (
iTunes
|
Amazon
)
Daddy Yankee featuring Prince Royce
"Ven Conmigo"
from the "Prestige" album (
iTunes
|
Amazon
)
Soundgarden
"Been Away Too Long"
from the "King Animal" album (
iTunes
|
Amazon
)
Jason Aldean with Eric Church & Luke Bryan
"The Only Way I Know"
from the "Night Train" album (
iTunes
|
Amazon
)
Jason Aldean
"Feel That Again"
from the "Night Train" album (
iTunes
|
Amazon
)
October, 20, 2012
10/20/12
12:00
PM ET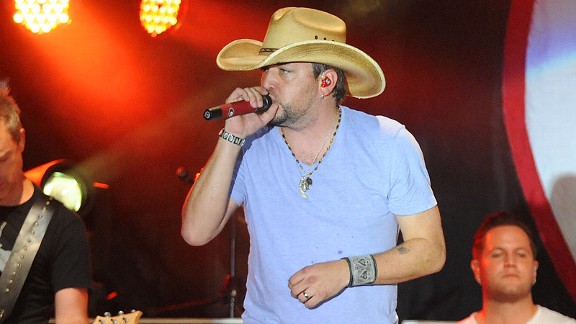 Chris McKay/Getty ImagesLifelong Bulldogs fan Aldean surprised UGA students with a performance in Athens earlier this week.
It is late summer in Georgia, a decade ago, and Jason Aldean is holding a ticket. It's not the scratch-off type and offers no financial fantasy. But for a poor country boy from Macon, Ga., it is an avenue to dreams far richer.
Aldean's father acquired the ticket from a friend and knew well its fleeting value. But he couldn't cash in just then, so he threw his boy a bone only a Bulldog could love.
The ticket granted entrance to a college football game between the Georgia Bulldogs and the Clemson Tigers. It included field access, which meant Aldean would walk the famous Sanford Stadium hedge line and achieve a lifelong dream.
He would share that dream with his cousin, Dale. They're the same age and as close as brothers. Neither had ever attended a Georgia football game, though both were die-hards.
Come game day, there they stood, on the Bulldogs' sideline, overwhelmed by the spectacle of 92,746 brethren.
"It was like going to church," Aldean says. "I didn't think it was possible, but I became an even bigger fan after that. Experiencing the players running by you and petting Uga ... it was surreal. It was spiritual."
September, 26, 2012
9/26/12
2:00
PM ET
By
Lynn Hoppes
| ESPN.com
Country singer Brantley Gilbert is in a much better place than just a few years ago.
These days, he's nominated for CMA's New Artist of the Year. He recently started dating actress/singer Jana Kramer. And, on Thursday, he kicks off his first headlining tour, "The Hell on Wheels," in Lafayette, Ind.
Seems appropriate.
[+] Enlarge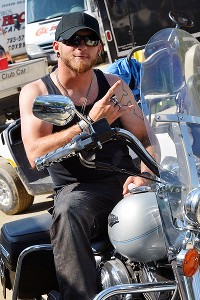 Rick Diamond/Getty ImagesBrantley Gilbert begins his headline tour on Thursday in Indiana.
Brantley, 27, was in a near-fatal wreck when he was 19, flipping his truck six times and crashing into a tree near his hometown of Jefferson, Ga. Then, a few years ago, while on a motorcycle, he avoided an elderly lady wrongly pulling out from a grocery store and spun his bike and survived that accident also.
"I'm definitely a man of faith. He was giving me back my life and I decided to focus my attention on music," said Gilbert, who had back-to-back No. 1 hits, "Country Must Be Country Wide," and "You Don't Know Her Like I Do." "I've been very blessed, and I take whatever I can get out of life."
That's how Gilbert has always been: playing the cards dealt him.
No wonder his first two albums were named "Modern Day Prodigal Son" and "Halfway to Heaven."
Brantley, who has written for Colt Ford and Jason Aldean, grew up in a small Georgia town. Really small.
He graduated with a class of 66. He always loved motorcycles, riding since he was 15. Harley-Davidsons, naturally.
He loved sports, playing mostly recreationally. And he said the whole town of Jefferson would go to the football games on Friday nights.
"Everywhere was a ghost town except for the stadium," Gilbert said. "We were all there for all the games. That was what you did in a small town."
Gilbert dabbled in music, performing at bars, but it was right after that car accident at 19, that everything changed. He got focused on music and began telling stories through his songs. And now he's ready to headline.
"I'm working as hard as I can these days," Gilbert said. "If I wasn't into music these days, I'm not sure what I'd be doing. That's all I know."
September, 14, 2012
9/14/12
10:00
AM ET
By
Lynn Hoppes
| ESPN.com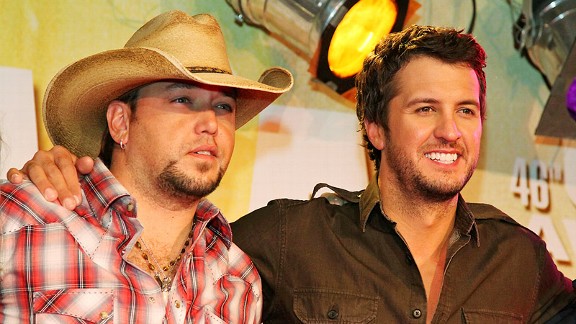 Rob Kim/Getty ImagesJason Aldean and Luke Bryan are huge University of Georgia fans and love tailgating.
Southern Living magazine,
in this month's issue
, is asking its readers who has the best college football tailgating in the South.
Georgia, which has about 100,000 tailgaters for every home game, is joined by Alabama, Texas, Oklahoma and Tennessee in the "Powerhouse" category.
Country stars Jason Aldean and Luke Bryan said there is no debate: It's all Georgia Bulldogs.
"Tailgating
is
college football. It's Saturdays grilling, drinking beer, chips and friends," said Aldean, who was born in Georgia and tries to attend as many games as he can. "In the Southeast, football is religion. It's an excitement unlike anything else."
Bryan graduated from Georgia Southern University but still considers himself a University of Georgia fan.
"There is nothing better than sitting in a parking lot drinking beer," the country singer said. "The leaves start changing colors. You know that fall is here. That's why I love tailgating."
September, 9, 2012
9/09/12
10:00
AM ET
By
Playbook Sounds
| ESPN.com
Here's a list of songs from performers featured on ESPN's Sunday NFL Countdown in September, links to the artists' websites and links for you to download and buy the songs and/or albums:
MUSIC on Sunday NFL Countdown
The Temptations
June, 20, 2012
6/20/12
10:10
AM ET
By
Adam LaRoche
| ESPN.com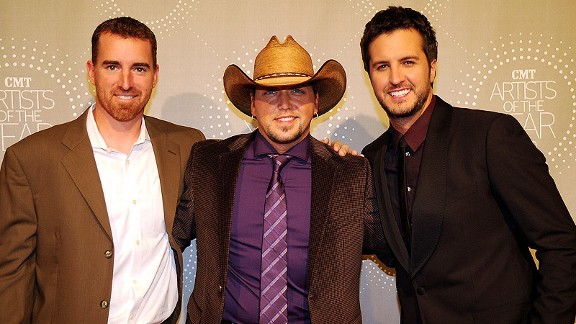 Rick Diamond/CMT/Getty ImagesFrom left, Adam LaRoche, Jason Aldean and Luke Bryan have forged a strong friendship.
Nationals first baseman Adam LaRoche reflects on his friendship with country singers Jason Aldean and Luke Bryan, as told to Louise K. Cornetta:
I met Luke Bryan and Jason Aldean when I was playing in Atlanta. I met Jason in 2005, when he sang the anthem. We exchanged numbers, started talking, did a little hunting together and became close.
That same year, Luke played a concert in Atlanta. Back in those days, he was just riding around in a minivan, pulling a trailer from club to club. A bunch of the guys from the team went to his concert at a bar called Wild Bill's, but we ended up getting there late and missing the entire thing. Just for us, Luke came back out on stage and played a private acoustic show for two hours.
Anyway, the three of us -- Jason, Luke and I -- started hanging out and doing a lot of hunting together, mostly white-tailed deer. We just bounce around to each other's farms and ranches and do a lot of hunting. I would say I'm the best, of course, but I don't think Luke and Jason would agree.