ESPN Music:

Jimmy Eat World
May, 23, 2013
5/23/13
2:45
PM ET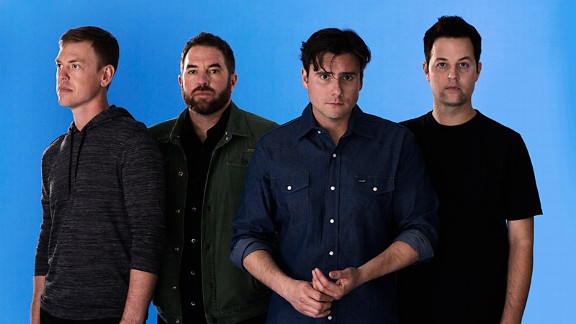 Courtesy of Michael Elins Jimmy Eat World drummer Zach Lind, second from left, is the son of a former MLB player.
Rockers Jimmy Eat World, set to release their seventh album, "Damage," on June 11, kicked off a world tour Friday on the West Coast before heading to Europe.
"Touring is the best part of it all," said the band's drummer, Zach Lind. "Playing live is kind of extension of the musical process but one of the things we've always lived for."
Jimmy Eat World played their first show of the 2013 tour at House of Blues in San Diego and are set to hit the Netherlands, England and Luxembourg before coming back to the States and Canada next month.
Along with the kick that Lind and his bandmates -- guitarist/vocalist Jim Adkins, guitarist Tom Linton and bass player Rick Burch -- get from the live experience, there are other experiences that helped Lind learn his craft.
"Basically I grew up in baseball," Lind said. "I feel like my background in baseball has helped me as a drummer."
Lind notes that the time he spent playing on the baseball diamond and in batting cages affected his drive and technique as a musician.
"Not only hitting a drum, but hitting it a certain way. There's the timing and the leverage in the swing. It's hard to pinpoint, but it's like there's a consistency as a drummer that's like looking for the right pop in [swinging] the bat."
Interestingly enough, for Lind, baseball was in the blood. His father, Jack Lind, played for the Arizona State Sun Devils team that won the 1967 World Series, crushing Houston 11-2. Jack Lind also went on later to play a few years as an infielder for the Milwaukee Brewers before retiring and spending time as a scout for the Houston Astros, then was a minor league baseball coach for more than a decade.