May, 9, 2012
5/09/12
2:52
PM ET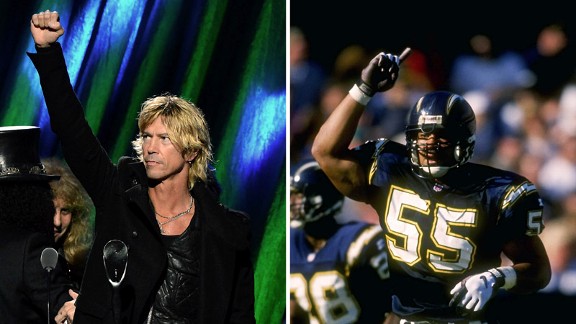 Getty ImagesDuff McKagan empathizes with the post-stardom struggle for athletes like Junior Seau.
Musician Duff McKagan's column runs every Wednesday on Playbook Sounds.
With the much-too-early passing of Junior Seau last week, we lost a giant of a football player. We lost a guy who was good outside of football, too. A mentor. A philanthropist. A good human being. At 43 years of age. We all probably looked at Seau's life from the outside as one that was just beginning.
Of course, none of us can be certain of the reasons for a person's suicide. Once in a while there is a note. Once in a while, there are clear-cut reasons that will inform us. But in Seau's case, there is just the blank emptiness of sudden loss, with no real answers.
It's a far stretch for me as a writer to try to bring anything more than assumption into this conversation. At this point, I would never want to try anything so base. Seau has a pristine reputation that he earned in his short life by being a stand-up man -- both on and off the field.
But something that really must be paid attention to now is how a player is supposed to transition into "normal" and civilian life, after the weekly rush of the game, and perhaps even undiagnosed brain trauma.
I can speak a little bit about the "rush of the game" part.