October, 19, 2012
10/19/12
1:00
PM ET
By
Jared Zwerling
| ESPN.com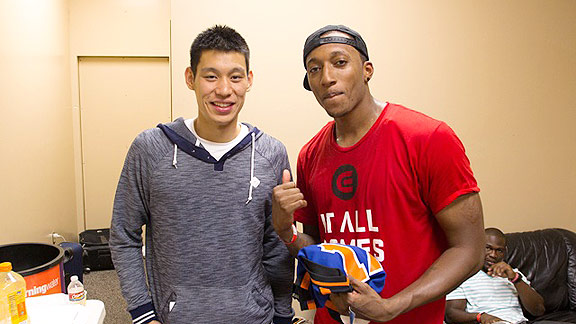 Reach RecordsLin has touted the Atlanta-based rapper Lecrae as his musical inspiration.
The date was Jan. 27, 2012, around 5:30 p.m., two hours before tipoff between the Miami Heat and New York Knicks. That's when Jeremy Lin met with the Heat's chaplain inside the bowels of American Airlines Arena. They prayed together that Lin would stay with the Knicks, who were considering releasing him in just a couple of days.
Well, we all know what happened next: Linsanity.
But what many people don't know is that Lin, who's a devout Christian, is still searching for answers -- nine months since his coming-out party -- because he hasn't yet adjusted to all of the global attention.
Lecrae, whom Lin calls his favorite rapper, found that out firsthand when the two of them met about three weeks ago after one of the rapper's shows in Houston, where the point guard is now living.
"What Jeremy talked to me about was just the reality of everyone kind of pulling at him, and a lot of people expecting him to make decisions that would please them," Lecrae told ESPN Playbook earlier this week. "He's kind of a reserved kid, a reserved young man, and it's not really his demeanor to be all in the mix like that, and to be pulled every which way.
"He was talking about that struggle and that wrestle, and I'm a firm believer in God. That's one of the things I was encouraging him, which I do with my music as well. I'm a firm believer that God has the answer, and God will provide the solution that you ultimately need. I just told him to stay connected to him in every which way. That's kind of what we talked about."