ESPN Music:

Los Angeles Kings
April, 29, 2013
4/29/13
10:00
AM ET
By
Lynn Hoppes
| ESPN.com
The perks of living in the city where the LA Kings practice. #goodtalk vine.co/v/bxuuilT9XI2

— Jonathan Vigil (@JonathanVigil) April 26, 2013
Lead singer Jonathan Vigil of
The Ghost Inside
will have to rely on his computer for results of the NHL playoffs, which begin this week.
See, Vigil is a big fan of the Los Angeles Kings. And the hard-core band from Los Angeles is in Asia for the next three weeks.
"I'm obsessed," said Vigil, who helped form the band in 2004. "I'll be able to watch the games from my phone backstage at the shows. I love when kids yell out the score to me during the set. Having the Kings win on days of our shows is awesome."
[+] Enlarge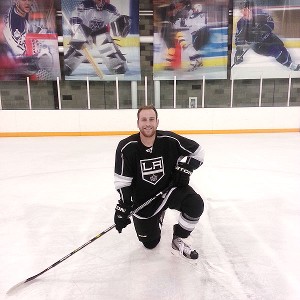 Courtesy of Jonathan VigilJonathan Vigil of The Ghost Inside has been hooked on hockey for the past eight years.
Vigil didn't start out loving hockey. Like many kids growing up in Southern California, his first love was baseball. But eight years ago, a friend had some extra hockey equipment and asked Vigil to play a recreational game. And he was hooked.
Playbook had a few minutes with Vigil to talk hockey and music.
Was it really love at first sight with you and hockey?
"Yep. I skated that first time and fell in love. It's all I think about. It's so awesome."
And it seems fans and the Kings notice your love.
"I'm not sure who runs the Kings' Twitter feed, but they sent me a message one time talking about our new record. That was pretty awesome to see that. This one time on Twitter at the Philly show, I said I'd kiss the fans if the Kings won. As I got off stage, fans told me the Kings had won! I didn't think people were checking Twitter during a show. I did kiss a few -- on the cheek."
January, 23, 2013
1/23/13
8:00
AM ET
By
Scott Neumyer
| ESPN The Magazine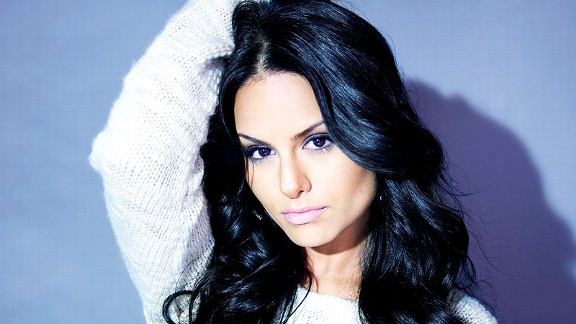 Courtesy of Pia ToscanoThe "American Idol" alum sang the anthem at every L.A. Kings' home game en route to the Stanley Cup.
Pia Toscano probably never imagined that she'd have so many hockey fans chanting her name, but after becoming the Los Angeles Kings' good-luck charm at the end of their championship run last season, the former "American Idol" contestant has become a fan favorite at the Staples Center.
It started innocently, with her singing the national anthem at a Dallas Stars-L.A. Kings game at Staples last January. Then she sang again at the start of the team's 2012 playoff run in April -- and the Kings just kept winning. Not wanting to mess with a streak, they kept bringing Toscano back to center ice to sing and, before long, they were hoisting Lord Stanley's silver and nickel-alloy cup above their victorious heads. How's that for good luck?
This past Saturday, Toscano was at Staples Center to sing the anthem at the Kings' lockout-delayed season opener against the Chicago Blackhawks.
She recently chatted with ESPN Playbook about becoming a Stanley Cup champ's talisman, loving Mike Piazza and dreaming of singing at the Super Bowl.
September, 4, 2012
9/04/12
9:35
AM ET
By
Lynn Hoppes
| ESPN.com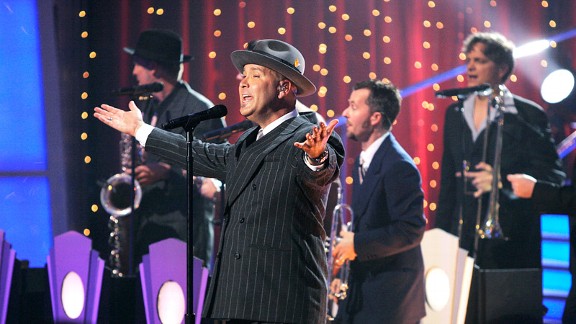 Kelsey McNeal/ABC via Getty ImagesBig Bad Voodoo Daddy, led by Scotty Morris, has a new CD out today, "Rattle Them Bones."
Scotty Morris, lead singer for Big Bad Voodoo Daddy, said playing at the Super Bowl in 1999 and providing music for the 1996 Vince Vaughn-driven movie "Swingers" isn't really what the band is about.
"We personally stay away from all that glitz and glamour. Hollywood is not us. It's artificial and non-creative," Morris said. "We didn't drop out. We just didn't play the game on those terms. We feel we're the baddest band on the planet."
And
Big Bad Voodoo Daddy
is back today with its new CD, "Rattle Them Bones."
Playbook had a few minutes with Morris to talk about the new music and sports in Los Angeles.
You consider you and the other six members of the contemporary swing band a team, right?
"We are coming up on 20 years with all the same guys. We're a team that wants to get better. We challenge ourselves each night. We like it. It's like being a boxer with a good chin."
June, 6, 2012
6/06/12
3:15
PM ET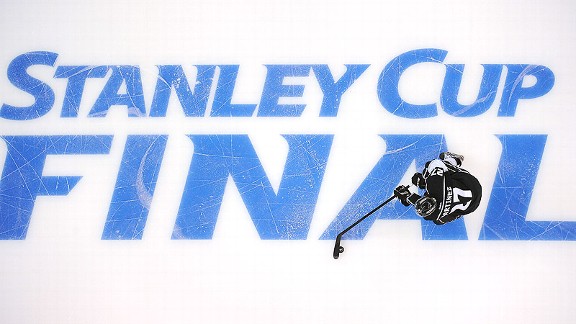 Noah Graham/NHLI/Getty ImagesThe Los Angeles Kings have made a historic run through the Stanley Cup playoffs.
Musician Duff McKagan's column runs every Wednesday on Playbook Sounds.
Around the time that Guns N' Roses was getting our thing going in mid-'80s Los Angeles, there was one other band that was the perfect angry counterpart to what we were doing: Jane's Addiction.
JA was weird, edgy, dark and wrote the most spectacular riffs of any band since. Bass player Eric Avery, I came to find out, was a huge part of the songwriting for Jane's, and perhaps singularly informed that band of which direction to go in those early formative years.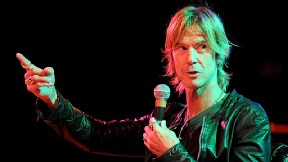 Robert Reiners/FilmMagicDuff McKagan
Eric Avery is also a long-suffering Los Angeles Kings fan. And perhaps today or this week, those years of pain will come to an end. The Kings just appear to be too dominant to do anything but win the Stanley Cup.
The L.A. Kings fan community is an odd bunch. From what I have observed being in L.A. so much myself, Kings fans aren't necessarily the typical three- or four-sport year-round spectator of all of the other L.A. teams. This is also true of Avery. He doesn't follow the Lakers, really. Nor the Dodgers or Angels.
I had noticed throughout the season that Eric was tweeting more and more about the Kings, as they just scraped by into the playoffs and as they became the first No. 8 seed in NHL history to beat the top three seeded teams. It's weird to see a guy like him being so animated about sports. He tends to come more from an art side, than the sport side of life. This speaks for the Kings and their fans. They are an odd bunch who have taken it on the nose for quite some time.
April, 27, 2012
4/27/12
4:23
PM ET
Every athlete needs a good pump-up jam to get them into battle mode, especially in a sport as adrenaline-heavy as hockey. So when the Los Angeles Kings enter their first conference semifinal in over a decade against the Blues on Saturday, you better believe they'll be bumpin' some monster tunes. Tunes like … uh … Celine Dion. And, um, whatever's spinning at the local NPR affiliate.
Check out this video of Kings forward Colin Fraser grilling his teammates on what they listen to before games. While some prefer country and "techno junk," Davis Drewiske and Kevin Westgarth gotta get their listener-supported public radio fix. This is no surprise coming from Drewiske, who earlier this month did a guest DJ set for KCRW, throwing down the same playlist they use in the fitting rooms at The Gap.