September, 2, 2013
9/02/13
2:36
PM ET
May, 9, 2013
5/09/13
12:00
PM ET
By
Lynn Hoppes
| ESPN.com
Peyton Manning might be a four-time NFL MVP, but a country singer? Not so much.
Just a few weeks ago, Manning joined country star
Luke Bryan
on stage at Manning's Children's Hospital gala in Indianapolis to sing a few songs, including Johnny Cash's "Folsom Prison Blues."
"I think he did pretty good considering he's a pretty awesome quarterback," said Bryan, who recently was named ACM's Entertainer of the Year. "Well, maybe he didn't sing that great. But his heart is in the right place."
Manning invited Bryan to his yearly charity event, and Bryan said, "I took about 1 second to say yes."
There was some good-natured college ribbing going on. Manning graduated from the University of Tennessee, and Bryan went to Georgia Southern but is also a huge Georgia Bulldogs fan.
"We had a great couple of days. We played golf. We hung out," Bryan said. "I had never met him before that weekend. I was always a huge fan. He's such a driven athlete."
Now Bryan, who is equally driven, is set to hit the road for his Dirt Road Diaries Tour and is finishing up his next album.
"Life has never been better. I'm getting these amazing opportunities," Bryan said. "It's time now to get back on stage where I love being. I'm having a blast up there, and I want to give the fans a great experience."
November, 2, 2012
11/02/12
12:00
PM ET
By
Playbook Sounds
| ESPN.com
Here's a list of songs from performers featured on ESPN's programming, links to the artists' websites, and links for you to download and buy the songs and/or albums:
NOVEMBER MUSIC on ESPN PROGRAMMING
Daddy Yankee featuring Emelee
"Lose Control"
from the "Prestige" album (
iTunes
|
Amazon
)
Daddy Yankee featuring Prince Royce
"Ven Conmigo"
from the "Prestige" album (
iTunes
|
Amazon
)
Soundgarden
"Been Away Too Long"
from the "King Animal" album (
iTunes
|
Amazon
)
Jason Aldean with Eric Church & Luke Bryan
"The Only Way I Know"
from the "Night Train" album (
iTunes
|
Amazon
)
Jason Aldean
"Feel That Again"
from the "Night Train" album (
iTunes
|
Amazon
)
September, 14, 2012
9/14/12
10:00
AM ET
By
Lynn Hoppes
| ESPN.com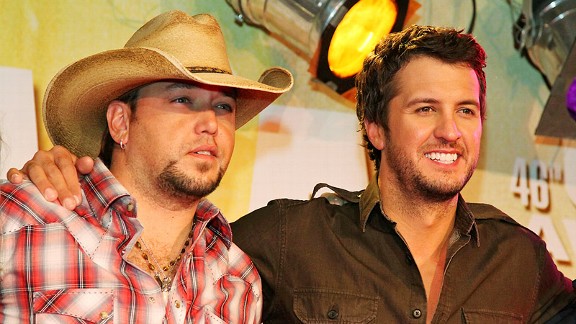 Rob Kim/Getty ImagesJason Aldean and Luke Bryan are huge University of Georgia fans and love tailgating.
Southern Living magazine,
in this month's issue
, is asking its readers who has the best college football tailgating in the South.
Georgia, which has about 100,000 tailgaters for every home game, is joined by Alabama, Texas, Oklahoma and Tennessee in the "Powerhouse" category.
Country stars Jason Aldean and Luke Bryan said there is no debate: It's all Georgia Bulldogs.
"Tailgating
is
college football. It's Saturdays grilling, drinking beer, chips and friends," said Aldean, who was born in Georgia and tries to attend as many games as he can. "In the Southeast, football is religion. It's an excitement unlike anything else."
Bryan graduated from Georgia Southern University but still considers himself a University of Georgia fan.
"There is nothing better than sitting in a parking lot drinking beer," the country singer said. "The leaves start changing colors. You know that fall is here. That's why I love tailgating."
June, 20, 2012
6/20/12
10:10
AM ET
By
Adam LaRoche
| ESPN.com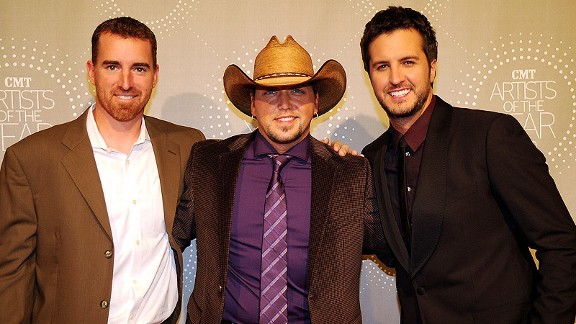 Rick Diamond/CMT/Getty ImagesFrom left, Adam LaRoche, Jason Aldean and Luke Bryan have forged a strong friendship.
Nationals first baseman Adam LaRoche reflects on his friendship with country singers Jason Aldean and Luke Bryan, as told to Louise K. Cornetta:
I met Luke Bryan and Jason Aldean when I was playing in Atlanta. I met Jason in 2005, when he sang the anthem. We exchanged numbers, started talking, did a little hunting together and became close.
That same year, Luke played a concert in Atlanta. Back in those days, he was just riding around in a minivan, pulling a trailer from club to club. A bunch of the guys from the team went to his concert at a bar called Wild Bill's, but we ended up getting there late and missing the entire thing. Just for us, Luke came back out on stage and played a private acoustic show for two hours.
Anyway, the three of us -- Jason, Luke and I -- started hanging out and doing a lot of hunting together, mostly white-tailed deer. We just bounce around to each other's farms and ranches and do a lot of hunting. I would say I'm the best, of course, but I don't think Luke and Jason would agree.