December, 16, 2013
12/16/13
3:58
PM ET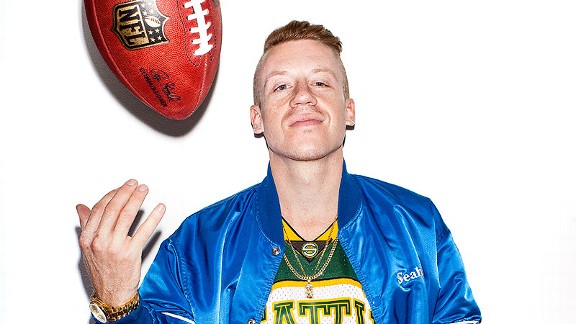 Chris McPherson for ESPNMacklemore, along with Ryan Lewis, is nominated in four major categories for the 56th annual Grammy Awards, scheduled for Jan. 26 in Los Angeles.
The 2014 Grammy Award nominees are out and SportsNation wants to know: Which songs and albums are most deserving of recognition? To make your voice heard,
vote here!
It could be a banner night for Macklemore & Ryan Lewis, who are up for Album Of The Year, Song Of The Year, Best New Artist and Best Rap Album.

But the duo is facing some tough competition. Taylor Swift is after her second Album Of The Year title for "Red," while Kendrick Lamar is a double nominee for the best album and best new artist honors.
Jay Z, who leads all artists with nine nominations, is also up for the best rap album award, as are Drake and Kanye West.
Also vying for Album Of The Year are Sara Bareilles and Daft Punk, while James Blake, Kacey Musgraves and Ed Sheeran are nominated for Best New Artist.
You can vote here in SportsNation's Grammy polls and learn more about the 56th Grammy Awards at the official website.
February, 7, 2013
2/07/13
7:00
AM ET
By
ESPN The Magazine
| ESPN The Magazine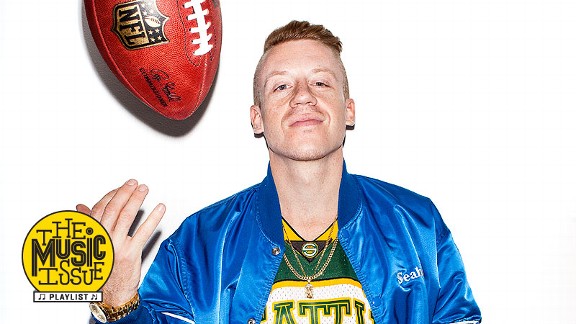 Chris McPherson for ESPNThe Seattle rapper vibes to R.Kelly, House of Pain, Queen and Billy Joel.
For ESPN The Magazine's Feb. 18 Music Issue, we gathered music playlists from the subjects of each of the feature stories. As part of our supplemental coverage on Playbook Sounds, we will be posting all of the Music Issue playlists over the next two weeks.
In ESPN The Magazine's Music Issue, Steve Wulf writes how Seattle-based rapper Macklemore has used influences from sports culture in his music. Read the
story
.
January, 6, 2013
1/06/13
6:00
PM ET
By
Playbook Sounds
| ESPN.com
December, 19, 2012
12/19/12
11:00
AM ET
By
Jared Zwerling
| ESPN.com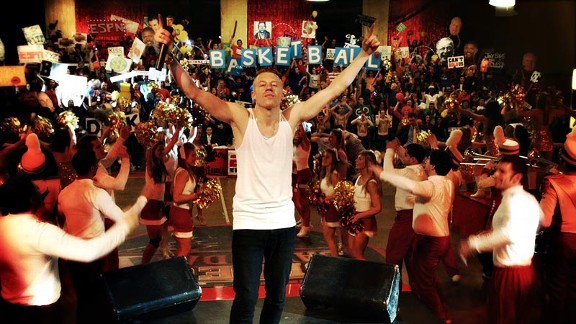 ESPNTBDThe Seattle rapper recently shot the new intro for College Gameday, which features his track "Can't Hold Us."
There's a reason why college students relate so well to Macklemore. He's like the best, most popular rapper on campus who keeps things on their level: realistic and entertaining.
For example, on the 29-year-old's biggest hit, "
Thrift Shop
," he cleverly and hilariously talks about rolling up to a club wearing discount clothes.
Now what college student hasn't done that?
Starting in January, kids at universities across the nation will be able to enjoy Macklemore's music whenever they tune in to "College GameDay." Macklemore's track "Can't Hold Us" from his debut album, "The Heist," is the brand-new theme song for ESPN's college basketball show. The rapper recently filmed a special video for the show intro, which will premiere next month.
As it turns out, Macklemore has previously dedicated two full songs to sports themes.
In "
Wings
," he discusses his childhood affinity for Air Jordans, while also addressing themes of materialism and commercialism.
Then, in "
My Oh My
," the Seattle native pays tribute to legendary Mariners sportscaster Dave Niehaus, who died in 2010.
Seahawks coach Pete Carroll was so moved by it that he tweeted, "Really loving 'My oh my' by @macklemore! What a cool song for Seattelites!"
Since then, the two have become good friends.
Most recently, Macklemore and his longtime producer, Ryan Lewis, headlined their nationwide "Heist World Tour," which just wrapped up this week.
After they unwind for the holidays, they'll continue making their campus rounds, and then travel to perform in Australia and New Zealand for the first time.
Before they get even busier, Macklemore spoke with ESPN Playbook to reminisce about Michael Jordan and reflect on his current endeavors in sports and music.