ESPN Music:

Manny Pacquiao
February, 28, 2013
2/28/13
2:00
PM ET
By
Lynn Hoppes
| ESPN.com
ESPN's "Friday Night Fights" will feature an IBF title fight between featherweight champion Billy Dib (35-1, 21 KOs) and undefeated challenger Evgeny Gradovich (15-0, 8 KOs) in a 12-round main event at Foxwoods Resort Casino in Mashantucket, Conn.
50 Cent, who promotes Dib, was at ESPN's headquarters in Bristol, Conn., on Thursday afternoon to talk about boxing, his music career and what's ahead. He spent a few minutes with Playbook.
You live just down the road in a mansion in Farmington, Conn., but you've never been to ESPN?
This is my first opportunity to do this. What do you guys call this? A car wash, right?
Let's first talk about that house. You've been trying to sell it for years. It's 48,515 square feet with 19 bedrooms and 19 full bathrooms. And you started out asking $18.5 million. You lowered it to about $10 million. What's the status?
I haven't been to that house much. I travel a lot. I probably should take it off the market. I have family living there. They love riding their three-wheelers up and down the block. You know the street is '50' Poplar Hill Road? Marshall Mathers [Eminem] wrote on the stop sign on the street. I might just modify it and do some different things with it.
February, 7, 2013
2/07/13
7:00
AM ET
By
D'Arcy Maine
| ESPN The Magazine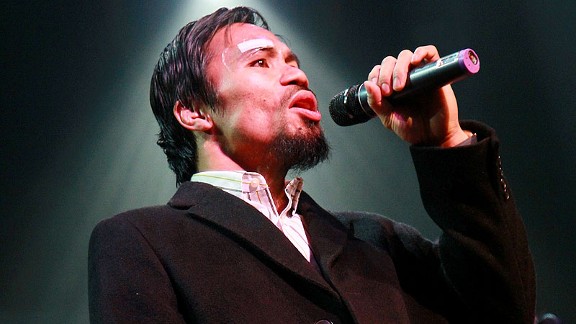 David Livingston/Getty ImagesWhen we saw Manny Pacquiao sing on "Jimmy Kimmel," we thought he was joking. He wasn't.
Just because you
can
do something, doesn't mean you should.
The following list proves this very point. Sure, most athletes have the money to finance the recording and production of an album -- but that definitely doesn't make it a good idea.
While there are (sadly) hundreds of options for the worst-ever songs performed by athletes, we were somehow able to whittle down the list to five records -- records that we hope are one day broken, literally.
Here, then, are the worst of the worst.
September, 24, 2012
9/24/12
10:00
AM ET
By
Lynn Hoppes
| ESPN.com


Boxing legend Manny Pacquiao is a man of few words -- unless he's singing.

Born in the Philippines, the 33-year-old Pacquiao was at ESPN's studios in Bristol, Conn., recently to promote his Dec. 8 welterweight fight against Juan Manuel Marquez.

The duo have fought three previous times, with Pacquiao (54-4-2, 38 KOs) standing at 2-0-1 against Marquez (54-6-1, 39 KOs) with all the fights ending in controversial decisions.

The 2004 featherweight championship fight went to a draw, while the 2008 junior-lightweight championship was won by Pacquiao in a split decision and the November 2011 fight was won by Pacquiao by majority decision.

Playbook talked with Pacquiao about the fight, his music career and politics.

Let's talk about that recent photo of you and 50 Cent, close buddy with your adversary, Floyd Mayweather. What are you and 50 Cent doing together?