ESPN Music:

Marcos Ambrose
August, 14, 2012
8/14/12
3:00
PM ET
By
Dan Friedell
| Special to ESPN.com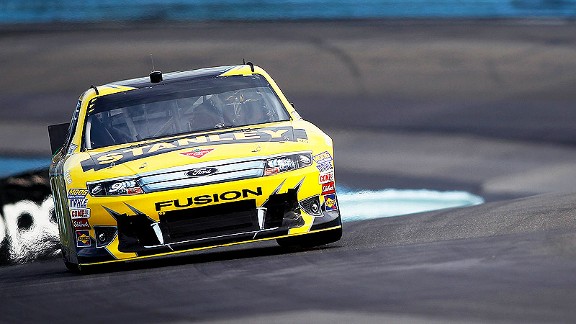 Todd Warshaw/Getty Images/NASCARMarcos Ambrose has won the Sprint Cup race at Watkins Glen in each of the last two seasons.
It's hard for some of NASCAR's drivers to describe the way a road course sounds. But they can tell you for sure it isn't the same as your common oval course.
"In a place like Michigan, you leave pit lane, and you get up to top gear and you're holding these big RPMs the whole way around," says Marcos Ambrose, a two-time winner of the Sprint Cup race at Watkins Glen, a road course, including this past Sunday's Finger Lakes 355. "The engine runs at 9200 to 9600 RPMs, and it's just a constant drone. If you lift off the gas, it sounds like a deflating balloon. You can't get the speed back."
There is only one straightaway at Watkins Glen, an 11-turn course in New York, that might be long enough for the cars to rev that high in fourth gear. Otherwise, drivers rely more on car handling and gearshifts than sheer speed. While a driver might fear not having enough top-end speed on an oval, on a road course the worry is entering a turn without enough power.
Ambrose, who won the pole in June at the Toyota/Save Mart 350 (the only other road course of the season) in Sonoma, Calif., says road racing is totally different from oval racing -- which could be why some drivers seem to just cross their fingers and hope they don't get lapped.