ESPN Music:

Maybach Music Group
April, 18, 2013
Apr 18
10:00
AM ET
By
Lynn Hoppes
| ESPN.com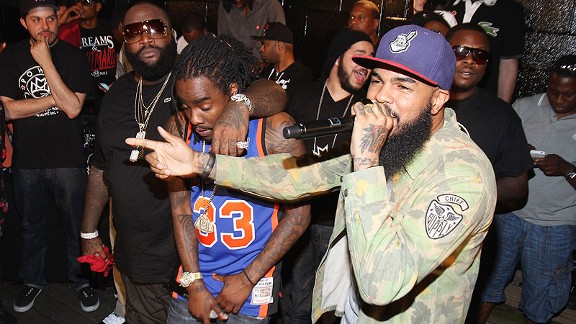 Jerritt Clark/Getty ImagesRick Ross, Wale and Stalley performed in New York, all part of Maybach Music Group.
With the NBA playoffs set to begin this weekend, Ohio native and Maybach Music Group member Stalley will be rooting on hometown friend LeBron James closely.
See, Stalley knows that James is an Ohio guy and will someday return to resurrect the franchise -- Cleveland Cavaliers -- he left.
"I think soon he'll honestly go back and give them a ring and do as he promised," said Stalley, who was quite critical of James during the "Decision" of 2010. "When that happens, everyone will erase the past, and he'll be king again here. He'll enjoy his life back home."
Ohio is and will always be home for Stalley, born Kyle Myricks. He started out making mixtapes and started working with big-time producers and he signed with Rick Ross' Maybach Music Group and will release his debut album this summer.
In fact, growing up in Massillon, Ohio, Stalley played James in high school basketball. Stalley was a 6-2 player also with NBA aspirations.
"I tip my hat to LeBron. I knew he was going to be something special. I saw him up close a lot. He was an animal," Stalley said. "I'm still such a big fan of his. He is my motivation. Seeing him do what he does, why can't I get Grammys? Why can't I sell platinum records? It makes me work harder."
Playbook had a few minutes with Stalley to talk LeBron, music and his love of cars.
You played basketball as a teen. Think you could have gone pro?
"I don't see why I couldn't. I always had that dream. I could see myself playing overseas or even the NBA. I'm not a person who lives out of my means so I know the road wouldn't have been easy. I think music is very similar. You have to put in the work."