July, 15, 2014
7/15/14
1:45
PM ET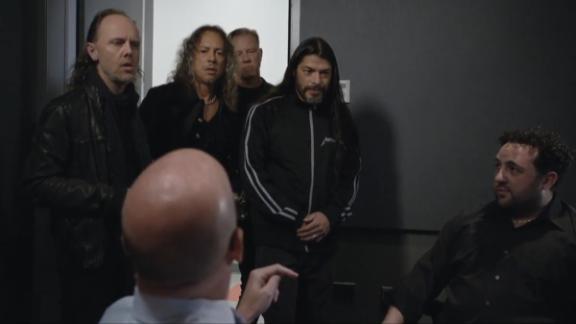 What is a legendary heavy metal band to do when their lone sports gig dries up? Head to ESPN headquarters and start pounding the phones!
In the latest "This is SportsCenter" commercial, heavy metal masters Metallica, who for years were the soundtrack for Mariano Rivera's late-game entrances, find themselves at a crossroads after the legendary pitcher hangs up his glove. The spot features ESPN's Jay Harris, Scott Van Pelt and Stuart Scott.
June, 23, 2014
6/23/14
5:40
PM ET
It could be a very loud summer.
The "Metallica by Request" tour recently stopped in Bogata, Colombia, where the heavy metal masters debuted a new song, "Lords Of Summer." Video of the new track surfaced, and the band followed that up with a "Garage Days"-style studio recording. (Think "Helpless" off "The $5.98 EP: Garage Days Re-Revisited" and you're in the right sonic neighborhood.)
If you're of a certain age, or if you merely appreciate the way the band the brought the goods on "Ride The Lightning" and "Master Of Puppets" in the 1980s, then you're going to appreciate this 8-minute, 20-second celebration of all things thrash metal.
ESPN will be featuring the song all summer and you can sample or purchase it on
iTunes
.
Drummer Lars Ulrich
told Rolling Stone
that the song is "fairly representative of where our creative headspace is at right now."
May, 6, 2014
5/06/14
5:33
PM ET


Metallica were after hits of a different sort when they visited AT&T Park last week for batting practice before a San Francisco Giants game. The band threw a few pitches, took a few swings and generally had a good time hanging out at their hometown ballpark. (As all good headbangers know, Metallica traces its early roots to the San Francisco Bay Area, having moved there from Los Angeles at the request of their late, great bassist, Cliff Burton.)

Pioneering thrash metal band and baseball might seem like an odd combination, but Metallica and the Giants have a history together. The team hosted the band at "Metallica Night" last season and they did it up right -- drummer Lars Ulrich threw out the first pitch and Kirk Hammett and James Hetfield played a searing guitar duet of "The Star-Spangled Banner." It was so much fun that they're doing it again on Friday, May 16.

January, 7, 2014
1/07/14
3:58
PM ET
Here's a list of songs from performers featured on ESPN's programming, along with links to the artist's websites and links for you to download and buy the songs and/or albums:
Kid Runner:
"Move"
single. (
iTunes
|
Amazon
)
Metallica:
"Wherever I May Roam," "Hit The Lights"
and
"Ride The Lightning"
from the "Through The Never" soundtrack. (
iTunes
|
Amazon
)
Yandel:
"Da Show"
from the "De Lider a Leyenda" album. (
iTunes
|
Amazon
)
Outernational:
"The Beginning Is Here"
from the "Todos Somos Ilegales" album (
iTunes
|
Amazon
)
"We Own The Night"
from the "Here Is The Rose" album. (
iTunes
|
Amazon
)
September, 2, 2013
9/02/13
2:41
PM ET