ESPN Music:

Miami Hurricanes
March, 21, 2013
3/21/13
1:39
PM ET
By
Zach McCann
| ESPN.com

NEW YORK -- Few people are enjoying basketball right now more than hip-hop artist Flo Rida.

The South Florida resident, who owns Miami Heat courtside season tickets and grew up a few miles from the University of Miami, has been in attendance for much of the Miami Heat's historic 24-game (and counting) winning streak. And he's vocal about his support for "The U," a No. 2 seed in the NCAA tournament.

Flo Rida spoke with ESPN Playbook about his Heat theme song, his custom-made Heat championship ring, and more on Wednesday afternoon as he helped announce Samsung's new line of TVs.

Is there a better time to be a Miami Heat fan?

It's super exciting. That dunk the other day, LeBron over Jason Terry, that was crazy. I wish I was in Boston watching it. I'm definitely courtside every game I can make. I have season tickets, so I'm just excited about the Heat. We need to get another championship. I actually bought a championship ring last year.


June, 15, 2012
6/15/12
10:50
AM ET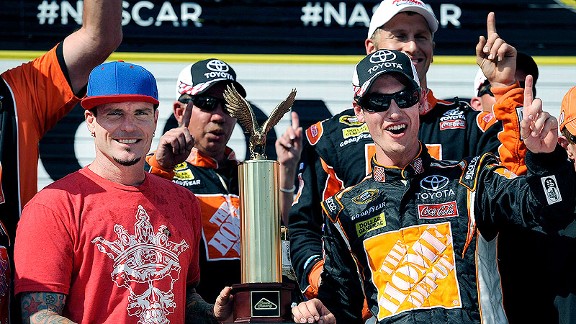 Jerome Miron-US PresswireSuddenly, Vanilla Ice is everywhere again, including the Pocono winner's circle with Joey Logano.
Vanilla Ice had a meteoric rise, selling more than 13 million copies of his debut album, "To The Extreme."
He faced an equally potent backlash, falling out of favor and recasting himself as a rap-metal artist and a reality TV star alongside other fallen idols on "The Surreal Life."
With a starring role in the new Adam Sandler movie "That's My Boy," Ice has come full circle as "Uncle Vanny," who cruises around in an old-school Mustang 5.0 convertible.
And Rob Van Winkle, as he now prefers to be called, has emerged from the shadow of the Iceman. The post-hype anger has subsided, and instead a friendly, cheerfully corny entertainer is grinding out interviews for the movie and his home-renovation show
"The Vanilla Ice Project"
on DIY Network.
"I'm a random guy. I shake a hand and make a friend. I don't do egotistical things," Van Winkle says. "I meet everybody. If somebody invites me to their house and they got a drum set close, I'm going to play, man. Let's jam. I don't care. Get in where you fit in and enjoy the experience."
Decidedly low-maintenance, the man who once cooked MCs like a pound of bacon left ESPN and headed over to the nearby Chili's for some veggie fajitas.