March, 26, 2013
3/26/13
6:00
AM ET
By
D'Arcy Maine
| ESPN.com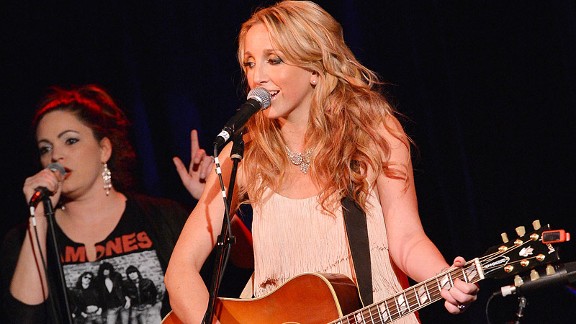 Rick Diamond/Getty ImagesAshley Monroe, right, has quite the busy career. But she still gets to see baseball from time to time.
Just 26 years old, country singer Ashley Monroe has had her fair share of struggles in the music business. Having inked her first deal as a teenager, her debut album was set to be released in 2006, but didn't see the light of day until 2009 as a digital exclusive with little fanfare. With a fledgling solo career, Monroe made her name as a songwriter, working with some of the biggest names in country. In 2011 she teamed up with pals Miranda Lambert and Angaleena Presley to form the Pistol Annies. Since their critically acclaimed debut album later that year, Monroe's career has skyrocketed.
Earlier this month Monroe finally released a solo record. "Like a Rose" has already garnered rave reviews and impressive sales. With a new Pistol Annies record set for a May release -- and a recent engagement to Chicago White Sox pitcher John Danks -- it seems like Monroe is on top of the world both professionally and personally.
We chatted music and baseball with Monroe over the phone earlier this month, in between performances at SXSW in Austin.
Playbook:
Congrats on the album! How does it feel to be getting such positive reviews and acclaim?
Monroe:
I can't believe it. It's really overwhelming. At first I thought my mom was just sending me the good reviews ...
Playbook:
After the disappointment of your first record never getting a proper release, how did you manage to stay focused and not get discouraged?
June, 21, 2012
6/21/12
2:00
PM ET
By
Mike Trask
| Special to ESPN.com
The Tampa Bay Rays aren't exactly known for their celebrity fans.
But there's a huge one in Against Me!, the Florida-based band currently on tour with punk legends The Cult.
[+] Enlarge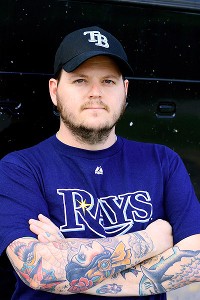 Courtesy of James BowmanAgainst Me! guitarist James Bowman has been a devoted Rays fan since the team's inception.
"I grew up in the Tampa-St. Pete area and I was living there when we got the news about getting a major league team," said Against Me! guitarist James Bowman. "A bunch of friends and I pooled our money. We bought season tickets to the inaugural season.
"There were some lean years. But we stuck it out."
Lean might be a generous word to describe a 106-loss season in 2002, or the 10 straight sub-.500 seasons to begin franchise history.
Yet, times have changed. The Rays are no longer the Devil Rays, nor are they laughingstocks. They are perennial contenders in the toughest division in baseball and Bowman now travels the world with Against Me!, jamming to hit songs like "I Was a Teenage Anarchist" and "Thrash Unreal."
The band's lead singer, Laura Jane Grace, recently made headlines with her decision to come out as transgender and undergo hormone replacement therapy. An outpouring of support for the band and for Grace, known formerly as Tom Gabel, came immediately. Athletes such as WWE Champion CM Punk, who wore an Against Me! shirt
during his snowangeling appearance
on Jimmy Fallon earlier this week, tweeted in support of the band.
June, 13, 2012
6/13/12
9:00
AM ET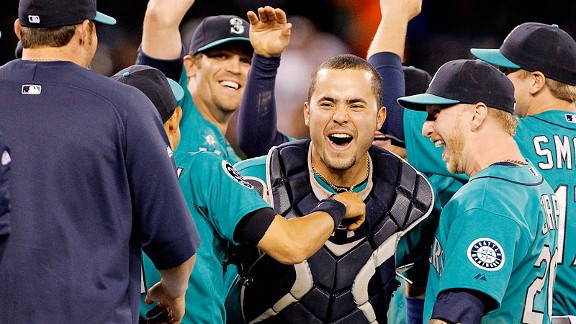 AP Photo/Elaine ThompsonNo matter how many pitchers it took, watching a no-hitter in person is still exciting.
Musician Duff McKagan's column runs every Wednesday on Playbook Sounds.
Not being able to attend a game of your favorite MLB team until June can be a bummer. If you travel or otherwise have work commitments like myself, this will be the case some years. Sure, you follow the team online or with a Slingbox or by Twitter.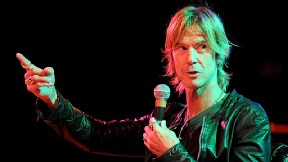 Robert Reiners/FilmMagicDuff McKagan
But, of course, there is nothing that comes close to actually going to the ballpark.
I still have my three best friends with whom I grew up. We've known each other since we crawled underneath church pews or played pee wee football together. We all were playing little league baseball when the brand-new Seattle Mariners franchise came to town in 1977. It was an epic event for us, and we all have grown up as first-generation M's fans. It has been a cool extra that will draw us four dudes together for a night out as pals. Of course, we revert right back to our kid selves.
Last week, I finally came home to Seattle. One of the first orders of business was to go to a Mariners game with my pals. Interleague play was happening, so we found ourselves at Friday's Dodgers-Mariners matchup.
June, 8, 2012
6/08/12
11:19
AM ET
By
Andrew Pentis
| Special to ESPN.com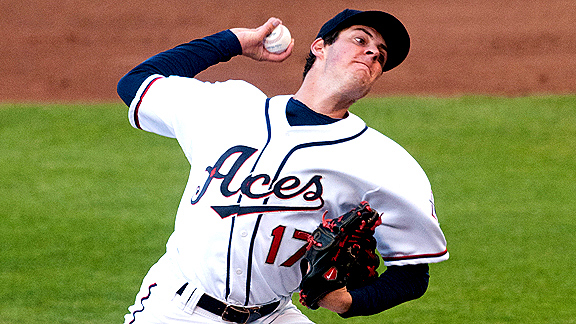 David Calvert/Reno AcesDiamondbacks prospect Trevor Bauer's pre-game routine includes listening to 55 minutes of music.
When top-ranked prospect (and Tim Lincecum look-alike) Trevor Bauer showed up to his first big league camp with the Arizona Diamondbacks this spring, he brought with him his own way of doing things. Notably, a training routine that includes long-tossing the baseball from foul pole to foul pole and polishing his pitches in side sessions, all while cranking heavy metal in his headphones.
"I can just throw and listen to my music and not have to hear all the fans yelling at me or telling me I am going to get lit up," he says.
That all changed when old-school skipper Kirk Gibson asked him to stop the music. Did that strike him as odd, when the club was cool with his other antics? "No, it came as no surprise," the 21-year-old right-hander says. "I was expecting it. I'm definitely different -- no one else really does it. Maybe, at some point, baseball will embrace new stuff like that. But not right now."
Bauer, now pitching at Triple-A Reno, still rocks out with his iPod, but only in the clubhouse or his car -- certainly not on the field or when anyone else is watching. We let him sound off on the matter.
How did all this get started?
When I was 14, I went down to Texas Baseball Ranch [to a camp for elite pitchers] for the first time and had a lot of mechanical changes to make and was kind of struggling. I talked to [coach] Ron Wolforth about it, and he asked if I had an iPod. I did, so he told me to put on my favorite song and throw, just to help me find my own personal rhythm. I can't remember exactly what it was, but it worked.
And the habit just took hold?
In high school, I didn't really have a throwing partner, so I'd go out to the park at night on my own, throw my headphones on, take a bucket of balls and throw my long-toss against a fence. When I ran out of balls, I'd pick them up and continue on. I did that all through high school.
June, 1, 2012
6/01/12
2:17
PM ET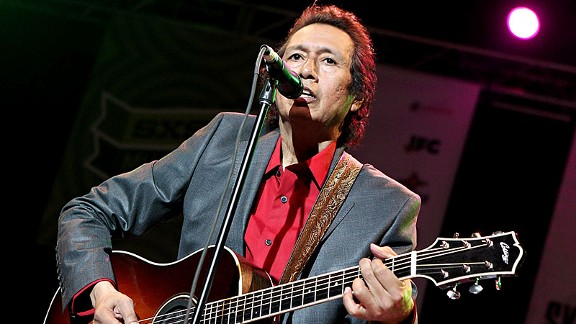 Gary Miller/Getty ImagesAustin, Texas, musician Alejandro Escovedo sees many connections between rock 'n' roll and baseball.
Alejandro Escovedo commands the stage with an air of impenetrable coolness, conjuring the spirits of dozens of musical traditions through his exquisite melodies and transcendent storytelling. It's masterful stuff, delivered in his cask-aged tenor on wave after wave of bright guitar, and it has earned the esteem of folks such as Bruce Springsteen, Steve Earle, Lucinda Williams, Ryan Adams et al.
Escovedo, who was born in San Antonio, Texas, but now lives in Austin, comes from a family of 12 kids, eight of whom became professional musicians, but his musical aspirations were preceded by his fervor for baseball.
"Baseball came simply to me. I was always good at throwing a ball. I could hit anything with a rock," he says.
His dad was quite the ballplayer himself, and the appreciation for the game he passed onto his son has blossomed into a self-described "hard-core" fandom for the San Francisco Giants, one that surfaces from time to time in his music (his 2008 album "Real Animal" features a song about Giants legend Juan Marichal).
Escovedo muses that there's some sort of kindred identity found in baseball and rock 'n' roll that tends to attract many of the musicians he knows.
"There's a similar attitude you take in baseball as a pitcher that you take in music as a singer or guitarist," he says. "There's that element of intense focus that I love so much. I know so many rock 'n' roll guys who love baseball. It just comes natural."
A man who draws influence from so many musical territories, Escovedo is slow and discerning when asked to name the walk-up song he would use if given a day in the big leagues. After hesitating, he ultimately settles on
"Shake Appeal" by The Stooges
, an appropriately raucous tune to rattle a pitcher's psyche.
Of course, Escovedo won't be facing major league pitchers anytime soon, but he wants baseball to continue to be a part of his work and he says he would one day like to make a documentary on Mexican ballplayers.
That'll have to wait, though, as he's out on the road touring his new record, "Big Station," until November. In the meantime, he asks that we send a shoutout to Tim Lincecum for him.
Yo, Tim. Alejandro says hi.
May, 31, 2012
5/31/12
3:56
PM ET
By
Matt Lindner
| ESPN.com
One minute a rock star was commenting to his bandmates on how much he loved Brewers closer John Axford's (
now long-gone
) super-sweet mustache.
The next, he and his bandmates are actually sharing the man's mustache wax. At least that's how Adam White, lead singer of Canadian indie rock band The Reason remembers it.
"I tweeted at Axford at a bar one day while watching highlights, and two weeks later, we were talking about him being in our music video," White said.
That tweet sparked a friendship between the band and the star pitcher that eventually turned into "Mo'jor League," an epic eight-minute-long music video starring Axford and featuring four of the band's songs from their 2010 album "Fools," including Axford's personal favorite "The Longest Highway Home." The video tells the story of a ragtag bunch of misfits who somehow find themselves playing in a league championship game. Primarily a take on "The Bad News Bears" with bits of "Major League" sprinkled in, the video was shot at a Little League park in Ancaster, Ontario, during the first week of November.
Axford stars as a down-on-his-luck pitcher who gets called out of the bar mid-game and rides on his motorcycle into the game to try to help lead The Reason to victory in the ninth inning.
Their opponent in said video? The Cardinals. Coincidentally, Axford's season had just ended in defeat in the NLCS at the hands of another, more famous Cardinals squad just weeks before shooting the video.
April, 26, 2012
4/26/12
2:25
PM ET
By
Jayme Lamm
| Special to ESPN.com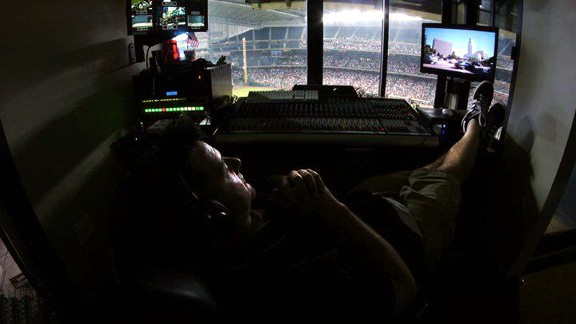 Jayme LammNunee Oakes mans his post above left field at the Astros' Minute Maid Park.
Let's be clear: Minute Maid Park is
not
a good place to catch a first-class baseball game and hasn't been for some time, dating back to '05 when the Astros won the National League championship. Coming off one of the worst seasons in Major League Baseball in which the Astros posted a franchise-worst 56-106 record, they aren't providing much enjoyment.
But that doesn't mean you won't find a different form of entertainment under that retractable roof, thanks to a guy whose job it is to provide entertainment, even when the Stros are striking out left and right.
For the past 14 seasons, that job has belonged to Nunee Oakes, audio engineer (fancy words for a DJ, he says) for the Houston Astros. After logging 14 championship-less seasons, the music man has lasted almost a decade longer than any of the 18 managers in the team's history. But Oakes does a lot more than play variations of Jay-Z between innings. He's the guy who controls every bit of sound you hear inside the 1,263,240-square foot ballpark -- from the video board (the first 1080i HD scoreboard in MLB) to the PA system to longtime broadcaster Milo Hamilton's radio show. He does it all.
While the team sporting the uniforms hasn't been above .500 since 2008, the team "behind the glass" above left field (which is comprised of three other full-time employees and 50 game-day employees) has been honored numerous times, including winning the
Best Overall Display Award
(known as the "Best Show in Baseball") for five straight years.