January, 8, 2013
1/08/13
6:54
AM ET
By
Andy Frye
| Special to ESPN.com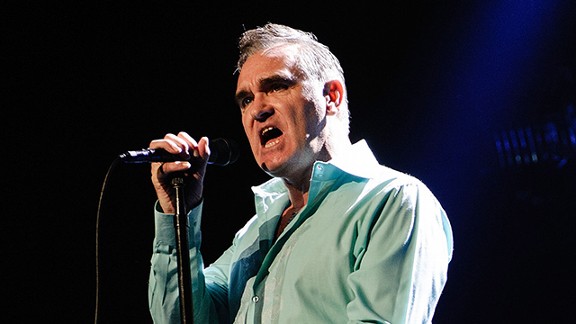 Matthew Eisman/WireImageMorrissey, seen here at Radio City Music Hall in 2012, hits the road once again starting Jan. 9.
Steven Patrick Morrissey has always been a little of an international man of mystery. And whether it is the meaning of his lyrics or hints about his favorite sport, fans seem all the more curious to dig deeper into his music.
The singer -- who has gone solely by his surname since his days with The Smiths -- recently released "The Very Best of Morrissey," an 18-song retrospective with a DVD that includes hits such as "Tomorrow," "The Last of the International Playboys" and "November Spawned a Monster," along with lesser known gems such as "Boxers."
Restarting his tour on Jan. 9 with U.S. stops in New York, Atlanta, Chicago and elsewhere, Morrissey recently spoke about where he's at as an artist. His songwriting process, he says, hasn't really changed thirtysome years into his career, but what weighs in on Morrissey's mind might be different.
"My concerns have shifted, and the last 30 years read as one dramatic head storm." Morrissey said. "I've always been a confessional writer, a witness, with an internal switch in the head that doesn't turn off. It's exhilarating, in fact."
And while the changing world has Morrissey's creative efforts grinding forward, he nevertheless remains quite the social critic.
"I continue to rally against social injustice and I despise the dumbo generation of reality TV, celebrity noise, showbiz bile and the British royal family," he said.