February, 14, 2013
2/14/13
7:00
AM ET
By
Stacey Pressman
| ESPN The Magazine
For ESPN The Magazine's Feb. 18 Music Issue, we persuaded 14 athletes to re-create some of the most memorable album covers. As part of our supplemental coverage on Playbook Sounds, we will be running behind-the-scenes interviews with each athlete, as well as their own personal playlists.
• Athlete:
James Stewart, motocross racer
• As:
Rick James on "
Street Songs
" (1981)
Moto X'er James Stewart has an alias, called "Rick" James Stewart. He has been known to make videos of himself and post them online, including
this one
, from 2008, which took off. Today he had the opportunity to take "Rick James Stewart" to a new level.
How did the nickname "Rick" James Stewart come about?
About four years ago, I came up with "Rick" James Stewart. It was me and my friend just messing around one night and we decided to bust out "Give It To Me Baby." We busted out wigs and the camera and just did a video. We put it online and people just loved it. It blew up and and people started calling me "Rick" James Stewart.
April, 18, 2012
4/18/12
3:00
PM ET
By
Doug Parsons
| Special to ESPN.com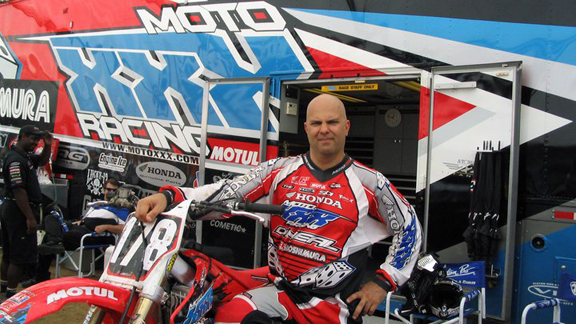 Courtesy of Moto XXX Facebook pageJordan Burns and Moto XXX were a force in bringing punk rock music into motocross.
Besides playing drums in Simi Valley, Calif., punk rock band Strung Out, drummer Jordan Burns is the owner and co-founder of Moto XXX. Burns and Co. say they were the "Originators of the Freestyle MX video movement," according to the
Moto XXX Facebook
page.
Burns says "things have been quiet with the company as of the past several years," but ESPN Action Sports caught up with him to reminisce and talk about music and motocross after
Strung Out
has been "touring like crazy" with stops at the Soundwave Festival in Australia and some shows in Japan.
Burns discusses the impetus for starting Moto XXX, which made videos similar to the popular style used in surfing, skating and snowboarding freestyle videos. But for many, Burns and Moto XXX were trailblazers, and Burns tells Doug Parsons he hopes to be remembered as such:
You guys had something different going on as you were representing the punk rock scene so you had that mix of music and motocross that no one else had. How did this come about?
"Well, I don't mean to pat ourselves on the backs but, I really honestly believe that myself, Erik Sandin from NOFX, and Kenny Watson really had a first hand in introducing punk rock music to the motocross world through Moto XXX.
"Back in the day no one was listening to punk rock music. No one knew the bands we put into our videos until they started hearing the tunes through our video and then we put out the first "Moto XXX" soundtrack on CD, which no other film company had done. We were always really tight with all the bands so it made it easy for us with using the music and getting the rights with bands like my own, NOFX, Pennywise, Lagwagon, and so on. I really do believe that Moto XXX was responsible for bringing punk rock music into motocross."
Read the entire interview
at ESPN Action Sports.