ESPN Music:

New York Yankees
August, 24, 2012
8/24/12
11:00
AM ET
By
Nick Swisher
| As told to Louise K. Cornetta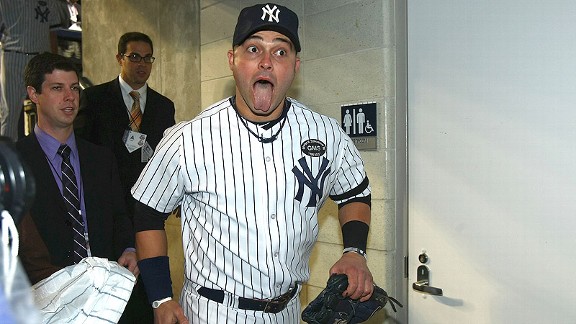 Jim McIsaac/Getty ImagesNick Swisher provides insight on his team's clubhouse music, including "Throwback Thursdays."
Nick Swisher dishes on the music played inside the New York Yankees clubhouse to ESPN.com's Louise K. Cornetta.
"In this locker room, everyone can play his own music. Everyone has speakers in his locker. But we don't have multiple songs going at once. We let one person play a few jams, and then someone else plays a few of his songs. No one has control; we just expect people to keep rolling out new stuff. On this team, we have some country guys, some salsa guys, some top-40 guys, so we hear a bit of everything.
"Then we have Throwback Thursdays, when we play old-school music like Otis Redding and stuff like that. Throwback Thursdays came about because of a time that Brett Weber, one of our coaches, and I were in the dugout tunnel taking batting practice and listening to some relaxing jams. We coined it Throwback Thursday, and ever since the team has been doing it for pregame music.
August, 21, 2012
8/21/12
4:00
PM ET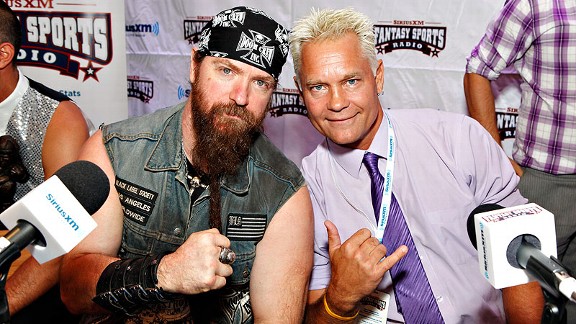 Courtesy of SiriusXM Zakk Wylde, left, and brother-in-law Ken Thomson will take all callers during their sports show.
Metal and sports don't always mix. But when they do, it involves Zakk Wylde.
OK, maybe not
all
the time, but at least some of the time -- such as this fall, when the virtuoso guitarist -- creator of Black Label Society and former Ozzy Osbourne wingman -- takes to the satellite airwaves during a six-week run of his sports-themed radio show, "Wylde on Sports" on SiriusXM.
The topics? Fantasy football, for one; Wylde last month
participated in the SiriusXM Celebrity Fantasy Football Draft
, and his rivals this year include Maurice Jones-Drew of the Jacksonville Jaguars, WWE star The Miz, comedians Artie Lange and Nick DiPaolo and former "Cheers" actor George Wendt.
But that's not it. Really, the subject will be ...
"Everything," Wylde, a New Jersey-raised New York Giants fan, told Playbook last month. "We'll talk about any topic that's coming up. Obviously, [during] football season, we'll be talking about the whole weekend, and [since] the show will be on Tuesday we'll be talking about 'Monday Night Football,' we'll recap the whole weekend."
July, 19, 2012
7/19/12
10:00
AM ET
By
Andrew Pentis
| ESPN The Magazine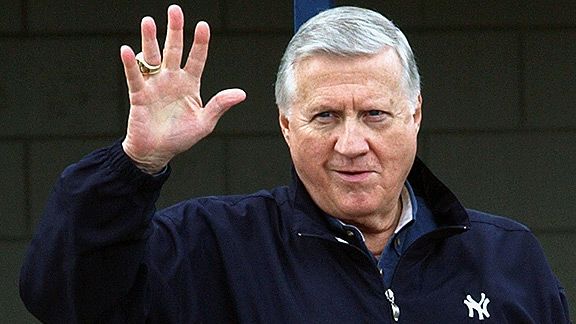 AP Photo/Chris O'MearaGeorge Steinbrenner's favorite musical artist is still a staple in the Yankees' stadium speakers.
Every day of baseball season, in seventh innings around the country, fans stand and sing lyrics that were written way back in 1908. The sheer shelf life of "Take Me Out to the Ball Game" proves that America's first pastime has long been intertwined with its tunes. But for a more unique connection between city and club, teams rely on their own traditions -- some newer, some older.
We decided to find out the one song that each team relies on to get fans on their feet.
We're featuring the music from one team per day here on ESPN Playbook. To see past entries,
click here
.

New York Yankees
Song
: "New York, New York" by Frank Sinatra
Tradition
: Played after wins -- and losses -- in the Bronx
Fun facts
:
• Of his taste in music, former owner George Steinbrenner once said, "Anything by Frank Sinatra."
• Sinatra's version is a cover of Liza Minelli's song from the 1970 film by the same name. In 1980, the club began playing Sinatra after wins and Minelli after losses. Bothered by this, Minelli demanded a change, and in response the team dropped her version entirely.
Bonus music
:
• "God Bless America" has become a staple of the Yankees game experience since Sept. 11, 2001.
• The grounds crew rocks out to "YMCA" while manicuring the infield mid-game.
• The first seconds of 2 Unlimited's "Workaholic" is played after every run scored by the team.