April, 1, 2014
Apr 1
1:26
PM ET
By
Daniel Dodd
| ESPN.com
April is a brutal month for football fans. College football and NFL games won't return for another six months. Free agency is mostly over. Even the draft has been pushed back to May this year. What does that leave for a pigskin-starved individual to do on a Sunday afternoon? Well, if you have a record player you're in luck.
On April 19, better known as Record Store Day to the vinyl obsessed, Microfiche Records will offer one of the hundreds of special releases only available on this special day. "RPM Turntable Football - A Two Player Game Played at 33 1/3" is exactly as it sounds -- a vinyl record narrated by Jay Grainer and Barry Dingle who together will call the action using something called "RPM Decagonaphnoic 10 Groove Sound Technology" while you keep score. The first player to 50 points wins.
The
Record Store Day website
says only 1,000 copies will be made available so finding one may be a game in itself.
February, 8, 2013
2/08/13
7:00
AM ET
By
Stacey Pressman
| ESPN The Magazine
For ESPN The Magazine's Feb. 18 Music Issue, we persuaded 14 athletes to re-create some of the most memorable album covers. As part of our supplemental coverage on Playbook Sounds, we will be running behind-the-scenes interviews with each athlete, as well as their own personal playlists.
• Athletes:
Trent Richardson, Cleveland Browns RB; LaMarr Woodley, Pittsburgh Steelers LB; and Marshawn Lynch, Seattle Seahawks RB
• As:
Run-DMC on "
Ultimate Run-DMC
" (2003)
What do you know about Run-DMC?
Woodley: Run-DMC, they're the greatest. They started hip-hop, for real.
What's your favorite Run-DMC song?
Lynch: I don't think I'm allowed to say what my favorite song is. I don't think any of us are allowed to say it. We're restricted from saying it. We have a deal with Nike. Nah, man: "My Adidas."
Woodley: "Walk This Way," they did it with Aerosmith. I like that.
January, 30, 2013
1/30/13
12:00
PM ET
By
Playbook Sounds
| ESPN.com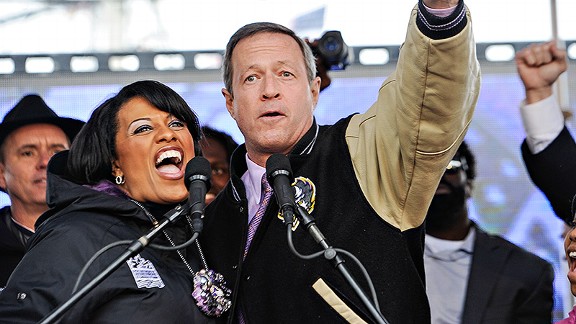 AP PhotoStephanie Rawlings-Blake, left, and Gov. Martin O'Malley sent off their Ravens this week.
Here's a surprise: Baltimore loves its football team. Mayor included.
So how will Stephanie Rawlings-Blake prepare to watch her city's Ravens face the San Francisco 49ers on Sunday in Super Bowl XLVII?
With music. Specifically, with this
16-song Spotify playlist
that she shared exclusively with Playbook.
Said Rawlings-Blake: "Ravens fans -- no matter where they come from -- are united by the anthems that remind us of the team we love. When we hear the signature bass line of 'Seven Nation Army' or the looping guitar riff from 'Hot in Herre,' we start seeing purple. This playlist is going to get my blood pumping this weekend as we watch the Ravens win the Super Bowl."
Here's the list (with some explanation from the mayor's office):
1. "Lose Yourself" by Eminem
-- This song is often heard as the Ravens prepare to take the field during home games at M&T Bank Stadium.
2. "Hot in Herre" by Nelly
-- Ray Lewis has announced that he will retire from professional football after Super Bowl XLVII. No Baltimore Ravens playlist would be complete without a nod to Ray Lewis' squirrel dance!
3. "Anything Could Happen" by Ellie Goulding
January, 6, 2013
1/06/13
3:00
PM ET
By
Playbook Sounds
| ESPN.com
Here's a list of songs from performers featured on ESPN's Sunday NFL Countdown Programming, links to the artist's websites and links for you to download and buy the songs and/or albums:
January Music for Sunday NFL Countdown Programming
The Script
"Hall of Fame"
from the "#3" album
(
iTunes
|
Amazon
)
Maroon 5
"One More Night"
from the "Overexposed" album
(
iTunes
|
Amazon
)
January, 6, 2013
1/06/13
10:00
AM ET
By
Playbook Sounds
| ESPN.com
Here's a list of songs from performers featured on ESPN's NFL programming, links to the artist's websites and links for you to download and buy the songs and/or albums:
January Music for NFL Programming
Beyonce
"Sweet Dreams"
from the "I Am Sasha Fierce" album
(
iTunes
|
Amazon
)
Beyonce
"Crazy In Love"
from the "Dangerously In Love" album
(
iTunes
|
Amazon
)
September, 5, 2012
9/05/12
10:00
AM ET
By
Lynn Hoppes
| ESPN.com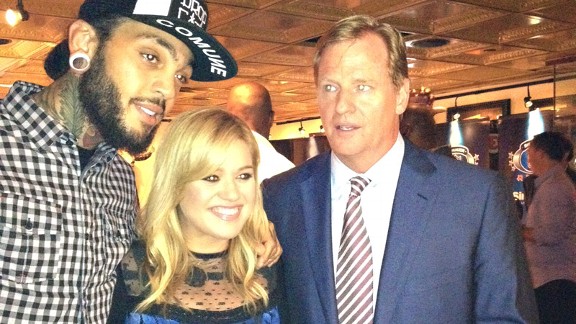 Lynn HoppesIt's Travie McCoy of Gym Class Heroes with Kelly Clarkson and NFL commissioner Roger Goodell.
Travie McCoy, lead singer of Gym Class Heroes and a huge New York Giants fan, said he'll be diplomatic about tonight's NFL opening game between his Giants and the Dallas Cowboys, the favorite team of singer Kelly Clarkson.
"I'm restraining myself by not saying the Giants are going to demolish the Cowboys in the season opener," said McCoy, who is performing at halftime. "I'm a nice guy."
Clarkson wasn't having it.
"I'm not diplomatic. I'm hoping we demolish them!" Clarkson said. "I hope the Cowboys make it more than just the playoffs. We're all hoping to make the Super Bowl! We're tired of choking right there at the end!"
Clarkson and McCoy have showed their love for their respective teams by working with Pepsi for the NFL Anthems program. Clarkson (Cowboys), McCoy (Giants), Kid Rock (Lions) and Ice Cube (Raiders) have created anthems, along with Wiz Khalifa remixing his hit "Black and Yellow" for the Pittsburgh Steelers.
Clarkson, who grew up in Fort Worth, Texas, said she "came out of the womb loving football." She released the anthem "Get Up," available for a
free download here
.
"This is the coolest thing my family has seen me do," Clarkson said. "I haven't quite made it yet, though -- until I sing before a Cowboys game."
May, 29, 2012
5/29/12
4:00
PM ET
By
Theresa Manahan
| Special to ESPN.com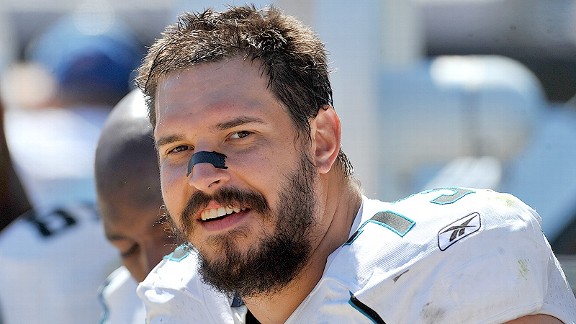 Al Messerschmidt/Getty ImagesJaguars offensive lineman Eben Britton creates themed playlists for his NPR show in Jacksonville.
In between the workouts and video-game sessions that make up the NFL offseason, Jacksonville Jaguars tackle Eben Britton has taken on a new challenge.
It's unlikely you'd hear an NFL offensive lineman on the local NPR affiliate, but in Jacksonville at 11 p.m. on a Wednesday night, you'll hear Britton calling the shots on his "73" radio show.
No, he's not talking Xs and Os, he's playing a collection of songs and poems based on a weekly theme. He has already recorded 11 60-minute shows and hopes to have 25 finished before the season starts.
How did you get into this?
A couple years ago, I happened to meet David Luckin from [the Jacksonville] NPR. At the time, I was growing a mustache for Movember, so he invited me to come on his show to promote the cause, and he suggested I bring some music to do a show with him. I had never listened to NPR before, but I started listening to his show after that and it inspired me, so I took him up on the offer. It was a lot of fun, and I realized it was something I'd love to learn more about. I've always loved making mixtapes and playlists, so I gave him a call asking if I could do it again and learn about producing a radio show.
Why not a sports show?
I have football, and I get to talk sports all day with the guys in the locker room. I want this to be a release from football, something that lets me get into my creative side and use the other side of my brain.
April, 30, 2012
4/30/12
10:00
AM ET
By
Playbook Visuals
| ESPN.com
At midnight Thursday (well, technically Friday), Nike unveiled its NFL "Game" and "Elite" jerseys at Niketown New York, with players Ndamukong Suh, Victor Cruz, Dwayne Bowe and LeSean McCoy on hand, with artists Wale and Ace Hood providing entertainment.
Here's a picture of Wale performing while wearing a Brian Orakpo jersey. You can check out more pictures and get other information
here
.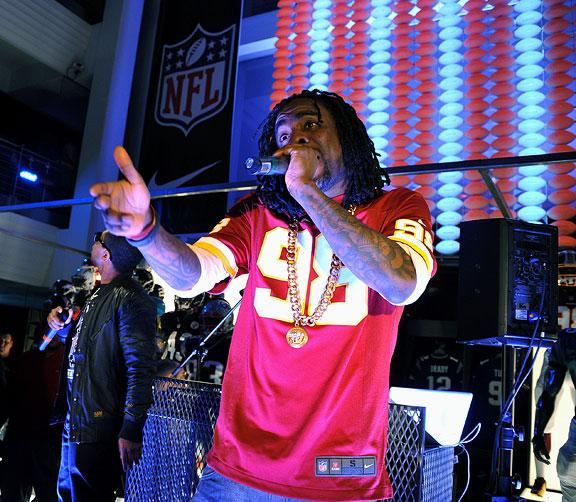 Nike
April, 27, 2012
4/27/12
5:19
PM ET
By
Playbook Visuals
| ESPN.com
New Washington quarterback/No. 2 overall pick Robert Griffin III has a hidden talent -- singing -- but he won't display it for the cameras. Not even after President Barack Obama did it!


April, 25, 2012
4/25/12
8:11
AM ET
The strong NOC song parodies keep coming, this one from New York sketch comedians Adam Lustick and Billy Scafuri (Harvard Sailing Team).
The title: "Getting Drafted and I Know It." The original: Guess. (OK, if you must know, it's LMFAO's "Sexy and I Know It.")
Seen a cool sports-related video you think we should post? Email links to bypatrickdorsey(at)gmail(dot)com or let us know on Twitter at @dorseypatrick. Videos should be family friendly and shorter than 2 minutes.