October, 17, 2012
10/17/12
12:00
PM ET
By
Lynn Hoppes
| ESPN.com
Look how happy Noah "Wuv" Bernardo, the drummer of San Diego band P.O.D., is standing with a fellow Chargers fan at halftime of Monday night's game against the Denver Broncos.
[+] Enlarge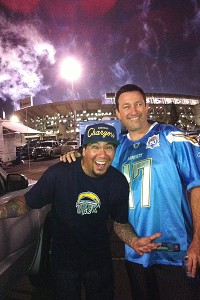 Courtesy of Wuv BernardoNoah "Wuv" Bernardo shows some emotions next to another Chargers fan Monday night at halftime.
Bernando, whose band has been on tour for the past three months, went off tailgating Monday night. He lives right across the street from Qualcomm Stadium.
The Chargers were up 24-0 at intermission but eventually lost 35-24.
"It was my first game of the season and we were making the best of it. We had our beers and some carne asada barbecue," Bernardo said. "I'm talking to you looking out my window at the stadium. Then they broke my heart."
Bernardo couldn't even fathom how the Broncos came back to win. He hasn't given up his allegiance, even though it might be easy to do that.
"Dude, I've been a Chargers fan since 1973 and they break my heart every year," he said. "I'm used to it. It's my duty to back my teams. Padres. Chargers. Even the Clippers when they were here. I love them all."
Bernardo and P.O.D. (Payable on Death) are set to hit the road again to back their recent release "Murdered Love." The band consists of Bernardo, vocalist and cousin Sonny Sandoval, guitarist Marcos Curiel and bassist Traa Daniels, and they have have been together off and on for 20 years.
"This tour is more rewarding than anything we've done in the past," Bernardo said. "We took a break of four or five years and now we have that spark back. We have that hunger."
That wasn't the case just a few years ago as the band went through lineup changes and different thoughts on the direction of the music.
"We were about making money and the hustle and not focusing on the music. We had to take that break," Bernardo said. "I look at these guys playing in front of me realizing that I've worked with them for 20 years. God gave us a real blessing, allowing us to play music and having the fans enjoy that."
April, 16, 2012
4/16/12
11:40
AM ET
The early days of the baseball season are a crucial time here at Sounds. That's when we find out the
really
important stuff, such as what music players will use when they enter the game or step up to the plate. Or if our fantasy draft was a bust. But mainly the music stuff.
Jonathan Papelbon's entrance music
was a hot topic this offseason
. The new Phillies closer ditched the Dropkick Murphys' "Shipping Up To Boston" (which was a rather obvious decision).
But
we've eagerly awaited
his entrance to see what the speakers delivered.
The result: We're still not positive. Last week, Papelbon entered Wednesday's game to Alice in Chains'
"Man in the Box"
but took the mound on Thursday for his first save situation to Marilyn Manson's
"Antichrist Superstar."
In a wide-ranging interview
that includes a discussion of showering with Hunter Pence and kicking a man's prosthetic leg (not at the same time), Papelbon said that he's "tinkering," and hinted at using a P.O.D. song.
In San Diego, The Nuge has nailed down the job for San Diego Padres closer Huston Street.
Street told Don Norcross of UT-San Diego
that he was rushed as a rookie,
picking a Nas instrumental because he had five minutes to decide on game day.
This time around, with the pressure of being in the same city where
Trevor Hoffman famously entered to AC/DC's "Hell's Bells,"
Street took his time.
Street decided on Ted Nugent's "Stranglehold" at the urging of Padres strength and conditioning coach Jim Malone, who told Norcross:
"Ted Nugent, he's out of his mind. That's the kind of controlled craziness, if I were a closer, I'd want to come out to."
With that, Jim Malone leads the league in understatements this season.
Got a favorite song a player is using, or a suggestion for one? Let us know in the comments.