May, 31, 2012
5/31/12
11:28
AM ET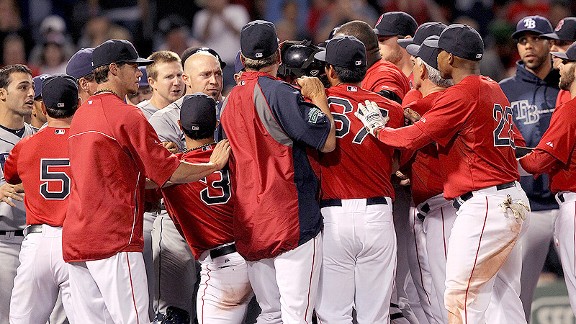 Barry Chin/The Boston Globe/Getty ImagesWho knew the Rays-Red Sox rivalry could get so chippy so soon in the teams' relative history?
I think it's fair to say that everyone's pretty satisfied with the rivalry between the Rays and the Red Sox right now. How it's grown since 2008! This weekend's series brought us a bench-clearing almost-brawl, Bobby Valentine taking salty jabs at Maddon & Co and a deliciously catty bit of drama involving the pregame warm-up music that largely went under the radar.
Here's what happened.
B.J. Upton, annoyed with Fenway's custom of cutting off music during batting practice,
ran an extension cord from the dugout
and bumped his own jams from a boombox before Saturday's game. The folks in the booth didn't take kindly to the insubordination, so they started blaring organ music to spoil the fun. Then, before Sunday's game, the Fenway PA system played "Fur Elise" and other
classical tunes during BP
-- the kind of stuff that could deplete the Rays of energy or lull Don Zimmer's giant baby head into a deep sleep.
The two teams don't face again until July, when the Sox make the trip down to Florida. In the meantime, I'd expect the Tampa sound guys to devise some sort of retaliation to up the ante a bit.