ESPN Music:

Rock and Roll Hall of Fame
December, 16, 2014
12/16/14
11:36
AM ET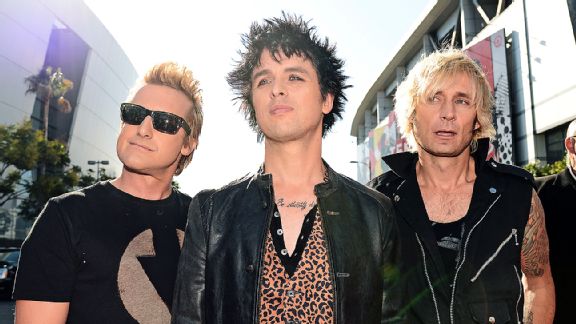 Jeff Kravitz/FilmMagic/Getty ImagesTre Cool, Billie Joe Armstrong and Mike Dirnt will be indicted to the Rock Hall on April 18.
Green Day got into the Rock and Roll Hall of Fame on their first try.
The punk rock power trio from California's East Bay leads the Class of 2015, along with the late Lou Reed, soul singer/songwriter Bill Withers, 1960s blues rock pioneers the Paul Butterfield Blues Band, garage rock royalty Joan Jett and the Blackhearts, and the late Stevie Ray Vaughan and Double Trouble. Reed, who died last year, is already in the Hall as a member of the Velvet Underground.

Among nominees who didn't make it this time were N.W.A., Chic, Nine Inch Nails, The Smiths, Sting (who is already a Hall of Famer with The Police), The Marvelettes, The Spinners and Kraftwerk.
Rolling Stone
has the story
with quotes from the honorees and links to longer interview sessions.
Green Day frontman Billie Joe Armstrong told Rolling Stone that it's "just an incredible feeling" to be recognized by the band's fans and peers.
"For me, rock & roll is not an outdated term. To me, it means freedom. It was a way for me to express myself and I'm eternally grateful for the fact that I've been able to do that pretty much my whole life. It's never lost that meaning for me, whether I'm a fan myself or for Green Day fans. It's just the most liberating thing in the world," Armstrong told Rolling Stone
in this Q&A
.
Beatles drummer Ringo Starr and 1950s R&B group the "5" Royales will also be honored at the induction ceremony, scheduled for April 18 in Cleveland. Starr will be presented with the Hall's Award For Musical Excellence, while the "5" Royales will receive the Early Influence Award.
October, 9, 2014
10/09/14
3:03
PM ET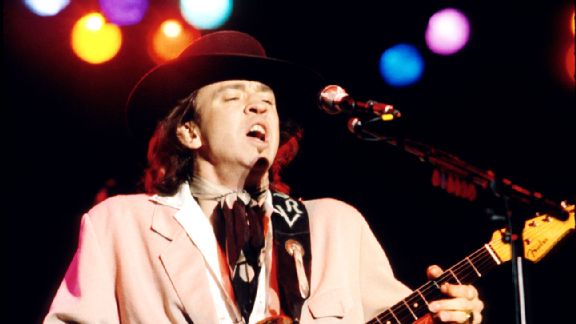 Annamaria DiSanto/WireImageStevie Ray Vaughan is among the 2015 nominees for induction into the Rock and Roll Hall of Fame.
Stevie Ray Vaughan, Sting, Green Day and Nine Inch Nails are among the first-time nominees up for induction into the Rock and Roll Hall of Fame in 2015. And as was the case last year, the Hall of Fame is giving fans a chance to vote for their favorite nominees.
You can access the ballot at the hall's
website
, or via
Rolling Stone
.
Voting will continue through Dec. 9 and the top five vote-getters will count as one of 700 ballots that will determine which artists are inducted.
Now, we're not saying we're qualified to handicap who will get in this time around. But some nominees seem more likely to be contenders:
•
Stevie Ray Vaughan,
with his backing band Double Trouble, sparked a blues renaissance in the 1980s with his searing guitar playing and heartfelt vocals. He was killed in a helicopter crash in 1990. The fact that he'd never been nominated, let alone inducted, seems like a glaring oversight.
• First-time nominees
Green Day
kicked off a punk rock resurgence in the 1990s and went on to record the critically-acclaimed "American Idiot." Let's put it this way: Not every punk album winds up becoming a successful Broadway musical.
• West Coast rap pioneers
N.W.A
changed the hip-hop game with its use of classic 1970s soul samples and raw, unflinching lyrics about the drug trade, gang culture and violence of South Central Los Angeles. They also launched the solo careers of members Dr. Dre and Ice Cube.
• Trent Reznor's
Nine Inch Nails
brought industrial rock from the underground into the mainstream, in no small part thanks to Reznor's emotionally honest lyrics. (Remember Johnny Cash's searing cover of "Hurt"? Reznor wrote that.)
• The late
Lou Reed
, who is already enshrined as a member of the Velvet Underground, also enjoyed great success as a solo artist. You might know his hit "Walk On The Wild Side," but his albums, like those of his former band, received significant critical acclaim.
•
Sting
, who is enshrined as a member of The Police, broke out of the rock idiom as a solo artist, leaving the reggae, punk and rock of that band behind for a more nuanced, jazz-influenced sound. But Sting's strengths as a songwriter and singer didn't change, and he enjoyed critical and commercial success despite his change in direction.
•
The Smiths
, one of the most influential alternative bands of the 1980s, also launched the solo career of lead singer Morrissey. They're a cult favorite that has retained its popularity and critical acclaim despite a relatively short career.
The remaining nominees also can make compelling cases for induction:
•
Chic:
Disco hitmakers powered by the rhythm guitar and production genius of Nile Rodgers, Chic were responsible for some of the genre's biggest hits including "Good Times" and "Le Freak."
•
Kraftwerk:
Influential electronic dance music and synth rock pioneers from Germany.
•
Joan Jett and the Blackhearts:
Garage rock heroine who had a huge hit with "I Love Rock 'n' Roll" in the 1980s.
•
The Spinners:
Philly soul vocal group that had a string of hits in the 1970s with "I'll Be Around" and "Rubber Band Man."
•
The Marvelettes:
Motown girl group which scored the label's first No. 1 hit with "Please Mr. Postman" in 1961, paving the way for The Supremes and Martha & The Vandellas.
•
Bill Withers:
Talented songwriter and soulful singer whose titles include some of the 1970s' most-recognized hits, including "Lean on Me," "Ain't No Sunshine," "Use Me," "Just the Two of Us" and "Lovely Day."
•
Paul Butterfield Blues Band:
1960s Chicago blues band fronted by the late singer/harmonica player, they merged the blues, rock and jazz and played the era's two most important festival concerts (Woodstock and Monterey Pop).
Meanwhile, it appears
Deep Purple
has taken over for
Rush
as the classic rock band getting the coldest shoulder from the hall. The heavy metal pioneers are not on the ballot for 2015 after missing out on induction this year, despite Metallica drummer Lars Ulrich's stumping for them in April.
October, 22, 2013
10/22/13
4:32
PM ET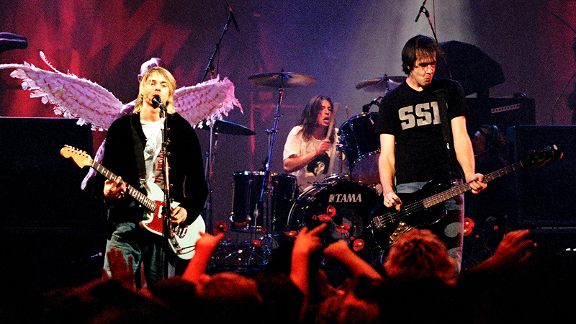 Jeff Kravitz/FilmMagic, IncNirvana has been nominated for the Rock and Roll Hall of Fame in its first year of eligibility.
In sports and in music, greatness is often a subjective quality, one that reflects our individual likes and dislikes. It's so much a part of each landscape that their respective halls of fame have long inspired arguments over who does and doesn't belong.
You may ask "How is Roger Maris not enshrined in Cooperstown?" or "When will Jim Plunkett finally be recognized in Canton?" We ask those questions, too, but we also want to know "How is it possible that Deep Purple is not in the Rock and Roll Hall of Fame?" Or "Explain to me how Chic has been nominated eight times and never been enshrined?"
Well, sports enthusiast who also loves music, here are two chances for you to be heard when it comes to honoring the greats. First, there's the Hall of Fame itself, which is
allowing fans to vote
for up to five of the 16 nominees for this year's class.
But why stop at five?
Click here
to rank all 16 nominees!
April, 11, 2012
4/11/12
10:00
AM ET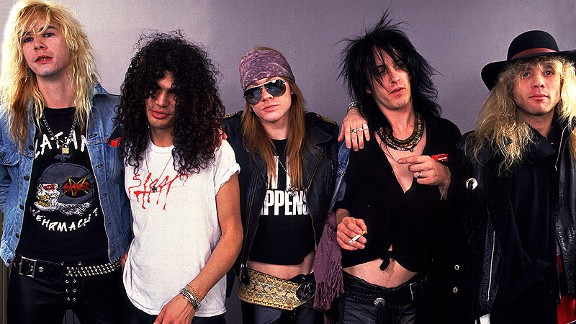 Paul Natkin/WireImageGuns N' Roses in 1987: A lot of attitude, even more hair, and a Hall of Fame future.
Editor's note: This column was published prior to Guns N' Roses singer Axl Rose's statement that he would not attend the Rock and Roll Hall of Fame ceremony, and wished to decline induction.
Some of you may know that my band Guns N' Roses will be inducted into the Rock and Roll Hall of Fame this weekend in Cleveland. My editor has been hoping that somehow I could write about what this whole thing is like from the "inside."
Truthfully, it has been hard for me to find a good place from which to start and write such an article, head-space wise.
We are not a band anymore, and haven't been for some time. We are all still alive and well, but there has been some muddy water that has gone underneath the bridge. But water, muddy or otherwise, does indeed flow past and forever away, and I have nothing but the best of memories and highest level of love and admiration and feelings of brotherhood with all of those dudes. Seriously.
I was sent a sort of open letter addressed to us guys in GNR from a fella named Chris Gehert on behalf of "Worldwide Guns N' Roses Fans," and it sort of stopped me short. I will run it now in its entirety:
"Dear Guns N' Roses,

On Saturday April 14th 2012 you will be inducted into the Rock and Roll Hall of Fame. This gave a great hope to every GNR fan on the planet for a one time reunion show. Our one and only chance to see the original lineup on stage together again, if only for five minutes. Something we've been told for years would never happen. Rumors swirled, the band denied, and the fans prayed. It will always be okay because you never promised us anything.

With less than 2 weeks before the induction, the fans are watching as our reunion hopes start to disappear like Marty McFly's family in a polaroid picture. Each day it seems like there is some new story about how there has been no communication, nobody knows what is required of them, nobody's talking, and nobody really seems to care.

We care.

It would be easy for you to just show up, accept the induction, spend a few awkward minutes together at a podium and not talk again until somebody's funeral. But this time we need more.

We are not trying to be selfish, God knows you have given us plenty of legendary songs, spectacular shows, and classic rock moments. You are sincerely the best rock band in the history of the world. All of your solo efforts and reincarnations of the group are awesome too.

Your music has inspired billions of people. Each one of you is still a fan inside. You loved Elton John, Aerosmith, Queen, Kiss, The Misfits, ELO and more. Please remember how great it feels to see your favorite band play.

We beg you to pick up the phone, grab your instruments, drag Izzy to Cleveland and play together.

You can make music history. Please do it. Give us one more memory. We deserve it.

We will continue to support you no matter what, but at the end of each concert Axl tells the crowd to "Not take ... from anyone." And that means ANYONE!

Sincerely,

Worldwide Guns N' Roses Fans."
And to this point: The one reason that I am going to Cleveland this weekend is not to savor in some polite accolade or because an award show is
that
important to me. I am going because I have realized how important this is all to those many, many fans that supported us and believed in us, and showed up for us in droves.
Music is not like sports, and hence, a Hall of Fame in music is almost a false pedestal to sit upon. There are no statistics in music and art. No band or artist is "better" than another. Music comes from a primal place. Thin air. Dreams. And a lot of really hard damn work.
No one worked harder than us back then, and we were very fortunate to have met each other in those dirty back alleys of Hollywood sometime in 1984. We meshed and wrote, created thunder and beauty, and parlayed our real-life experience into an album that somehow related to a whole angsty world that felt just like us right then and there. It was a brilliant time.
I, too, now hope that we can just play a couple of songs there, and just sort of throw the microphone down on the stage and walk off. The rock-and-roll world would be set ablaze once again ... and we could make a bunch of fans happy and sated to some degree.
But alas, I am only responsible for me, and can only speak for me. I have forgiven and forgotten. I have grown up and manned up. Part of me growing has been to realize I am powerless over others.
This whole deal, I hope, goes off without a hitch. I do hope we can achieve some grace in our acceptance. And I hope this grace, is enough, in the end, for the best rock and roll fans in the world. The Guns N' (f---ing) Roses fans.
-- Duff