April, 18, 2013
4/18/13
8:30
AM ET
By
Kelley L. Carter
| Special to ESPN.com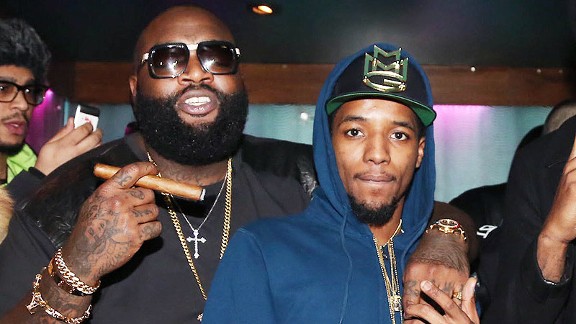 Johnny Nunez/WireImage/Getty ImagesRockie Fresh, right, with Rick Ross, said Chicago feels protective of hometown star Derrick Rose.
It's not that Rockie Fresh is scared or anything. He's just not stupid.
The 21-year-old rapper laughs when he says it, but you will never catch him playing a game of pickup football with his Maybach Music Group boss, rapper Rick Ross.
Emphasis on never. Have you seen the size of the two of them side by side? It would never work.
Musically, Rockie Fresh is bringing a different funk to hip-hop. He's signed to MMG, one of hip-hop's trendsetting labels, but his interpretation of the music has hints of alternative rock music a la Fall Out Boy and Good Charlotte. After uber-success on the mixtape circuit, he'll finally release his first studio album, aptly titled, "Debut Studio Album," later this year.
Aside from rocking the mic, of course, Rockie is rooting for most Chicago teams (as a South Sider, it's treason to root for the Chicago Cubs, but he'll have a beer in the stadium) and hoping/wishing/praying for a Bulls comeback.
Everyone is waiting for Derrick Rose to get back in the game. What's the vibe like in Chicago now?
It's a good time for us. But at the same time, we all just want to make sure he's actually ready to come back. Nobody wants him to come back too soon. Because he's actually from Chicago, people have a different kind of respect for him than we've had for any other player that's played for us. So everybody just wants to make sure that he's healthy more than anything. ... We don't want him to get injured again and things be worse. It's a crazy time for the city.
I know you want another championship from your home team. How far off from reality do you think that is?
I don't think it's too far. We could get blessed with a good draft pick or something next year and maybe the year after that. But I do feel like Derrick Rose needs a little bit of help -- that's a lot of responsibility on him. He needs a little bit more release in the backcourt. Hopefully we come up and get us a nice little guard.