January, 28, 2015
Jan 28
2:45
PM ET

Boston and Seattle are separated by an entire continent, three time zones, two oceans and their devotion to the football teams they sent to Arizona in pursuit of the Vince Lombardi Trophy.

But the two Super Bowl cities have a lot more in common. They're both important port cities and big college towns. They're both centers of high-tech innovation. And they're the place a lot of great musicians and bands have called home over the years.

Think about it: Boston is known for Aerosmith's blues rock, but the Hub also gave the world the Queen of Disco herself, Donna Summer, the New Wave hits of The Cars and alternative rock icons such as The Pixies.

Extreme calls Boston home; so do Godsmack, New Edition, Juliana Hatfield and yes, Marky Mark & The Funky Bunch.

Seattle might be known for the flannel shirts and hard-rock attitude of grunge from the likes of Nirvana, Pearl Jam, Alice In Chains and Soundgarden, but it's also the birthplace of Jimi Hendrix and the place where rappers Macklemore and Ryan Lewis got their start.

And don't forget Sir Mix-A-Lot -- really, who could? -- or Queensryche, Mudhoney, Candlebox and Death Cab For Cutie.

When it comes to Women Who Rock, both cities can be justifiably proud: Seattle, led by Ann and Nancy Wilson of Heart, and Boston, home to the likes of Susan Tedeschi and Letters To Cleo's Kay Hanley.

Which end of Interstate 90 rocks the most? We're going to let your ears be the judge with playlists including some of the best of both cities.

Enjoy ...
February, 7, 2013
2/07/13
7:00
AM ET
By
ESPN The Magazine
| ESPN The Magazine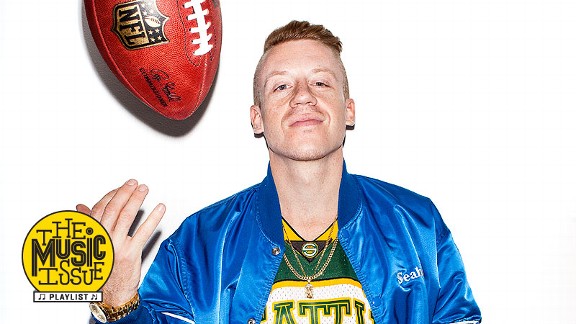 Chris McPherson for ESPNThe Seattle rapper vibes to R.Kelly, House of Pain, Queen and Billy Joel.
For ESPN The Magazine's Feb. 18 Music Issue, we gathered music playlists from the subjects of each of the feature stories. As part of our supplemental coverage on Playbook Sounds, we will be posting all of the Music Issue playlists over the next two weeks.
In ESPN The Magazine's Music Issue, Steve Wulf writes how Seattle-based rapper Macklemore has used influences from sports culture in his music. Read the
story
.
December, 19, 2012
12/19/12
11:00
AM ET
By
Jared Zwerling
| ESPN.com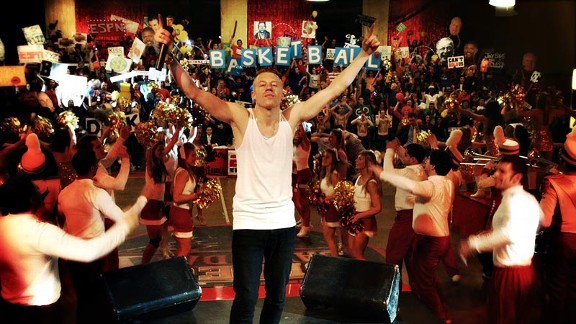 ESPNTBDThe Seattle rapper recently shot the new intro for College Gameday, which features his track "Can't Hold Us."
There's a reason why college students relate so well to Macklemore. He's like the best, most popular rapper on campus who keeps things on their level: realistic and entertaining.
For example, on the 29-year-old's biggest hit, "
Thrift Shop
," he cleverly and hilariously talks about rolling up to a club wearing discount clothes.
Now what college student hasn't done that?
Starting in January, kids at universities across the nation will be able to enjoy Macklemore's music whenever they tune in to "College GameDay." Macklemore's track "Can't Hold Us" from his debut album, "The Heist," is the brand-new theme song for ESPN's college basketball show. The rapper recently filmed a special video for the show intro, which will premiere next month.
As it turns out, Macklemore has previously dedicated two full songs to sports themes.
In "
Wings
," he discusses his childhood affinity for Air Jordans, while also addressing themes of materialism and commercialism.
Then, in "
My Oh My
," the Seattle native pays tribute to legendary Mariners sportscaster Dave Niehaus, who died in 2010.
Seahawks coach Pete Carroll was so moved by it that he tweeted, "Really loving 'My oh my' by @macklemore! What a cool song for Seattelites!"
Since then, the two have become good friends.
Most recently, Macklemore and his longtime producer, Ryan Lewis, headlined their nationwide "Heist World Tour," which just wrapped up this week.
After they unwind for the holidays, they'll continue making their campus rounds, and then travel to perform in Australia and New Zealand for the first time.
Before they get even busier, Macklemore spoke with ESPN Playbook to reminisce about Michael Jordan and reflect on his current endeavors in sports and music.