June, 24, 2014
Jun 24
2:48
PM ET
[+] Enlarge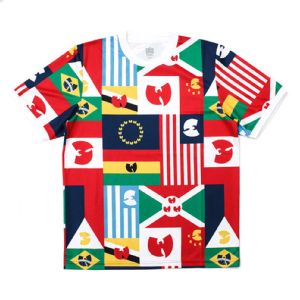 Courtesy Wu-Tang ClanThe Wu-Tang Clan soccer jersey features flags of the nations competing in the World Cup, all with a Wu-Tang twist -- the group's stylized W logo.
The Wu-Tang Clan did not send a team to the 2014 FIFA World Cup in Brazil.
No, they sent all 32.
The influential hip-hop group's fashion and accessory arm, Wutang Brand, is offering a
Wu-Tang soccer jersey
this summer.
We think it could have global appeal, and here's why: The jersey, which comes in black and white or full color, features the various flags of the nations competing for glory in Brazil.
But those flags all come with a Wu-Tang twist -- the use of the band's stylized W logo in place of key elements in each flag. They're all clever, but the Wu-Tang style Brazilian flag is particularly inspired.
If $66 for a poly mesh soccer jersey isn't your style, there's
additional offerings
with the same design, including hats and T-shirts.
Yet more conclusive proof that it's still a Wu-Tang world -- the rest of us just live here.
February, 5, 2013
2/05/13
11:37
AM ET
By
Stacey Pressman
| ESPN The Magazine
For ESPN The Magazine's Feb. 18 Music Issue, we persuaded 14 athletes to recreate some of the most memorable album covers ever. As part of our supplemental coverage on Playbook Sounds, we will be running behind-the-scenes interviews with each athlete, as well as their own personal playlists.
• Athlete:
Alex Morgan, U.S. women's national soccer team
• As:
Katy Perry on "
One of the Boys
" (2008)
What was your initial thought on remaking this cover?
When I was brought the idea to recreate an album cover, I was excited about it right away. I've heard some of what the other covers are and it's really cool. It's such a a great idea. And look what I am dressed as -- it's a little ridiculous.
Take me through the selection process.
There were quite a few album covers but not too many female iconic covers -- but I love Katy Perry. There were a couple of other choices but I just gravitated toward this one. The cover is cute and fun. It's a great shoot -- such a fun background and I never get to wear an outfit like this.
January, 8, 2013
1/08/13
6:54
AM ET
By
Andy Frye
| Special to ESPN.com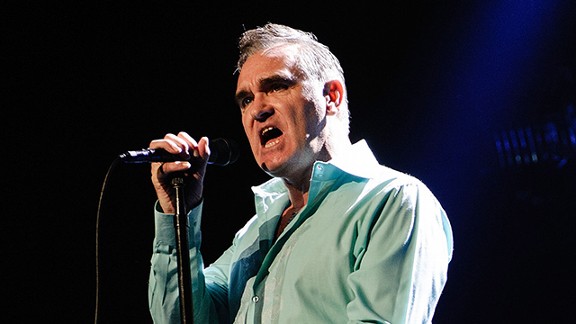 Matthew Eisman/WireImageMorrissey, seen here at Radio City Music Hall in 2012, hits the road once again starting Jan. 9.
Steven Patrick Morrissey has always been a little of an international man of mystery. And whether it is the meaning of his lyrics or hints about his favorite sport, fans seem all the more curious to dig deeper into his music.
The singer -- who has gone solely by his surname since his days with The Smiths -- recently released "The Very Best of Morrissey," an 18-song retrospective with a DVD that includes hits such as "Tomorrow," "The Last of the International Playboys" and "November Spawned a Monster," along with lesser known gems such as "Boxers."
Restarting his tour on Jan. 9 with U.S. stops in New York, Atlanta, Chicago and elsewhere, Morrissey recently spoke about where he's at as an artist. His songwriting process, he says, hasn't really changed thirtysome years into his career, but what weighs in on Morrissey's mind might be different.
"My concerns have shifted, and the last 30 years read as one dramatic head storm." Morrissey said. "I've always been a confessional writer, a witness, with an internal switch in the head that doesn't turn off. It's exhilarating, in fact."
And while the changing world has Morrissey's creative efforts grinding forward, he nevertheless remains quite the social critic.
"I continue to rally against social injustice and I despise the dumbo generation of reality TV, celebrity noise, showbiz bile and the British royal family," he said.
October, 28, 2012
10/28/12
11:00
AM ET
By
Andrew Pentis
| ESPN The Magazine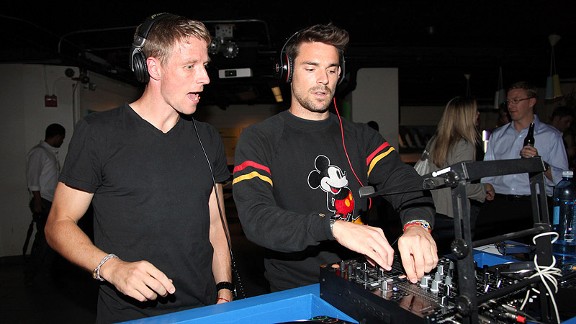 Johnny Nunez/WireImageSolli (left) and Pearce share the decks at the FIFA 13 launch tournament in NYC.
When Chivas USA traded Heath Pearce to the New York Red Bulls in May, the team lost not only a defender but also its DJ. Along with his on-field talents, Pearce took his turntables with him to the East Coast.
The trouble is, his new Red Bulls teammate Jan Gunnar Solli also never goes without prematch music.
"We're going to have to battle it off to see who gets to make the game-day mixes," Pearce joked.
Solli's response? "Ok. It's on."
So, as the the regular season wraps up and the Red Bulls get set for a playoff run to the MLS Cup, who should be the team DJ? We let the two candidates make their cases.
September, 25, 2012
9/25/12
9:15
AM ET
By
Zach McCann
| ESPN.com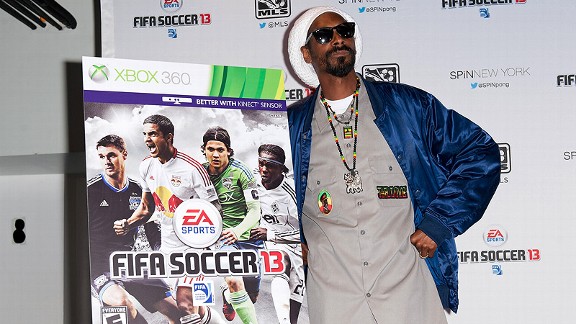 Dipasupil/Getty ImagesIn New York on Monday, Snoop Dogg promoted the launch of "FIFA Soccer 13."
NEW YORK -- For most of his life, Snoop Dogg (aka Snoop Lion) didn't know a thing about soccer. Didn't play it. Didn't know any teams or players. Didn't think about it.
Then about a decade ago, while touring in Europe, his PlayStation 2 "Madden" disc got scratched and stopped working.
When his handlers went to the closest store to buy another copy, "Madden" wasn't available -- the American football game wasn't widely sold in Europe at the time. So Snoop's boys grabbed "FIFA" off the video game rack to tide them over until they could find a copy of "Madden."
But Snoop didn't end up needing it on that trip.
"We ended up falling in love with it," Snoop said before playing "FIFA Soccer 13" Monday at the launch party at SPiN New York. "While we were playing the game, we were also learning about the game and started watching some games on TV. And it was the biggest sport in the part of the world we were in, so I just loved it."
May, 30, 2012
5/30/12
12:55
PM ET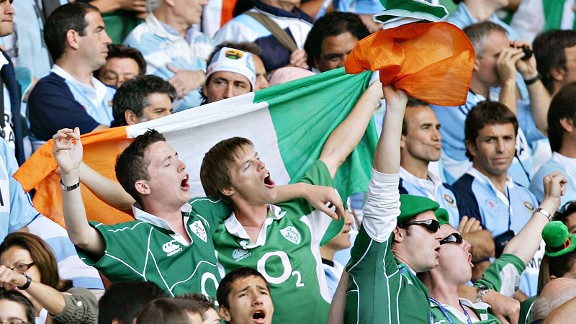 Warren Little/Getty ImagesIreland supporters sing their national anthem ahead of a game in 2007.
UEFA Euro 2012, one of soccer's top international competitions, kicks off June 8. In anticipation of this eagerly awaited event, Playbook is teaming up with ESPN FC to offer sights and other delights from each participating nation.
Ireland fans have reason to sing in 2012: It's the nation's first Euro since 1988.
And sing these Irish fans are doing, producing a vast selection of unofficial Euro (and one official) anthems and videos to send their boys off to Poland and Ukraine.
Here's a small sample; if we posted them all, music-hungry fans might miss Ireland's first match.
"The Rocky Road to Poland"
-- Ireland's official tune, written by "Ray D'Arcy Show" listeners and recorded by Damien Dempsey, Bressie, Danny O'Reilly (Coronas) and The Dubliners (John Sheehan, Barney McKenna, Eamonn Campbell, Patsy Watchorn; they recorded the song on which this is based, "The Rocky Road to Dublin").
May, 22, 2012
5/22/12
11:05
AM ET
Football. Not soccer. That's what they call it over in England, where the alternative/indie rock band Morning Parade formed (near London) and where frontman Steve Sparrow gained his love for the beautiful game. One team in particular, actually. But we'll get to that later.
Because we couldn't help but ask Sparrow about
the final match day
of the Barclays Premier League season, when Manchester City snatched the title from Manchester United in the final minutes.
And the band ... missed it?! That's what happens when you have to work ...
"We were flying when the games were on," said Sparrow, who did get the scores via text from his manager upon arrival in the States (they're currently traveling around the Northeast, before
their big tour in June
to support their new self-titled album, out June 19).
"So when we got back [to our hotel], we watched the games on our laptops at night. What an amazing way for the Premiership to end, eh?"
Indeed. Especially because Sparrow's club, Arsenal, crucially clinched a spot in the Champions League that same Sunday.
Sparrow also talked a bit more about The Gunners, the Olympics, American sport and more:
April, 20, 2012
4/20/12
9:20
AM ET
By
Zach McCann
| ESPN.com
Last summer, Mark Hoppus of Blink-182 decided he had had enough of Southern California. He'd lived there his entire life -- between all the music travels and tour stops -- and needed a change.
So he uprooted his wife and 9-year-old son to live in London for a year.
The weather is colder, he walks instead of drives and there are historic buildings everywhere -- marking quite the contrast from the sunny concrete of SoCal.
And in London, everybody there loves soccer, something the 39-year-old rocker has tried to embrace. He's thrown his soccer support behind Chelsea FC, the high-spending English Premier League team that boasts international superstars Didier Drogba and Fernando Torres.
Drogba's goal on Wednesday night helped the Blues to
a 1-0 victory over Barcelona
in the first leg of their Champions League semifinal. The second leg of the series is next week in Spain.
And despite moving to another country, Hoppus returned with his old bandmates to create a new album, "Neighborhoods," which was released in September -- the first album of new material in eight years for the trio of Hoppus, Tom DeLonge and Travis Barker.
Hoppus travels back to New York to host his television show,
"Hoppus on Music,"
which airs on Fuse at midnight ET on Thursday nights.
[+] Enlarge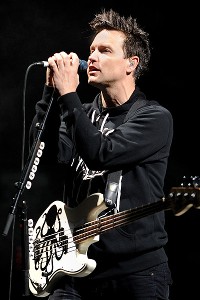 C Flanigan/WireImageMark Hoppus and Blink-182 will be back out on the road in May.
Blink-182 is also heading out on a
wide-ranging tour
, which begins May 10 in Thackerville, Okla., and wraps up on July 21 in Lisbon, Portugal.
We caught up with Hoppus to talk about his new team, the strange way he's treated by English soccer fans and what parts of soccer he thinks "make no sense."
When you moved to London, you decided to throw yourself into supporting Chelsea FC of the English Premier League. How's that gone?
It's been an educational experience for me, for sure. When Blink toured over here, it always fascinated me, the passion and fanaticism people had for their team. They are dedicated, lifelong fans who are totally committed to their team. So I started following it and I'm kind of into it now. When I moved to London, I wanted to take my hometown team. The closest is Chelsea, so that's my hometown team. Once you declare your loyalty to a team, every person who doesn't support that team, it's their job to ruin you, to tell you you're an idiot and to tell you that you made the wrong choice. [Laughs]
Chelsea is one of the highest-spending and most successful teams in the world. Do you worry about being called a front-runner?
They kind of have the reputation for being the Yankees of the Premier League. They have a bunch of money behind them and they'll pay for the best players, but the best team in any sport across the world will do what it takes to get the best players.
How have interactions with the English fans been?
It's strange because I'll tweet about it or post it on my Facebook when Chelsea is playing. And one time we got our asses handed to us, so I was like, "Hey, too bad for us, but congratulations to Manchester United on a great game." And people over here were like, "Why would you ever congratulate the other team for beating your team?" You're supposed to blame the refs, the conditions on the field, the position of the sunlight. [Laughs] You never say congratulations.
Wait … so you're saying we Americans are more polite than the British?
[Laughs] I think by and large, painting with a very wide brush, on the whole, the U.K. is more polite than the U.S. When it comes to sports, though, I think they put everyone else to shame in terms of, "It's my team or death."
Is it all soccer, all the time over there? Or are you into any other sports in the U.K. that aren't necessarily popular over here?
Living over here, I've really gotten into televised darts. [Laughs] Dart championships. Another interest, I have no idea about these two sports, but I'm interested in cricket and rugby. I have no idea anything about them. I know cricket takes, like, five days to play one game.
Have you always been a sports fan?
The last few years I became a lot more into sports. Growing up, the sports I liked were independent sports, like skateboarding. I was really into skateboarding, and not necessarily team televised sports. The past five or six years I've gotten more into American football, and a little bit into the NBA. I've also liked hockey for a long time now. I basically just know enough to get by the dinner-party conversation. I can have an opinion and support my opinion. I can't spit out any stats, but I can at least carry out my end of the conversation.
Has your interest in these sports helped you break the ice in your new culture?
Totally. I think for men especially -- and women, as well -- it breaks the ice. I was fortunate enough to get invited to the Carling Cup [an English soccer tournament, which Liverpool won in penalties over Cardiff City on Feb. 26]. I was in a group of 12 people I've never met, but we can still talk about the game and different players, and how your team's doing and my team's doing. It's a good way to bridge cultural gaps. I was talking about how I didn't know anything about cricket or rugby. So it's definitely a nice way to break the ice and meet new people. And for guys at a dinner party, it's all we really have. [Laughs] It's all we have. Then you ask if there are good movies out, or if there are any good new bands. That's it.
For such an intense guy -- always traveling, always creating music, and even your music is fast-paced -- soccer seems like a slow sport for you.
Oh my God, OK, as an American I cannot stand a 0-0 game. I cannot stand the fact they allow draws and all that in the first place. How you can have a sports match and not have a victor? It's wrong. [Laughs] It's wrong in my eyes. That makes no sense. You watch a game for 90 minutes and no one scores and people walk off and shake hands. It's wrong. No. Someone has to win. That's a fundamental flaw in the system you have. That should never happen. Someone has to walk out of the stadium a winner and a loser, that's the only thing that makes any sense.
We Americans don't go for ties.
They're like, 'Oh, it's a draw today.' How boring is that? They'll say there were some great attempts and great saves. 'Oh, the defense was amazing today!' [Laughs] Amazing defense. That makes no sense at all. That's them trying to cover their ass because it seems like a waste of time. [Laughs] But I'm a visitor in a different land so I have to abide the best I can. But it makes no sense.
April, 17, 2012
4/17/12
7:47
AM ET
By
Andy Frye
| Special to ESPN.com
In the video for his new single, "Dream On," Noel Gallagher plays a boxing official refereeing a live fight. Some might say that the former Oasis songwriting genius always has sports on his mind.
"Other than my wife and kids, it's one thing I'm most interested in. But does sport ever influence my songwriting? Not really," says Gallagher.
That said, Noel is very in tune with his hometown soccer club, Manchester City, as they spar with rival Manchester United for the Barclays Premier League title. Last month, Gallagher even
interviewed Man City striker Mario Balotelli
for BBC Sport, talking with the star about the club's rise and the manager, Roberto Mancini.
"He's great, the man for the job," says Gallagher, of Mancini who has led City to an undefeated home record this season. "The last few games haven't been a great end to the season but we'll see."
As of April 16, Man City sat in second place, five points behind United with four left to play this season.
Gallagher's High Flying Birds kicked off their 2012 US tour March 28 in Washington, D.C. The North American Tour, which features intimate venues, included a stop last weekend at the Coachella Valley Music & Arts Festival near Palm Springs, Calif., and wraps up this week with stops in San Diego, Phoenix and Las Vegas.
Compared to his Oasis days, Noel's part as vocalist gives touring a fresh, different feel.
"Well, the gigs aren't as big. That's the main thing. But the atmosphere is better, more comfortable," he said. Still, Noel admits that being the band's frontman on tour, and not just playing guitar, is an adjustment.
But through it all -- the breakup of Oasis in 2009 and the new venture with High Flying Birds -- Gallagher has stayed true to his music and his love of sports. And being in the U.S. will give him a chance to experience the other kind of football up close.
"I love the NFL. I don't have a team per se, but I'm into it" Gallagher said. "NFL comes on late night in the UK when I'm up. I love the color and energy of it all. There's so many things going on in American Football. It took me a while to get it, but I like it a lot."