ESPN Music:

Tampa Bay Rays
May, 15, 2013
5/15/13
12:16
PM ET
By
Jeff Beckham
| ESPN.com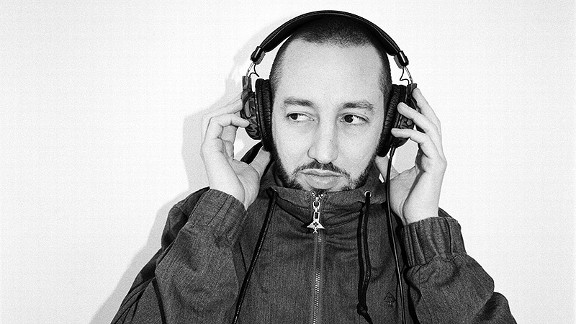 Mike Schreiber J. Period is not playing just your jock-jam favorites at Brooklyn Nets games.
Music has been part of the sports experience for more than 100 years, with marching bands and ballpark organists and blaring rock filling the air during breaks in the action. But the latest incarnation blends the human element and the latest in tech in a new way as DJs take their skills from the clubs to the stadiums.
One of the leaders of this new movement is Brooklyn Nets music supervisor J. Period, a mixtape DJ who has worked with The Roots and Common. The team hired him for more than your standard playlist of jock-jam favorites; they wanted him to create a soundtrack for games at the Barclays Center.
For his first season,
J. Period
created more than 150 remixes and edits of classic and new hits, each tailored to very specific game situations. A remix of Phil Collins' "In the Air Tonight" captures the feeling of anticipation before the players take the floor. A fresh combination of
Carmina Burana
with Nas' "Hate Me Now" stirs up feelings of battle, so it's well suited to bring the crowd back into the game after halftime. And an edit of Jay-Z's "U Don't Know" in the fourth quarter of a close game never fails to rouse the Brooklyn fans.
July, 20, 2012
7/20/12
10:00
AM ET
By
Andrew Pentis
| ESPN The Magazine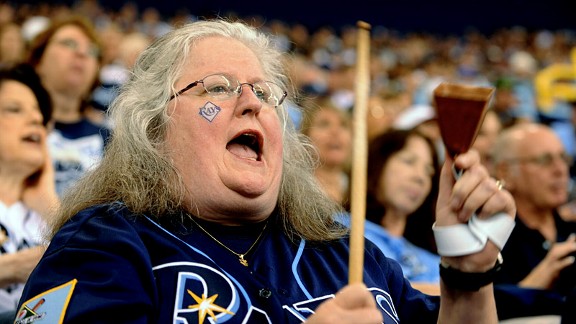 Al Messerschmidt/Getty ImagesThe ringing of cowbells isn't the only unique sound fans hear at Tampa Bay Rays games.
Every day of baseball season, in seventh innings around the country, fans stand and sing lyrics that were written way back in 1908. The sheer shelf life of "Take Me Out to the Ball Game" proves that America's first pastime has long been intertwined with its tunes. But for a more unique connection between city and club, teams rely on their own traditions -- some newer, some older.
We decided to find out the one song that each team relies on to get fans on their feet.
We're featuring the music from one team per day here on ESPN Playbook. To see past entries,
click here
.

Tampa Bay Rays
Song
: "
Feel The Heat, Rays
" by Darren Moore
Tradition
: Played after home runs and wins at Tropicana Field
Fun fact
:
• The song was created in conjunction with the switch from Devil Rays to Rays in an attempt to create more team identity.
Bonus music
:
• DJ Kitty, a play on YouTube's Keyboard Cat, is a disc-spinning feline who provides '90s techno beats. "We got a cat, put him in Rays gear, gave him a turntable and green-screen him to put him in famous music videos," entertainment director Lou Costanza says. "It's become so big they've been doing T-shirts, bobbleheads, all sorts of stuff. It's weird."
June, 21, 2012
6/21/12
2:00
PM ET
By
Mike Trask
| Special to ESPN.com
The Tampa Bay Rays aren't exactly known for their celebrity fans.
But there's a huge one in Against Me!, the Florida-based band currently on tour with punk legends The Cult.
[+] Enlarge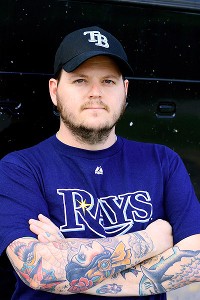 Courtesy of James BowmanAgainst Me! guitarist James Bowman has been a devoted Rays fan since the team's inception.
"I grew up in the Tampa-St. Pete area and I was living there when we got the news about getting a major league team," said Against Me! guitarist James Bowman. "A bunch of friends and I pooled our money. We bought season tickets to the inaugural season.
"There were some lean years. But we stuck it out."
Lean might be a generous word to describe a 106-loss season in 2002, or the 10 straight sub-.500 seasons to begin franchise history.
Yet, times have changed. The Rays are no longer the Devil Rays, nor are they laughingstocks. They are perennial contenders in the toughest division in baseball and Bowman now travels the world with Against Me!, jamming to hit songs like "I Was a Teenage Anarchist" and "Thrash Unreal."
The band's lead singer, Laura Jane Grace, recently made headlines with her decision to come out as transgender and undergo hormone replacement therapy. An outpouring of support for the band and for Grace, known formerly as Tom Gabel, came immediately. Athletes such as WWE Champion CM Punk, who wore an Against Me! shirt
during his snowangeling appearance
on Jimmy Fallon earlier this week, tweeted in support of the band.