ESPN Music:

The Music Issue
January, 24, 2014
Jan 24
12:28
PM ET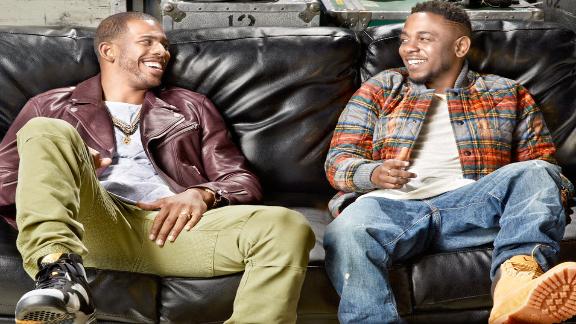 It wasn't that long ago that music and sports were separate worlds -- and crossovers from one sphere to the other were rare.
Not anymore. Sports are part of music -- especially rap music -- and music is increasingly part of sports. And it's about more than friendships or hanging out with a fellow celebrity at a club or an event. It's increasingly about building business relationships and cross-platform marketing. And
The Music Issue
of ESPN The Magazine tackles those growing business and cultural ties between the concert stage and the locker room.
In Sam Alipour's interview
with Clippers star Chris Paul and hip-hop star Kendrick Lamar, the point guard and the rapper discuss in depth how music and sports go beyond establishing brands and reaching markets.
As Lamar puts it: "Hip-hop and being a pro athlete go hand in hand. When they come together, it's a win, not just for your business brand but also for culture. I always use the word 'culture,' because that's first -- everything else falls behind it. When they see that this guy loves rap the way he does, and this guy loves basketball like he does, the business is gonna flow behind it."
That's echoed in a
thought-provoking essay
by former Vibe and Billboard editor Danyel Smith, who writes that the bond between sports and music -- especially rap -- is now permanent and unbreakable. Smith writes that that hip-hop's new generation, led by rappers such as Drake, has allowed artists to be who they are -- and that the music has in turn challenged athletes to up their game and demand their true market value.
But it's not all business. The Music Issue also dives into the unique and sometimes offbeat ways in which the two worlds intersect and collide, whether it's musical inspiration for athletes and fans alike -- such as
Kobe Bryant
recalling the song that was playing when his high school team celebrated a state championship -- or the athletes themselves getting involved in music, such as snowboard Olympian Shaun White
learning guitar
.
The Music Issue of ESPN The Magazine hits newsstands on Feb. 3.
January, 24, 2014
Jan 24
12:27
PM ET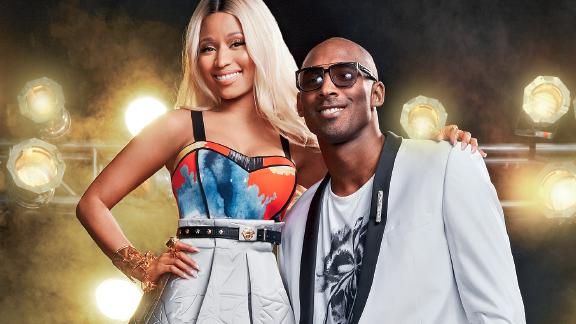 When the buzzer sounds for halftime, the players head down the tunnel for strategy adjustments, motivational speaking and orange slices. They usually don't get to stay behind and listen to the band on the field or on the court.
What if the athletes were given the chance to book the halftime entertainment?
In
this photo gallery
from
The Music Issue
of ESPN The Magazine, we let the athletes choose -- and gave them the chance to interact with the artists.
In these video clips, you'll learn why Kobe Bryant
respects Nicki Minaj
, why hip-hop has always been a part of his basketball career and whether he has any plans to record another rap album. You'll hear Hope Solo tell singer-songwriter Skylar Grey about her
very short career
as a harmonica player. You'll see Yonder Alonso of the San Diego Padres and Manny Machado of the Baltimore Orioles talk about how much they enjoyed
hanging out with rap artist Yandel
and how hip-hop is a part of baseball clubhouse atmosphere.
The Music Issue of ESPN The Magazine hits newsstands on Feb. 3.