August, 21, 2014
8/21/14
4:27
PM ET
Fitz and the Tantrums
has come a long way since its critically acclaimed debut album dropped four years ago.
A year ago, the single "Out Of My League" from their second album, "More Than Just A Dream," hit No. 1 on Billboard's alternative songs chart. Monday, the Los Angeles-based indie pop band will add another career highlight when they perform live Monday at the opening ceremony for the U.S. Open at Arthur Ashe Stadium.
"We're so thrilled to be performing at the U.S. Open," founder and lead singer Michael Fitzpatrick told ESPN Music. "Our music has taken us to many fabulous places, but we never dreamed it would take us to Center Court. We can't wait to be hanging out with the rock stars of tennis."
The opening ceremony will air Monday on
ESPN2
at 7 p.m. ET and will feature a ceremony with 1984 U.S. Open champions John McEnroe and Martina Navratilova triggering the lighting of the Empire State Building.
August, 26, 2013
8/26/13
4:23
PM ET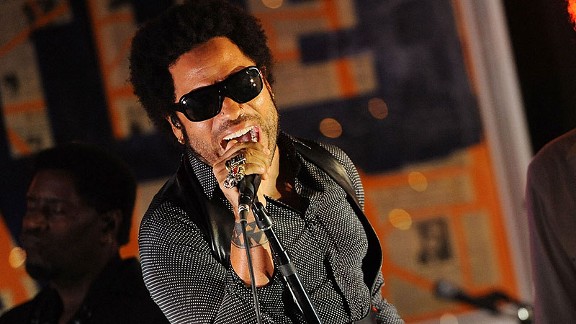 Lenny Kravitz wasn't talking about tennis when he titled his first album "Let Love Rule." But that debut, released 24 years ago next month, kicked off a memorable rock music career that's still going strong.
Monday night at the U.S. Open, Kravitz is expected to perform one of his signature hits, "Are You Gonna Go My Way," as the tournament holds its opening ceremonies at Arthur Ashe Stadium. His music will be highlighted during ESPN's coverage of the tournament over the next two weeks.
Here's a list of songs from performers featured on ESPN's U.S. Open programming, links to the artists' websites and links for you to download and buy the songs and/or albums:
Lenny Kravitz
"Are You Gonna Go My Way,"
"Believe,"
"Spinning Around Over You"
and
"Work Like The Devil"
from the "Are You Gonna Go My Way (20th Anniversary Deluxe Edition)" album. (
iTunes
|
Amazon
)
"Fly Away"
and
"American Woman"
from the "Lenny Kravitz: Greatest Hits" album. (
iTunes
|
Amazon
)
"Dig In"
from the "Lenny" album. (
iTunes
|
Amazon
)
Smallpools:
"Dreaming"
from the "Smallpools- EP" album. (
iTunes
|
Amazon
)
The Rival:
"Run Run"
from the "The Rival" album. (
iTunes
|
Amazon
)
Thirty Seconds To Mars:
"Do or Die"
from the "Love Lust Faith + Dreams" album. (
iTunes
|
Amazon
)
September, 6, 2012
9/06/12
1:00
PM ET
By
Lynn Hoppes
| ESPN.com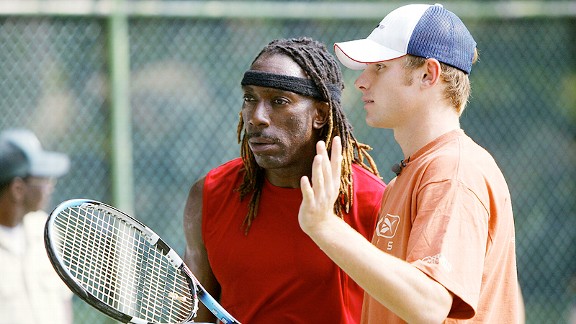 Mark Mainz/Getty ImagesBoyd Tinsley and Andy Roddick have been friends for 10 years, and Tinsley was there to support him.
Boyd Tinsley, violinist for the Dave Matthews Band and close friend of Andy Roddick's, said he was a little surprised that Roddick is calling it quits.
"I was always hoping he'd go on," said Tinsley, who met Roddick 10 years ago. "Athletically, he is well enough, the way he's been playing lately. He's still a great player."
Tinsley has been there in the stands watching the U.S. Open for years, starting with Boris Becker in the mid-1980s. He caught the tennis bug himself and started his own tennis academy in Charlottesville, Va.
And Tinsley was there in New York this week to support Roddick, who headed into retirement with a 6-7 (1), 7-6 (4), 6-2, 6-4 loss to Juan Martin del Potro of Argentina in the fourth round at Flushing Meadows on Wednesday.
Roddick surprised everyone last Thursday, his 30th birthday, by announcing that he would retire after the U.S. Open. He finishes with 32 tournament titles, including the 2003 U.S. Open crown.
August, 27, 2012
8/27/12
11:30
AM ET
By
Lynn Hoppes
| ESPN.com
Canadian pop singer Carly Rae Jepsen is having a "Good Time" and having no problems these days getting someone to call her back.
On Saturday, Jepsen was in New York City to perform at the Arthur Ashe Kids' Day in preparation for the start of the U.S. Open. Her duet with Owl City for "Good Time" is playing on ESPN's platforms for the month of August.
[+] Enlarge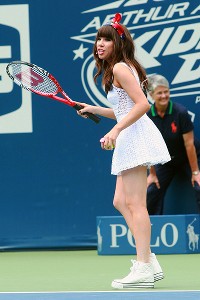 Taylor Hill/Getty ImagesPop sensation Carly Rae Jepsen played a little tennis Saturday at the Arthur Ashe Kids' Day.
The "Call Me Maybe" singer, 26, came in third on "Canadian Idol" in 2007 and is signed to Justin Bieber's Schoolboy Records. Her debut album, "Kiss," is coming out Sept. 18.
Playbook had a few minutes with Jepsen.
What do you think of all those athletes coming up with different videos for your monster hit "Call Me Maybe"? Swimmers. Baseball players. Miami Dolphins cheerleaders.
"I love seeing the 'Call Me Maybe' remakes. It honestly makes my day each time I discover a new one. It's really fun to watch."
You had a song called 'Tug of War.' Did you ever play that as a kid? Were you much of an athlete?
"'Tug of war,' the song, is more about the push and pull in relationships than the actual game, but, yeah, as a kid I was a bit of a tomboy, so I would have pulled my weight on the rope end."
Some of your tour dates are with fellow Canadian Justin Bieber. What's it been like with him?
"Justin has been my greatest supporter. He really opened the door for me. It's been amazing getting to know him as a musician, performer and friend. Can't wait to hit the road in the fall. 'Believe' is a wicked album, and I'm really excited to go live with my new album, 'Kiss.'"
Being from Canada, are you into hockey? Or are there other sports you like?
"You can't be Canadian and not appreciate hockey. One goes hand-in-hand with the other. My brother, cousins and parents all play hockey. I grew up singing national anthems."
What are your thoughts on traveling the United States? What's been your favorite part?
"It's been amazing to see parts of the world I have never visited before. I am falling in love with Los Angeles. Sun every day and city full of other songwriters. My kind of heaven."