September, 20, 2014
Sep 20
10:00
AM ET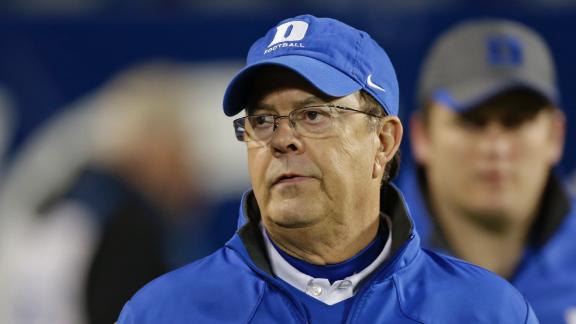 Duke's David Cutcliffe edged Oregon State's Mike Riley as the nation's most underrated coach in ESPN's weekly college football poll of the FBS head coaches, #1QFor128.
Cutcliffe received 13 percent of the votes in the poll conducted by ESPN's Brett McMurphy, compared to 11 percent for Riley.
East Carolina's Ruffin McNeill was third (8 percent), followed by Mark Dantonio (7 percent). Minnesota's Jerry Kill and Kansas State's Bill Snyder, each receiving 5 percent of the votes, tied for fifth. Navy's Ken Niumatalolo and UTSA's Larry Coker, each with 4 percent of the vote, tied for seventh.
Rounding out the top 13: Boston College's Steve Addazio, Rice's David Bailiff, Northwestern's Pat Fitzgerald and Washington's Chris Petersen (3 percent each) and Ball State's Pete Lembo (2 percent).
In all, 39 coaches received votes.
Of the coaches from the Power 5 conferences (ACC, Big 12, Big Ten, SEC and Pac-12), Dantonio and Riley received the most votes (14 percent each). Cutcliffe and McNeill (11 percent each) tied for third among the voting from Power 5 coaches, followed by Addazio, Bailiff and Kill (8 percent each) and Fitzgerald (5 percent).
Of the coaches from the Group of 5 conferences (American, Conference USA, Mid-American, Mountain West and Sun Belt), Cutcliffe was the overwhelming favorite with 15 percent of the votes. McNeill, Niumatalolo, Snyder (7 percent each) and Coker (5 percent) rounded out the top five voting from the Group of 5 coaches.
Of the 128 FBS coaches, 97 participated in this week's poll.
How Power 5 coaches voted
Mark Dantonio, Michigan State: 14 percent

Mike Riley, Oregon State: 14 percent

David Cutcliffe, Duke: 11 percent

Ruffin McNeill, East Carolina: 11 percent

Steve Addazio, Boston College: 8 percent

David Bailiff, Rice: 8 percent

Jerry Kill, Minnesota: 8 percent

Pat Fitzgerald, Northwestern: 5 percent
How Group of 5 coaches voted
David Cutcliffe, Duke: 15 percent

Ruffin McNeill, East Carolina: 7 percent

Ken Niumatalolo, Navy: 7 percent

Bill Snyder, Kansas State: 7 percent

Larry Coker, UTSA: 5 percent

Mark Dantonio, Michigan State: 3 percent

Jerry Kill, Minnesota: 3 percent

Chris Petersen, Washington: 3 percent