September, 18, 2014
Sep 18
2:15
PM ET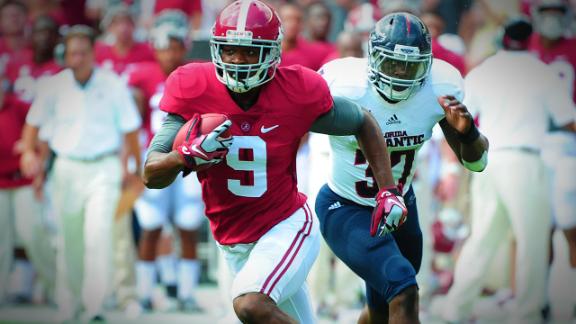 In advance of the All_American battle between Alabama wide receiver Amari Cooper and Florida cornerback Vernon Hargreaves III, we're breaking down what makes each player special. Click here for Edward Aschoff on Florida's superstar cornerback.
TUSCALOOSA, Ala. -- Amari Cooper is sizing you up. He might not say much, but Alabama's star receiver is seeing exactly where you stand.
Could you have envisioned the start you've had?
"Yeah," he said, not caring to elaborate.
You talked in the spring about Lane Kiffin and how you'd seen Marqise Lee and you were looking forward to that. Is this that why you anticipated this?
"Yeah, that's the exact reason," he said, again letting you fill in the blanks.
It's not cockiness. It's not arrogance. It's just who he is.
Cooper isn't one to make bold statements. His former high school coach in Miami, Billy Rolle, drove him to and from class. "The three years I had him," Rolle said. "I haven't heard 50 words out of the kid."
Instead, Cooper lets his play do the talking. Through three games, the junior leads the nation in receptions (33) and yards after catch (245).
So if Cooper isn't going to open up, we allowed those who know him best to break down what makes him arguably the best receiver in the country.
At 6-foot-1, he's not the tallest. At 210 pounds, he's not the most physically imposing, either. And while he does possess good speed, almost every defensive back in the SEC runs well.
Instead, it's the little things that set Cooper apart: his footwork, his ability to read defenses and his tireless work ethic.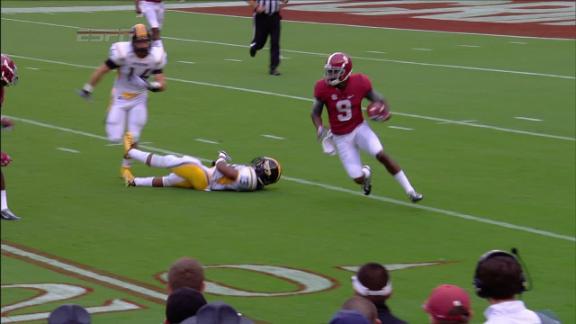 FOOTWORK
Alabama safety
Landon Collins
is still trying to figure him out.
Collins likes to read a receiver's steps, guess the route and make a play on the football. But with Cooper, the guessing game doesn't work. The All-SEC defensive back is helpless.
Collins: "His footwork is confusing. If you look at his feet and try to stick him at the line, you'll get lost."
Jarrick Williams
, Alabama cornerback: "His footwork, how quick he gets around you, how explosive he is; he's amazing."
Cooper: "It's definitely something I pride myself on. Playing as much backyard football as I did as a kid, it's something that's instinct now."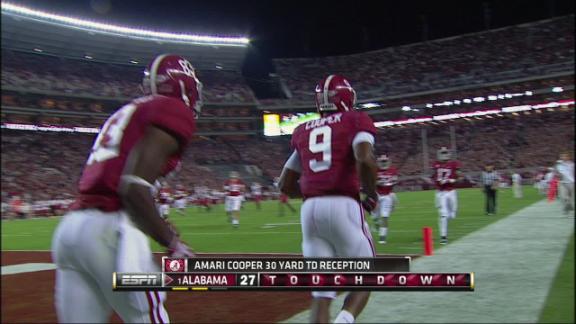 READING THE DEFENSE
Take, for instance, the SEC championship game in 2012. It was late in the fourth quarter and Alabama was trailing Georgia 28-25. The play called for Cooper to go inside on his release, but he saw the defender shading that way.
Collins: "He was too far inside, so I jumped outside instinctively."
To his credit, Georgia cornerback
Damian Swann
didn't bite on the play-action fake. Instead, he fell for Cooper's move toward the middle of the field. Cooper swung his hips back toward the sideline. Swann was caught flatfooted and completely turned around. Cooper was so wide open, he stopped running. He sped up just in time to catch the 45-yard game-winning touchdown that sent Alabama to the BCS National Championship game.
Cooper: "It's a thing you can sense. As soon as you start releasing off the line, you can feel he's leaning toward one way and then you go the other way. It's a very unique thing."
But that wasn't Cooper's favorite instance of toying with a defensive back. It also took place in the 2012 season, against Ole Miss.
Cooper: "It was third down and I had a slant route. I'd been watching film of this guy because he's from Miami and I knew him personally. He was really quick. But I was watching film and I noticed he's really patient at the line. So I used one of my better releases to get open."
Rolle: "He thrives on reading defenses and knowing how to get open and not just running by people. He liked to run the slant patter, the hook ups, the outs. He was even more dangerous if he got the ball right away and in open space."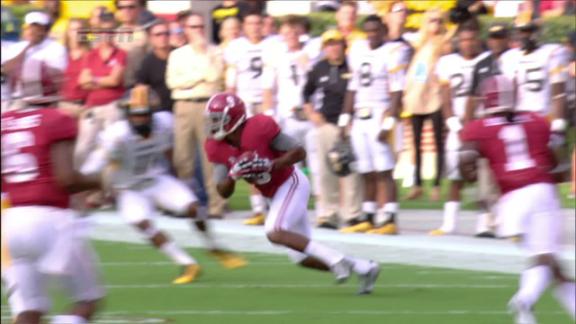 WORK ETHIC
Lane Kiffin marveled at Cooper's practice habits, too. When he became Alabama's new offensive coortinator in January, he quickly noticed how much work Cooper puts into his craft.
Kiffin: "Amari sometimes would work out two hours before the workout started. I thought it was a really hard workout we were doing -- the Fourth Quarter program that we do here -- but he worked out two hours before that."
Christion Jones
, Alabama receiver: "Have you seen him? It's nothing fake. He goes hard everyday, every practice. No matter what it is, he's going to go full-tilt."
Cyrus Jones
, Alabama cornerback: "His potential has been evident since the first time he stepped on the campus and on the field. You progress each year as a player and you can definitely say he's reached another level this year."