September, 23, 2014
Sep 23
4:00
PM ET
Florida State is
No. 1 in both major polls
, but the
ESPN.com power rankings
feature a different team at the top of the heap: Oklahoma. Our good ol' ACC friend, Heather Dinich, voted the Sooners No. 1, and she has come here to tell us why exactly she has the reigning national champions a distant fourth in her rankings.
Heather, you realize Florida State has won 19 straight games, right?
[+] Enlarge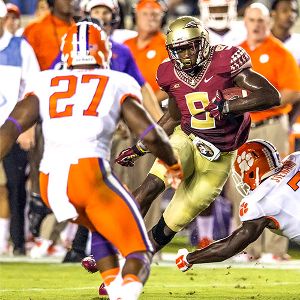 AP Photo/Mark WallheiserFlorida State figured out a way to sidestep Clemson, but it still has some problems to shore up to compare to the 2013 Noles.
HD:
SHOW ME MORE. I'm not convinced. Yes, I think Florida State will be in the playoff, but I don't think the Seminoles will win it, nor do they look like the No. 1 team in the country. I'm looking at these teams every week like the committee is supposed to, with no preconceived notions. I don't care what FSU did last year. It's not the same team. The whole "No. 1 until proven otherwise" argument doesn't fly. Florida State can't run the ball. It's not good on third downs. The offensive line hasn't lived up to the hype. The Seminoles have been underwhelming in the red zone. And that's just the offense …
AA:
Wait, you want the defending national champions to SHOW YOU MORE than beating a ranked Clemson team without its Heisman Trophy-winning quarterback? Tell me, would Oregon have beaten Washington State without
Marcus Mariota
? Would Mississippi State have beaten LSU without
Dak Prescott
? I could go on, but I think you get my point. Florida State pulled off a team win, proving that it has more than just
Jameis Winston
on its roster. Was it a perfect game? Absolutely not. But Oklahoma did not play a perfect game at West Virginia, either. Somehow, the Sooners found a way to win. That is exactly what the Seminoles did on Saturday night. They made the big plays when they needed to -- including the game-winning overtime score on
Karlos Williams
' 12-yard run. The Noles did have problems running the ball, but not on the most important play of the game. What Florida State did -- winning its biggest game of the season without the best player in the country -- stands above any other victory to date. How is that not enough?
HD:
Because Clemson lost that game more than FSU won it. That "ranked team" is no longer ranked in my top 25 because it "pulled a Clemson." Yeah, I said it. A fumble on the 18-yard line with the game tied and two minutes to play? Shotgun formation on fourth-and-inches? Seven trips to the red zone, two touchdowns.
Golf clap for the "team win."
It's not enough because Oklahoma has fewer weaknesses. Because Mariota was sacked seven times -- and still looked like the best player in the country. Because
Amari Cooper
is better than
Rashad Greene
. Because if Florida State lined up against any of those teams right now ... they'd lose. They'd lose because they're No. 108 in the country in third-down conversions, and -- get this -- 30 percent of their running plays have gone for zero or negative yardage. That ranks 110th in the country, and the only team in the ACC that's worse is Wake Forest.
Between your Ice Bucket Challenge and six gazillion viewings of "Frozen," I think you've got brain freeze. Jump back to 2014. This ain't last year's FSU team.
AA:
That's cooold. Ice cold! But you still did not really answer my question. Mariota and Cooper are great players, just like Winston. Take them away from their teams and what happens? Lots more weaknesses get exposed. You can have your fancy stats, but I will rely on what my eyes tell me. Clemson had a solid game plan against the Florida State offense, using the strength of its front seven to shut down the run game. Therefore, it shouldn't be that surprising the Noles had a hard time running the ball when Clemson's main purpose was slowing down the run. Especially since the strength of Clemson's defense is in the front seven.
Didn't you
write in April
: "Clemson's defensive line is as good as advertised." You also picked Clemson to win, so seeing Florida State pull out the victory should further bolster its case -- regardless of whether Clemson "pulled a Clemson." The Tigers will be back in the Top 25 this season and will win 10 games. As the season wears on, this win will look better and better for Florida State -- the No. 1 team in all the land.