December, 29, 2014
Dec 29
11:00
AM ET
Baylor's offense is fast to the naked eye. Michigan State players could see that the first time they turned on the film, but the lethal levels of speed didn't totally sink in until the Spartans' defense saw the data spelled out on paper.
In mid-December, on the first day of bowl practice dedicated completely to Baylor prep, outgoing defensive coordinator Pat Narduzzi showed his players a list of some of the most high-powered offenses in college football and how much time each took between plays. Baylor likes to snap the ball within 15 seconds of the previous play ending. Most of the time, they land between 10 and 17 seconds. That's at least five ticks faster than where Narduzzi clocked the likes of Ohio State and Oregon.
"I was just looking at that like, 'Dang, I thought Oregon was fast,'" said junior linebacker Ed Davis. "When we looked at the game film for Baylor again, we could see the chains weren't even set up before they were running the next play."
[+] Enlarge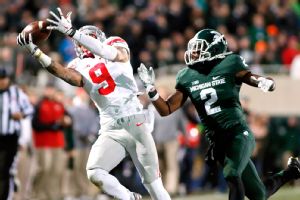 AP Photo/Al GoldisMichigan State's defense struggled against the up-tempo attacks of Ohio State and Oregon this season, but remains confident it can slow Baylor.
Michigan State built itself into a top 10 program on the strength of its consistently dominant defense. This season, in its two biggest tests that unit fell short against fast-paced, cutting edge offenses. Oregon and Ohio State combined to score 95 points on the Spartans in their only losses of the season.
The chance to slow down Baylor -- the highest scoring team in the country -- in the Goodyear Cotton Bowl Classic this week is a chance at redemption.
"This is the fastest team we've seen," Narduzzi said. "We're practicing at warp speed right now, even in individual drills, so that our kids will be conditioned for it."
Narduzzi, who will take over as Pitt's head coach after Thursday's game, said he felt bad for his defensive players while walking off the practice the field the first day they prepped for Baylor's tempo. The players agreed that it was one of the more taxing days they could remember.
The defense learned some lessons about defending at a fast-forward pace during its trip to Oregon in September, but didn't dramatically change the way it is preparing this time around. The emphasis for most players was on making sure they were in good shape. That included the offense, which had the unwelcome task of mimicking Baylor's speed during the last couple weeks of practice to get their teammates ready.
"Being fat, it's not fun," All-American center Jack Allen said. "I was pretty dehydrated after practice."
Safety Kurtis Drummond said he could see Baylor's speed wearing on its past opponents as he watched film. The Bears ran 24 plays this season that went for at least 40 yards. They do it, in part, by setting up their runs to look like passes and passes to look like runs. They also do it, Drummond said, by capitalizing on the mistakes of exhausted opponents.
That's bad news for the Spartans, who were tripped up by big plays on several occasions this season. They allowed 18 plays of 40-plus yards, which is more than 101 other FBS teams. Drummond said it's not so much the speed of individual players that makes Baylor dangerous, but the way it tests a defense mentally. The breakneck pace doesn't allow anyone time to catch his breath.
"If you turn on any film late in the game, or if you turn on the end of a long drive, you see how that defense starts to wear down," Drummond said about Baylor's opponents. "People are playing with different techniques and different leverages. It's obvious when you look at the film."
Michigan State knows it won't be able to slow the tempo of the Baylor attack, so its best options are to get ready to run with them and to keep them off the field as much as possible. Defensive players checked in with each other during their week away from practice this month to make sure everyone was running sprints and staying in shape. The other key, Drummond said, is forcing three-and-outs. It's hard to get tired when you're only on the field for a few plays before heading to the sideline.
Narduzzi usually prefers to keep his best players on the field as much as possible. Defensive ends Shilique Calhoun and Marcus Rush rarely rotated out of the lineup in big games this season. The coach said he would likely have to work in other defensive linemen more frequently against Baylor to make sure his starters stay fresh.
As daunting as the task ahead of them is, and as painful as practice has been this month, the Spartans defense left for Dallas excited for the challenge. Surrendering 46 and 49 points to the Ducks and Buckeyes did not sit will in East Lansing. Most players see this as their chance to prove the defense that propelled them into college football's elite is capable of hanging with the best.