September, 2, 2014
Sep 2
8:30
AM ET
AUSTIN, Texas -- Texas quarterback
David Ash
will
not play against BYU
on Saturday after again experiencing concussion-related symptoms, the latest setback in a 360-day saga that could put both his season and his playing career in jeopardy. The following is a timeline of how we got here.
Sept. 7, 2013:
Ash exits a 40-21 loss to BYU late in the fourth quarter after suffering a concussion. He does not play against Ole Miss the following week.
Sept. 20:
Texas announces Ash has been cleared by UT medical staff to start against Kansas State. He'd participated in his first practice since the concussion two days earlier after being symptom-free for at least 48 hours.
Sept. 21:
Ash passes for 166 yards and guides Texas to a 17-7 halftime lead over K-State, then is held out for the second half. Team trainers evaluate him for concussion symptoms.
[+] Enlarge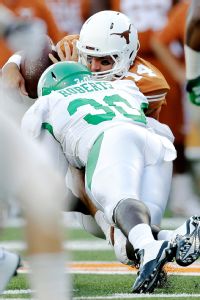 AP Photo/Eric GayDavid Ash suffered several hard hits on Saturday against North Texas.
Nov. 16:
Ash attends his first Texas football game since Kansas State, a home loss to Oklahoma State.
Nov. 25:
Texas officially announces Ash is
out for the season
and will seek a medical redshirt. "Though he's made a lot of progress, we have not been able to clear him to return to competition," Texas trainer Kenny Boyd says in a statement. "Due to the duration of symptoms, we are now at a point that we all believe the best approach for him is to not return this season."
Jan. 18, 2014:
Ash is cleared for offseason workouts and is expected to be a full participant in spring practice.
March 18:
First day of spring practice. Ash returns to the practice field for the first time since September.
April 11:
Ash is shut down for the final week of spring practice after
suffering a Jones fracture
in his left foot which requires surgery. Texas also announces Ash officially received a medical redshirt for missing 2013, giving him two remaining seasons of eligibility.
July 21:
Texas announces Ash is fully cleared to participate in fall practice. A day later, Strong says at Big 12 media days Ash is his starting quarterback.
Aug. 4:
First day of fall practice.
Ash speaks to media
for the first time since BYU. "A lot of people told me, 'You need to give it up, you need to quit.' Honestly, I never really thought about it," he says. "In my mind, I always knew I was going to play." He declines to discuss specifics about his concussion. When asked if he's ready to take his first hit, he declares: "Oh yeah, bring it on."
Aug. 25:
During his Monday press conference, Strong refers to Ash as an "unbelievable quarterback who's had an unbelievable preseason camp." When asked again about taking his first hit in the season opener, Ash says, "I'm going to be OK. If I get hit, I'll be fine. I will be sliding a lot more this season, so you can count on that, and I'll be trying to protect myself and doing what's best for the team and taking care of my health during games so that I can last the whole season."
Saturday:
Ash's first hit comes on the first play of Texas' second offensive drive. As he bends down to scoop up a fumbled snap, North Texas defensive end
Jarrian Roberts
hits Ash and his shoulder collides with the crown of Ash's helmet. Ash is slow to get up but does not report an injury to UT trainers. He also takes the following hits during the 38-7 win:
A hard shot from UNT linebacker Anthony Wallace on the same drive, while throwing a pass away along the sideline.

A big hit on a 9-yard sack by Roberts in the second quarter.

A sack by UNT's Dutton Watson before halftime during which Watson's left arm hits Ash's neck.

A forearm to the neck from Wallace while sliding at the end of a third-quarter scramble.

During an end zone fumble that UNT recovers for a fourth-quarter touchdown, Ash is knocked into a pile and it appears defensive end Chad Polk's knee slams into Ash's facemask or neck. He plays one more offensive series.
Ash does not report any injuries or symptoms to team trainers during the game. A UT spokesperson says Ash spoke with trainers immediately after he came off the field from each drive.
After the game, Ash does not speak to reporters. OC Shawn Watson describes his performance as "sporadic" with some good moments. Strong is asked about the hits Ash took. "It's all within the flow of the game," he says. "I think the officials did a great job and the thing we have to do is just do a better job protecting. ... Sometimes we see it coming and you have to remember, you're going to get hit in this game."
Late Saturday night, after leaving the stadium, Ash informs the Texas staff he's experiencing headaches and dizziness and is brought in for further evaluation. He tells Strong he thinks the first hit, by Roberts, caused his symptoms.
Monday:
Strong announces Ash is out for BYU and offers no timetable for his return. He's concerned about Ash's concussion history but insists the coaching staff was unaware of any in-game symptoms. "I'm not ever going to jeopardize injury," he says. "You can never, ever in this program jeopardize a young man's health to compete in a football game."