December, 28, 2014
Dec 28
7:00
PM ET
NEW ORLEANS --
Ezekiel Elliott
swears he's not trying to make any fashion statement with the way he wears his jersey.
The Ohio State running back shows off his stomach during games -- even those, like at Minnesota, that are played in sub-freezing temperatures -- by turning his jersey into a half shirt. The throwback look has brought comparisons to another famous Buckeye back in Eddie George. Or maybe Britney Spears.
But Elliott, who started rocking the midriff last season as a freshman, says there's not much to it.
[+] Enlarge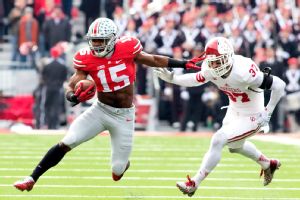 Jason Mowry/Icon SportswireBuckeyes RB Ezekiel Elliott, whose jersey is folded up under his pads, has rushed for three consecutive 100-yard games to end the 2014 regular season.
"I just don't like how long the jersey is," he said. "I don't like to tuck it in, so I like to tuck it up under."
Elliott's game really isn't about style and flashiness, anyway. He likes to block a defensive back almost as much as he enjoys carrying the ball. Yet down the stretch of the season, he started putting up some elite rushing numbers.
In Ohio State's last five games, he averaged 138.6 yards per game and 7.7 yards per carry while scoring seven touchdowns. He put an exclamation point on his sophomore campaign with a huge performance in the
59-0 win
against Wisconsin in the Big Ten championship game, running for a career-high 220 yards on 20 carries.
Elliott has posted numbers that are similar to Heisman Trophy winner George's in each of their first seasons as a full-time starter. George had 1,442 yards and 12 touchdowns as a junior in 13 games; Elliott has 1,402 yards and 12 scores.
But the St. Louis native has done it all somewhat quietly, as the quarterbacks get most of the attention in the Buckeyes' offense. Even during Sunday's media session for the College Football Playoff semifinal at the Allstate Sugar Bowl, the placard for Elliott misspelled his last name, leaving off the second 'T.'
"That happens a lot," he said. "It's something you've got to learn to deal with."
Clearly, though, Elliott has Alabama's attention. The Buckeyes like to run the ball first and foremost, and with
J.T. Barrett
sidelined, Elliott is their primary option on the ground.
"He's tough and he runs behind his shoulder pads," Crimson Tide safety
Landon Collins
said. "He's got great vision, and he hits his hole as hard as he can."
It's more than just Elliott's running that makes him special, however. Coach Urban Meyer has called him one of the best skill players he's ever had without the ball in his hands. Elliott relishes blocking downfield and is a big reason why Ohio State has sprung so many big plays.
"They run those sweeps and plays to the perimeter, and he just mows 'em down," Alabama defensive coordinator Kirby Smart said.
Elliott says he likes contact and tries to "take a very unselfish approach to the game." That has, not surprisingly, made him a popular teammate.
"There will be somebody 50 yards downfield, and Zeke is going to go find him, cut him and take him out of the play," wide receiver
Evan Spencer
said. "He's like our Energizer bunny; he never seems to get tired. I watch film of him and am like, 'Geez, dude, how do you keep doing that?"
Ohio State will need every bit of Elliott's blocking, energy and speed on Thursday against Alabama, which leads the FBS in rushing defense by allowing just 88.7 yards per game and and 2.8 yards per carry. The Tide have given up just three rushing touchdowns all season, due mostly to their standout defensive line, which Buckeyes offensive coordinator Tom Herman said was the deepest and stoutest he's ever seen.
"They're really, really big," Herman said. "I mean, really big."
"You watch them on film," Elliott said, "and offensive lines don't really move them."
Ohio State is confident that its offensive line, which improved so much this season, can handle Alabama's size up front. But at some point, it will be up to Elliott to help counter the Tide's strength, both with his running and his blocking. If so, America may finally learn how to spell his name, while doing some rather unavoidable navel-gazing.