October, 2, 2014
Oct 2
2:00
PM ET
Perhaps it's a statement on the lack of depth in the conference, or maybe it's a nod to the sheer talent at Florida State, but after a 15-point loss to the Seminoles, NC State is finally getting some respect.
The Wolfpack jumped out to a 4-0 start this season, but the opposition was lackluster and the bandwagon remained sparse, but after
Jacoby Brissett
shredded FSU's vaunted defense to the tune of 24 first-quarter points, NC State suddenly seemed like a real player in a league desperate for a few challengers to Florida State's dominance.
[+] Enlarge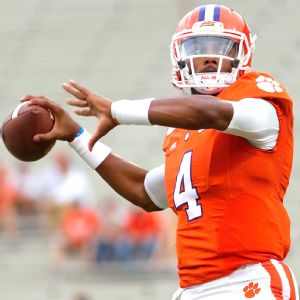 Joshua S. Kelly/USA TODAY SportsDeshaun Watson has established himself as the quarterback of the near future for the 2-2 Tigers.
"I believe we can beat anybody, and that game showed it," NC State coach Dave Doeren said. "We have that confidence."
That's a start for the Wolfpack, but it still wasn't a win.
For Clemson, respect in the league hasn't been hard to grasp. The Tigers have been the clear No. 2 in the conference the past few years, but the goal has been to reach just a bit higher. Two weeks ago, against those same Seminoles, they were painfully close to assuming the mantle atop the conference, but like NC State, they fell just a bit short.
But again, a loss to Florida State was just the start of something new for Clemson, too. Freshman quarterback
Deshaun Watson
got his first start last Saturday, and he made it a memorable one -- tossing six touchdown passes
against an overwhelmed North Carolina defense
.
Like NC State, Clemson didn't knock off the champs, but it did gain some momentum.
"He's a special young talent," Dabo Swinney said of his new QB. "I haven't been around a freshman like him."
Neither team appears likely to win the Atlantic Division now, but thanks to all that post-FSU momentum, the Tigers and Wolfpack are set to face off in what might be the ACC's most intriguing game of Week 6.
The intrigue starts at the quarterback position, as Watson and Brissett have emerged as legitimate challengers to
Jameis Winston
's ACC supremacy. In fact, Swinney sees an awful lot of the reigning Heisman winner in NC State's QB.
"If you just take the jerseys off, [Brissett] looks a lot like Winston, just the size and kind of some of their movements and how they're both strong enough to break tackles and extend some plays," Swinney said. "I've been very impressed with him."
Watson has done his share of impressing, too. In his first four career games, his stat lines compares favorably with what Winston did to start his Heisman campaign just a season ago. Watson has averaged more yards-per-pass, posted a better TD-to-INT ratio and is just a 1 percentage point behind Winston's completion percentage from his first four games of 2013.
[+] Enlarge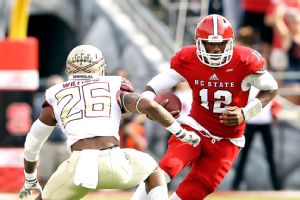 AP Photo/Gerry BroomeNC State's Jacoby Brissett is pushing the Wolfpack to contend for the Atlantic Division title.
"He's a very mature individual and he knows his role," Clemson tailback
C.J. Davidson
said of Watson. "He knows what it takes to be great. I knew when he got his chance that he would step up."
But if the QBs are the hot story, the secondaries should be most concerned.
Clemson's vaunted pass rush has done its job (38 tackles for loss), but against FBS foes, the Tigers rank 95th nationally in passing defense, allowing 276 yards per game.
NC State's numbers aren't quite so troublesome — 238 passing yards-per-game vs. FBS teams — but Winston torched the Wolfpack for 365 yards and four TDs last week, with a host of missed tackles adding to the misery of a 56-41 loss.
"Coverage mistakes, missed tackles, mental errors, people aligned in the wrong place," said freshman linebacker
Jerod Fernandez
, who had two INTs against the Seminoles. "Florida State is a good team, and when you have those kinds of mistakes against that type of team, they're going to capitalize."
Clemson is another team more than capable of capitalizing on mistakes, but that's the ideal way to rebound from an ugly performance, Fernandez said. And a year after suffering through an 0-8 record in conference play, NC State is eager to get a win in the league on another big stage.
And that's really what's at stake in Death Valley on Saturday. Both Clemson and NC State are now squarely in FSU's rearview mirror, which makes earning some respect in crucial conference games all that much more important.
"I feel like we earned a little respect last week," Fernandez said, "and now we've just got to take it."