December, 28, 2014
Dec 28
11:30
AM ET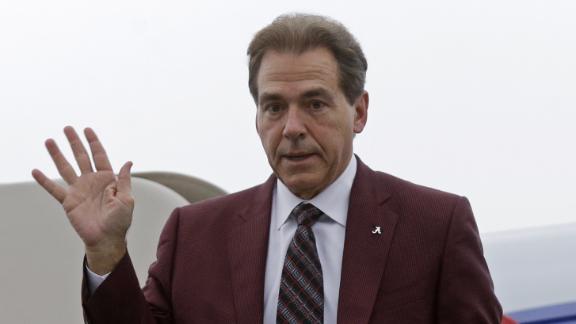 While the Allstate Sugar Bowl (Jan. 1, 8:30 p.m. ET, ESPN) will bring an exciting and much-anticipated coaching matchup between Alabama's Nick Saban and Ohio State's Urban Meyer, it also brings us an intriguing player vs. coaches matchup.
That would be Ohio State quarterback
Cardale Jones
facing a pair of defensive gurus in Saban and his coordinating partner in crime, Kirby Smart. On paper, you have a redshirt sophomore, third-string-quarterback-turned-starter taking on two guys who eat, sleep and breathe defense and preparedness. What you have is Jones making his second start, following a fantastic showing in the Big Ten title game against Wisconsin, battling two brilliant football minds who got nearly a month to prepare for their relatively inexperienced opponent.
But you also have those two X's and O's brainiacs taking on a lumbering yet deceptively agile gunslinger who went from being defined by an infamous tweet to piling up 257 passing yards and three touchdowns in the Buckeyes'
59-0 pounding of Wisconsin
a couple of weeks ago.
While Ohio State trying to perfect the ideal game plan for a new quarterback -- for the second time this season -- against a tag team that feasts off inexperience and relishes the notion of extra time to think and scheme sounds daunting, Alabama has to be ready for a 6-foot-5, 250-pound quarterback who coaches and players really don't know a ton about. The factor of the relative unknown complicates things a little for Alabama as well.
"This guy is very, very capable," Saban said of Jones. "He's a very good passer. Big strong, athletic guy who can do all the things the other guy (
J.T. Barrett
) could do in terms of the quarterback runs. It's just a little different style, that's all. We did see him play almost a game and a half. And he pretty must did what the other guy did. The one thing he did really well was pass the ball. He made some really good throws in the Wisconsin game, big plays down the field. Which the other guy did, too, so we have a tremendous amount of respect what this guy can do."
Saban and Smart have kind of been down this path before. They adjusted on the fly in-game to Garrett Gilbert in the BCS title win over Texas in 2009 and prepared for a completely different quarterback -- and scheme -- against Jordan Jefferson and LSU in their 2011 national championship win.
So for the moment, this battle is a little bit of a chess match. While Saban and Smart, who watched their defense rank third in the SEC (312.4 yards allowed per game) and have combined to win four of their last five bowl games together, pose the threat of unleashing some new and threatening exotic looks to confuse Ohio State's green QB, Jones and his coaches have limited film and a plethora of offensive knowledge working in their favor as well.
See, while Jones is one obstacle Alabama's defensive brain trust must overcome, there's also the issue of preparing for any potential wrinkles from Meyer and Ohio State offensive coordinator Tom Herman, who won this year's Broyles Award as the nation's top assistant. The Buckeyes have been down this path before. After star quarterback
Braxton Miller
was lost for the season with a shoulder injury, Herman helped develop Barrett into one of the nation's elite players.
In his first season of work, Barrett threw for 2,834 yards (more than Miller has in a single season) and a school-record 34 touchdowns while rushing for another 938 yards and 11 more scores. This was all before a season-ending ankle injury in the season finale against Michigan gave way to Jones.
Whether it was Barrett for so long or Jones for so little, Ohio State hasn't had to change much to help its quarterbacks.
"Most of their quarterbacks are kind of similar," Alabama safety
Landon Collins
said. "They run the same scheme offense. We're just gonna have to watch film on what they do because, I mean, they're not gonna change the whole offense for one player."
Ohio State isn't, and it doesn't have to. The Buckeyes arrived in New Orleans leading the Big Ten in total offense (507.6 yards per game) and scoring (45.2) and ranking third in passing (246.8 yards per game). That's all without Miller and mostly thanks to some masterful play calling by Herman to put Barrett in the right situations. Now, it's time for Herman to use a little bit of that magic on Jones to thwart Alabama's suffocating defense.
"We feel philosophically, they are going to run their offense," Saban said. "It's just what part of it they might feature a little different. That's the part we are not sure about."