March, 31, 2015
Mar 31
1:00
PM ET
It's Take Two Tuesday as we debate the Big 12 landscape this spring.
Today, Max Olson and Brandon Chatmon debate the most surprising development of the spring in the Big 12.
Max Olson: The rise of Baylor's Seth Russell
[+] Enlarge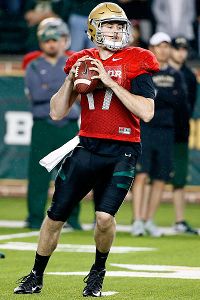 AP Photo/Tony GutierrezExpectations are set to high when it comes to being the No. 1 QB at Baylor, and those goals are no different for Seth Russell.
I've heard it enough times this spring that it no longer sounds all that farfetched. People in Waco keep saying it: Russell is going to be better than Bryce Petty.
And they declare this with conviction, as if it's been some sort of well-kept secret for years. But, you know, this is coach Art Briles we're talking about. "Next man up" at the quarterback position hasn't been a problem at Baylor in a long time.
And it wasn't this spring, either. Russell was the Bears' clear No. 1 guy from the start. Chris Johnson and Jarrett Stidham competed, but neither were going to take his job. Russell has the full faith of his Baylor teammates, who consistently and proudly praise his character, arm talent and rare athleticism.
I talked to a handful of them at the start of the spring, and their level of confidence in Russell was striking. Maybe the Bears have just become conditioned to assuming excellence from QB No. 1. And maybe the expectations for Russell -- that he'll be a more efficient passer and blow everyone away with his running ability -- aren't entirely fair.
But it sure doesn't sound like that's the case. One of the few people who isn't letting the hype get out of hand is Briles, whose praise has been relatively measured during spring practice. The standard is so high and Russell has to be so good to ensure zero dropoff.
Nick Florence threw for more yards than Robert Griffin III. Petty won two conference titles. The only way Russell can really one-up all those guys is by winning it all, right?
We'll find out if Russell is the real deal this fall, when he finally gets his chance against the Big 12's heavyweights. But there's no question he's won the spring at Baylor and has a lot of folks believing the Bears' best football is still to come.
Brandon Chatmon: Unanswered questions at linebacker for TCU
Russell's stranglehold on the starting quarterback job in Waco has been a definite surprise. Yet, TCU's attempts to replace Paul Dawson and Marcus Mallett top my list of surprises in the Big 12.
Those were the two biggest questions surrounding the two Big 12 title favorites heading into the spring, and Russell appears to have answered one question while the other question remains unanswered in Fort Worth.
Replacing TCU's linebacker duo is critical to its Big 12 title and College Football Playoff hopes.
The Horned Frogs looking at the possibility of using safeties to help fill the void just adds to the intrigue. Coach Gary Patterson plans to get his best 11 defenders on the field, no matter what it takes, telling the Fort Worth Star-Telegram that a player with safety skills can often be a better bet to play linebacker against the spread offenses in the Big 12.
Linebackers Sammy Douglas and Paul Whitmill opened the spring atop the depth chart as Dawson and Mallett's replacements. Douglas and Whitmill each have talent and Patterson's program has other talented options at linebacker and safety, but TCU is looking at a long battle to match the 236 combined tackles from Dawson and Mallett a year ago.
Patterson's track record of building top defenses should create confidence the Horned Frogs will find a way, but it remains a tough task to replace the playmaking duo that was the cornerstone of the Horned Frogs' defense in 2014.