October, 30, 2014
Oct 30
1:00
PM ET
Twelve years have passed since the goalposts went down, so recollections are a little fuzzy. Memories of plays have given way to memories of emotions, though, so players from both sides of the 2002 game between No. 4 Florida State and unranked Louisville are still clear.
Louisville quarterback Dave Ragone remembers that September game as a must-win for a Conference USA program fighting for respect. Florida State cornerback Stanford Samuels remembers the embarrassment of wading through UL fans as he walked off the field. Cardinals coach John L. Smith remembers it positioning the program for a move to a major conference.
And they all remember the rain.
Here's a look back at that 2002 game, a
26-20 Louisville victory
, through the eyes of three of the people who lived it.
The hype
Smith: "Two years before, we went down [to Florida State] with the same kids, but they were all sophomores, and FSU kicked our tails. We had those same kids, but now they're coming to our place, and they remembered that [2000 game], but now they're seniors and two years older."
Samuels: "I remember being very confident. In the meetings leading up to the game, we were all speaking the language about how confident we felt."
Ragone: "We started that season, and we lost to Kentucky and the air came out of the balloon because we knew we had to be perfect to be in the conversation for anything. But we also knew we had Florida State on the schedule, and that was our last chance for validity in terms of where our program was. There was a belief within the team. I don't think anybody outside the fan base or the players thought there was any chance we'd pull that upset."
Game day
With the remnants of Tropical Storm Isidore creating torrential downpours, rain was the constant.
[+] Enlarge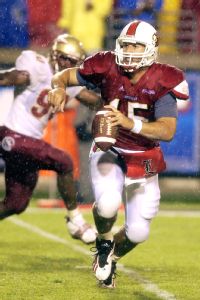 AP Photo/Timothy D. EasleyLouisville quarterback Dave Ragone had 225 total yards and two touchdowns in the win over Florida State.
Ragone: "We woke up that morning and the rain started coming down. The weather was horrific. To this day, I've never been a part of anything like that," he said. "But it just didn't matter. We were not going to be denied."
Samuels: "We got there and it's a tropical storm coming though. At the time, Coach [Mickey] Andrews believed in playing man-to-man, and that rain and the conditions it created, it made us question whether he should put us in man."
The rain didn't scare off Cardinals fans that evening, though. Smith said it was never a "miserable rain," although few share Smith's unabashed exuberance for life.
Samuels: "The atmosphere was electric. It was one of the games you dream about being a part of entering college. It was everything you wanted it to be."
Fourth quarter and overtime
The game stayed even mostly throughout, and the
box score
produced nearly identical numbers for the teams.
Early in the fourth quarter, Ragone threw a 1-yard touchdown pass to knot the game at 20. Both teams were held scoreless the rest of the fourth quarter, setting up overtime.
Ragone: "When we got that game tied up and we knew we were going to overtime at our place in these conditions, their backs now against the wall, at no point did any of us think we weren't going to win that football game."
On the first play of the extra period, Florida State quarterback Chris Rix threw what can only be described as a water-logged duck. The ball flailed in the air and dropped into the arms of a Louisville player at the 5-yard line. On the next play, Cardinals tailback Henry Miller ran for 25 yards and a touchdown on the first play of Louisville's overtime drive. Miller was met by his offensive line and a few thousand fans to create the largest and happiest dog pile Louisville's ever seen.
Smith: "There was so much runoff on the ground, I thought we'd drown in the pool. I kept thinking somebody was going to drown."
Ragone: "We were in complete hysteria. I can remember running around and not celebrating with anybody. I couldn't find anybody. I was just running around. It wasn't that jump-in-your-arms moment with somebody," Ragone said. "And then the pile started, and I got my helmet ripped off and that didn't even matter. The people who stayed, we celebrated as much with our teammates as we did with those fans. That's the memory I'll always remember."
Celebration
The Cardinals fans that did not add to the chaos in the end zone decided to make a run at the goal posts. Smith, now the coach at Fort Lewis College in Durango, Colorado, has a piece of one of the goalposts in a box somewhere in his home. A few of the fraternity brothers that sawed the uprights after the win hand-delivered pieces to the Cardinals' coaching staff a few days later. Many fans still have their pieces of the posts.
Here's the goalpost center from the last FSU game! #BeatFSU #CardinalHistory @CardChronicle @howielindsey pic.twitter.com/mbJiFQ3aW0

— J (@jboylan121) October 23, 2014
Ragone: "It was taken to fraternity row; it was taken all over the city. I remember people on top of it, climbing on it. To see that goalpost go down, it felt like an out-of-body experience for a lot of us."
Samuels: "It's an embarrassing moment, considering who we are. At that moment, that's one of the deepest hurts you could feel. For us to come into the game like things were under control and we would take advantage of the atmosphere and further our claim on a national championship-caliber season, and for it to end with the Louisville fans storming the field and climbing the goalposts, that was heartbreaking."
The aftermath
Louisville played on a Sunday, Tuesday and three Thursdays that season, and Smith said it was all part of athletic director Tom Jurich's plan to gain exposure for a program that one day hoped to position itself to land in a major conference.
While moving to the Big East and later the ACC was not a direct result of that win over Florida State, Smith said he believes it certainly played a role.
Smith: "Jurich said we had to position ourselves because there's going to be changes, and leagues would move. That was probably, as I look back, the one game that put Louisville on the track where people in the country would come in and sit down and talk to us. Everybody watched it. As far as recruits, it put us on a scale where we're invited to a lot more recruiting tables. You can now sit at the table with FSU or Miami."