March, 5, 2015
Mar 5
5:00
PM ET
During a Colorado spring practice last week, head coach Mike MacIntyre approached his program's sports performance director, Dave Forman. He noted that the Buffs, fresh off their first session of winter conditioning, looked more physical and powerful than before.
In many other contexts, such a note from the boss would be music to a strength coach's ears.
But the time for smiles and pats on the back in Boulder isn't yet here. Forman knows the program is still in dire need of visible results: Colorado is 4-32 in Pac-12 play since joining the conference in 2011.
[+] Enlarge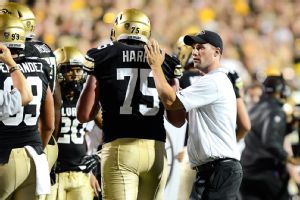 Courtesy of ColoradoDave Forman worked to tailor Colorado's offseason strength program to address the team's weaknesses.
From his own recent experience at Stanford and San Jose State, Forman is familiar with what the resurrection of a football program looks like. So despite the Buffs' 0-9 league finish in 2014, he's confident Colorado is churning toward the demanded breakthrough in his third year on campus -- and now is no time to rest.
"First, you have learn to compete," Forman says. "Then, you have to learn how to win."
Colorado has accomplished the first half of that. The Buffaloes were more competitive in 2014, ultimately to no avail in the win column.
"You put your heart and soul into something and it's a heartbreaking loss, those kids finally felt that last year," Forman says. "I think they finally understand what needs to be done. There are little, tiny details they may have overlooked last year, and they now realize how important they are."
In one-on-one meetings to begin this offseason, Forman listened as Colorado players recounted their particular frustrations from the difficult season that had just passed, and he worked to tailor the Buffs' offseason program to address the team's weaknesses. Colorado's rush defense, by far the worst in the Pac-12, gave up 30 runs of 20 yards or more in 2014, ranking the team No. 122 nationally in that category. Blown defensive assignments, often caused by a lack of communication in crunch time, proved devastating.
As a result, Forman has placed an emphasis on fusing communication with greater physical strength. He based many of the Buffs' winter conditioning workouts on cadence -- "down-up-one, down-up-two" -- to encourage a synchronous atmosphere. In this environment, no player could "hide" from any part of the workload.
"At the end of the day, everyone was doing the same amount of work," Forman says. "Nobody skimped out on anything. We're fostering trust and building camaraderie. There's no more pointing fingers. You have to trust that the guy next to you is going to do his job on the field, and this is aimed at developing that trust."
[+] Enlarge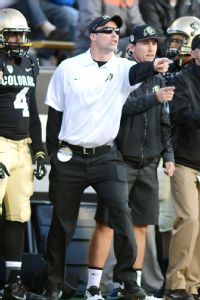 Courtesy of ColoradoForman came to Colorado after stints at Stanford and San Jose State.
With Forman's group-oriented focus providing the backbone, Colorado's players saw significant strength gains across the board this winter. Receiver
Nelson Spruce
said he's already squatting and bench pressing
as much as he ever has
.
If it's easier for Forman to stay positive and focus on the light at the end of the tunnel, it's because he's seen the results of his regimen pay off twice before.
He served three years as sports performance guru Shannon Turley's assistant at Stanford. He arrived there in 2008, a year after Jim Harbaugh inherited a 1-11 squad, and saw the Cardinal bleed yardage and blow two leads in the final minute of games on their way to a 5-7 season. That team finished an agonizing one win short of bowl eligibility, but it went on to post an 8-5 record in 2009 and a 12-1 Orange Bowl championship season in 2010, Forman's third year.
Forman then took over the head strength and conditioning role at San Jose State following the program's 1-12 campaign in 2010. This resuscitation followed a similar trajectory. The Spartans finished 2011 a painful 5-7, victims of defensive hemorrhaging and several blown fourth-quarter leads. But they turned the anguish into an 11-2 campaign the following season.
Forman came to Boulder with MacIntyre in 2013, and he can draw firm parallels to his previous two jobs. The staff's first season saw Colorado blown out of virtually every conference game except for a win against 1-11 California. Despite finishing 0-9 in Pac-12 play in 2014, the Buffs' average margin of defeat tightened by a full 10 points, including two double-overtime losses.
That hurt has become Colorado's offseason fuel, and it's caused Forman to sense something familiar to him -- a warmth brought on by progress.
"There's a nice feeling in the air," he says. "It feels different. You're walking down to practice, there's construction going on [Colorado's major facilities upgrades], and you can really point to an upward trajectory happening on a daily basis. It's a good vibe."