March, 30, 2015
Mar 30
3:00
PM ET
Cal begins its second spring session on Wednesday, with its spring game set for April 18. Rising senior wide receiver Bryce Treggs took a few minutes out of his spring break (he stayed home and worked out) to chat with the Pac-12 blog about his quarterback, his future and his place in a deep and talented wide receiver stable. Last year he was tied for second on the team with 52 catches for 634 yards and six touchdowns.
A lot of guys coming back who can catch the ball. Where do you see yourself fitting into that rotation?
Bryce Treggs: I definitely see myself as a guy that's going to stand out, to break out this year. This will be my fourth year starting and I'm definitely looking to have a big year. And hopefully be one of those top guys who can do whatever it takes to help my team win.
[+] Enlarge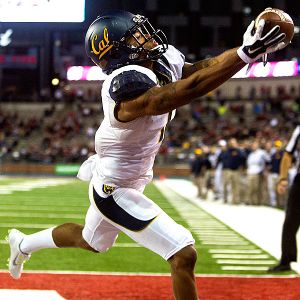 AP Photo/Dean HareBryce Treggs caught 52 passes for 583 yards and six touchdowns last season as a junior.
What motivated you to come back for your senior year?
BT: I'm a big academic guy. I graduate in the fall. Everything times out perfectly because I can come back to school, finish my last season, graduate and then go to train wherever and not have to worry about coming back and getting my degree (in legal studies).
You guys were so close to getting to a bowl game but lost your last three. Any hangover from how the year ended?
BT: Not really. It was more a hunger. We wanted to get back on the field because we were hungry to get better and make sure that we can get to a bowl game this year. I wouldn't say there was a hangover at all.
What's the pulse of the team heading into the second spring session?
BT: It's very optimistic. All the guys are really excited. The offense is clicking well. That's all that we can control right now, so ... all we're going to worry about is getting better and being the best offense we can be.
From a personal standpoint, what are some of your goals, numbers or otherwise?
BT: I'm just trying to be the best receiver I can be, regardless of what my role is on the team, whether that's a big role or a small role. It probably won't be a small role. I feel like I'm going to have to be a deep threat for our team. We have different guys that do a lot of things really well. Stephen Anderson is a big possession and third-down guy. He always finds his way to the sticks. Kenny Lawler is a go-long guy. I feel like I can be a guy that stretches the field and goes deep for us.
What are you looking for out of quarterback Jared Goff in his third year as a starter?
BT: I just want to see him grow as much as he did from Year 1 to Year 2, because last year I think he made great strides. I don't want him to level out. I want him to keep getting better. I want to see that same jump that he made last year.
I just got a mailbag question about Jared and why he doesn't get more national attention. Any thoughts?
BT: We haven't won enough games. You look around the country, name one notable quarterback that has a losing record and you probably won't find many. That's what it comes down to. We haven't won enough games.
Finish this sentence for me. In 2015, Cal football will be …?
BT: Cal football will be back.