March, 4, 2015
Mar 4
1:00
PM ET
Perhaps no ACC team has as much intrigue this spring as North Carolina, which brought in Gene Chizik to revamp the defense and will go to battle without starting QB
Marquise Williams
, who is out for the spring with a hip injury. To get a feel for where the Heels are at, we talked with coach Larry Fedora about some of the biggest spring storylines.
David Hale: Last year, you talked a lot about how young your team was. Now those guys have a year of experience under their belts, can you tell a major difference?
Larry Fedora:
It's interesting because as we talked about through our [morning] workouts, the guys who were struggling were always the newcomers who just entered school and the freshmen who hadn't been through the offseason workouts. The other guys are veterans. I see those guys have experience, they're comfortable, they're not feeling their way. They understand the expectation level and the amount of energy and work we're asking for them.
[+] Enlarge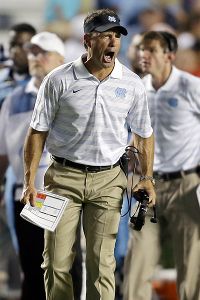 AP Photo/Gerry BroomeCoach Larry Fedora, who guided the Tar Heels to a 6-7 overall record last season, enters spring practices with a new coordinator and more experienced players.
Hale: Obviously bringing Chizik in changes a lot on defense. Have you seen a palpable sense of excitement from the D with him on board?
Fedora:
In our whole team -- not just the defense. The entire team is excited about it, and the new guys on that defensive side of the ball -- they're just really, really excited about the new blood and basically starting from scratch with that.
Hale: How big of a transition from the previous system to Chizik's do you expect?
Fedora:
I don't think there'll be a whole lot of carryover. It'll be quite a bit of newness for them, and that's one of the things they're excited about. Everybody has a clean slate and everybody gets to build their resume on a daily basis, from the time they step on campus.
Hale: Given the up-tempo style you run on offense, were you looking for a guy who could tailor a defense around that?
Fedora:
For me, it was about finding the best defensive coordinator there is. A guy who could come in and I could turn it over and not be worried about what's going on on that side of the ball. Gene is obviously a proven defensive coordinator, who has had success everywhere he's been. That was an easy decision for me. The tempo and the amount of plays we run were not a factor for me.
Hale: How did the hire come about?
Fedora:
After the season was over, I started looking into people. Gene was a guy I'd always had on my list, and I think a lot of people, it surprised them because Gene was working in TV at the time. But he's a guy I knew eventually would want to get back in, and I was hoping we were the right time and place for him. And we were.
Hale: What do you see as the biggest challenges for Chizik this spring?
Fedora:
One of the things is we had two hybrid positions. Our bandits were a defensive end/linebacker that could rush and drop into coverage. We have to make a decision with those guys whether they're going to linebacker or D-end, and some of them are kind of 'tweeners, because that's what we were recruiting for. Same thing with our ram position. Those guys were safeties/linebackers. We have to find out where they're going to fit best also. There'll be some issues recruiting-wise we have to do to correct those things and recruit toward the philosophy where we're going now.
Hale: You probably want to make some quick decisions there to get guys into the weight room to prep for those new roles, right?
Fedora:
Right. Some guys we've already talked about we need to add some weight, some need to drop some weight. But at the same time, Gene has to find where's the best fit for those guys. Where are they going to help us the most? Then we have to mold the defense and the system around what these guys can do because, no matter what, this is who's playing for us, and we've got to get the most out of them.
Hale: Last year, you didn't want to name Williams as your starting QB in the spring, but he turned in arguably the best statistical season of any ACC QB when the season began. How has your opinion of him changed?
Fedora:
Marquise is our starting quarterback. That doesn't mean -- we still want competition. But he comes back as a starter in that position. We're still going to have somebody try to push him, but I think Marquise played very well last year, and we need to get him where he's completely healthy and playing at a high level consistently throughout the entire season.
Hale: You got some criticism for playing backup Mitch Trubisky a lot early in the season. Looking back, was that the right decision?
Fedora:
I would not have changed the way we did that. It still benefited both players and benefited our team. If you go all the way into the Virginia game, it was a fourth-down call and on third down, Marquise's helmet got knocked off. Mitch came in and threw a touchdown pass on fourth down. If he hadn't had those reps, who knows? You always want your guys prepared. I think the way we did it last year was really good -- for Marquise, for Mitch and for our football team.
Hale: How much has Mitch improved?
Fedora:
I think Mitch progressed throughout the entire year. He got better as we went and is doing a good job right now. He knows he's a play away.
Hale: The other big issue for you last season was on the offensive line, where you were especially young. Could that become an area of strength this season?
Fedora:
We struggled. I don't mean to put everything on the offensive line, but being young, there were some games we were able to run the ball more effectively, and some we weren't, and a lot of that had to do with the youth up front. When you're trying to develop that many young kids, it's tough. When you're in the trenches, it's hard to play when you're really young. As far as the way those guys developed all year, I'm excited going into the spring. They all have experience. They're still developing, but they're not going to be wide-eyed. They're going to know what to do and I think you'll see them start to really excel up front.