October, 23, 2014
Oct 23
4:00
PM ET
Florida State is 7-0, but you might not know it from the national pessimism surrounding the team. With three close games (against three teams currently ranked in the top 26 in the nation, mind you), the prevailing wisdom seems to be that the Seminoles are struggling to get by, and it's just a matter of time before they're felled.
In fairness, that's partially true. The FSU secondary blew the coverage on what could've been a game-winning touchdown for Notre Dame, and if a flag hadn't been thrown in the process, the Seminoles would be in a tough position in the chase for a playoff spot.
[+] Enlarge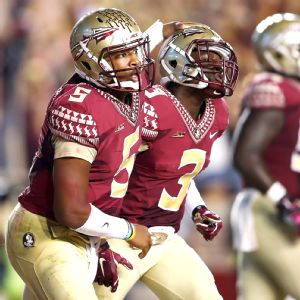 Streeter Lecka/Getty ImagesFlorida State hasn't been as dominant as they were last season when they won the national title.
Part is probably an exaggeration. The close game against Clemson came without
Jameis Winston
. The comeback win over NC State was actually a 49-17 FSU advantage after the first quarter. The narrow margin against Oklahoma State was a mix of first-game jitters and a failure to put the Cowboys away, rather than any real threat that the Noles might lose that game.
But narrative is important when discussing a subjective playoff system, so it remains a talking point for Florida State. The question is, does a less-than-dominant season necessarily preclude a team from winning a national title?
We figured the best way to determine that was to look back at history — specifically the past 10 national champions — to figure out what level of dominance was most characteristic of a championship team.
First off, it's worth noting that of the last 10 national champs, half had a loss -- LSU had two of them in 2007 -- so simply being undefeated at this stage of the game is a check mark in FSU's column. But we're talking about dominance, so let's look at margin of victory, too, since that seems to be the biggest evidence against the Seminoles.
Last year's FSU team set a new standard in that department. Florida State won all its games by an average of 39.5 points. That's the high-water mark for champs, but it's not exactly a outlier.
Of the past 10 national champs, seven had an average point differential of 20 points or more. All 10 had at least a two-touchdown advantage over their competition, on average. Great teams win games by solid margins.
Still, Florida State's margin this season is 16 points per game, which ranks just 19th nationally, but would equal that of the 2006
Florida Gators
or the 2010
Auburn Tigers
-- both national champs.
So perhaps it's not the average, but the specific examples. FSU has three games this season decided by seven points or fewer. Is that a lot?
Last year, of course, FSU didn't have a single game decided by less than 14 until the national championship. The 2005
Texas Longhorns
, 2008 Gators and the 2011 Alabama team each had just one game decided by one score en route to their national title appearance, while the 2009 Tide had just two.
That might lead us to believe that Florida State's lack of dominance does foreshadow a fall somewhere along the line, but that's not necessarily true either. Two national champs -- '06 Florida and '10 Auburn -- had six games decided by a touchdown or less. FSU is still at just half that total, and while the Seminoles have a few tough games remaining (Louisville, Miami, an ACC title game) they'll likely be favored to win each by more than eight points.
Ah, but there's that word that also seems to sum up the FSU narrative this year: favored.
Point spreads are largely a function of expectations. Las Vegas adjusts them to even out betting, so the more the public thinks a team will win by, the higher the spread goes. And when we get into those expectations, Florida State falls well short. The Noles are a woeful 1-6 against the spread this year -- tied for the second-worst mark in the nation.
That's pretty uncommon for a national champion. The ATS record for last 10 title winners leading up to the national championship game was 78-46-1 (a .628 winning percentage). Of those 10 teams, just three had a losing record against the spread. In other words, national champs don't just meet expectations -- they exceed them. That certainly hasn't been true of Florida State this season.
But there's another factor to consider there. Current expectations are largely set by past performance, and FSU's 2013 season set some awfully high expectations. Not surprisingly, one of the champs with a losing ATS record was 2012 Alabama -- a team coming off a national championship, too. Expectations were set high from the previous year, and the Tide struggled to meet them routinely. In fact, if we look at the follow-up seasons for the last 10 national champs, they're just 55-59-1 against the spread (a .483 mark) and just three had winning records versus the spread. In other words, it's really hard to follow up greatness with more greatness.
So what does all this mean for Florida State? Probably not much other than what we all already know: Nothing the Seminoles have done thus far eliminates them as a legitimate title contender, but they're definitely not as good as they were a year ago.
That's not a bad position to be in, but FSU would still be wise to keep those wins coming. The margin of error -- both in terms of narrative and numbers -- is small.