March, 31, 2015
Mar 31
12:30
PM ET
BATON ROUGE, La. -- Les Miles shares your anxiousness, Tigers fans. He wants to know who LSU's starting quarterback is right now, too.
The same two candidates, junior Anthony Jennings and sophomore Brandon Harris, are competing for the second consecutive spring, but 10 practices and two scrimmages haven't produced clarity. Asked Monday whether the starting job is still up for grabs, Miles replied, "Very much." LSU practices twice this week before spring break, then twice more before the April 18 spring game.
[+] Enlarge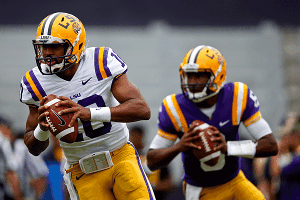 Derick E. Hingle/USA TODAY SportsA starter has yet to emerge for LSU from the quarterback battle between Anthony Jennings and Brandon Harris -- the same candidates from last spring.
"I would like to have already made the decision because that would mean I've got Brett Favre or Tim Tebow or somebody like that," Miles told ESPN.com, "but it takes some time for those guys to grow up. We're going to allow that to happen.
"I'm not necessarily pleased with the progress thus far, but I do recognize that there's some real progress being made."
The wait can be frustrating, but it also might be necessary. LSU has to get the quarterback piece right after finishing 114th in passing average (162.9 ypg), 109th in QBR (35.4) and 119th in completion percentage (50) last season, when Jennings started all but one game.
"The worst thing that could happen to us is one guy winning the job over a guy who's playing average," LSU offensive coordinator Cam Cameron said Tuesday morning. "Who knows what that means? All we've got to do is look to last year.
"My thought to our QBs this spring is, 'Get as good as you can get and put us in a position where we don't know who the best player is because everybody is playing so well.'"
What Cameron can conclude confidently is that LSU's quarterback story, while including the same central characters, will have a different ending (he adds that freshman Justin McMillan has performed well this spring). The quarterbacks "got over a hurdle" in Saturday's scrimmage by combining for six touchdown passes, many through extremely tight windows.
It was the best scrimmage showing since former Tigers quarterback Zach Mettenberger fired five consecutive touchdowns in a 2012 workout.
"They are ascending at a rapid level," Cameron said. "I'm watching both of these guys and I know all the things they should have learned, and I'm confident that both guys are moving beyond some of the struggles they've had."
Cameron has seen improved footwork and more confident decision-making from Jennings, who completed 50 percent or less of his attempts in all but two SEC games and eclipsed 60 percent completions just once. Perhaps most important, Jennings is driving his throws better, a must in a league in which few secondaries play off-man or zone coverage. Jennings appeared to have the edge in Saturday's scrimmage, passing for 200 yards and two touchdowns.
"He has responded well," Miles said.
Harris is "a little bit more explosive" than Jennings, Miles acknowledged, but the sophomore has had to sync up his footwork with his strong arm. According to Cameron, there's a bad habit among bionic-armed quarterbacks: throwing the ball later than they should simply because they can against high school defenses.
"You're not going to get away with that in this conference consistently," Cameron said. "He's never had to be a rhythm passer. This sounds crazy, but for the first time in his life, he's having to learn how to anticipate. That's why a lot of guys with big arms fail. They never learn how to anticipate.
"Brandon's anticipation has improved dramatically."
LSU will shape its offense around running back Leonard Fournette and the rushing game, but its focus this spring has been volume passing. Cameron wants his quarterbacks making easier throws while maintaining a downfield focus because of LSU's receiver speed.
Given the coaches' confidence in the rest of the team -- Miles thinks the linebackers and defensive backs could be the best of his tenure; Fournette has earned excellent reviews; there's speed and length at receiver; tight end could be a strength -- LSU could be a quarterback away from being a CFP-caliber team.
"You saw two years ago we did something that's never been done in the history of the SEC with Zach," Cameron said. "We have similar running backs, similar receivers, our tight ends are even better. So are we going to surpass what that group did two years ago? I don't know.
"This group has unlimited potential when it comes to running and throwing the football."
That's why patience in deciding the starter is so vital.
"You want to stack bricks, keep stacking performances," Cameron said. "What does that mean? Each performance you keep getting better. This week will be very telling. If one guy levels off and one of these guys keeps stacking performances, [the starter] will be obvious to everybody."