NCF Nation:

2011 Red River Rivalry
October, 8, 2011
10/08/11
8:43
PM ET
By
ESPN.com staff
| ESPN.com
Jake Trotter writes: Kenny Stills continues to reserve some of
his best playmaking
for the biggest stages. Meanwhile, the OU
defensive backs spearheaded
Saturday's 55-17 feeding frenzy at the Cotton Bowl.
Brandon Chatmon writes: The
defensive front
showed it soon could be considered the strength of OU's defense.
Carter Strickland writes: Texas' young team was dominated by Oklahoma. Now, the trick will be to
overcome the blowout loss
. Also, Case McCoy and David Ash combined for five turnovers and neither moved the ball against Oklahoma, but will
these concerns
change the Texas QB situation?
Tim MacMahon writes: The perception that the Texas pass defense might be prepared for elite competition
burst like a bubble
at the Cotton Bowl.
October, 8, 2011
10/08/11
6:25
PM ET
DALLAS -- It got so bad in the second half, even Bevo had to look away.
The Longhorns' signature steer spent most of the third quarter behind the end zone with his horns pointed at the slowly draining Texas side of the 96,009 fans in the Cotton Bowl.
[+] Enlarge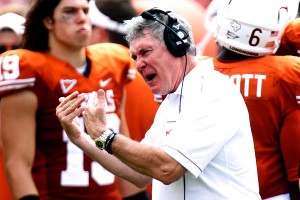 AP Photo/Mike Fuentes"Can't have five turnovers and win games," Texas coach Mack Brown said.
This was a forgettable stop on this 2011 Longhorns Revival Tour, a season-long crusade to erase the memories of a 5-7 season in 2010.
Oklahoma didn't hit 60 points, but that was about the only positive for Texas, whose
55-17
beatdown did not, at least to my knowledge, come complete with Sooner Schooner tracks along the back of the Longhorns' white pants and burnt orange uniforms.
"I thought they tried," said Texas coach Mack Brown, whose 38-point loss is the third-worst ever suffered in his tenure at Texas. The other two were delivered in 2000 and 2003 on the same field from the same team by 49 and 52 points.
As for what went wrong? Well, where to start?
Three turnovers for touchdowns seems as good a place as any to start digging into this performance, which stunk only slightly less than the gifts Bevo leaves behind on the way to his artificial turf mat behind the end zone.
"Can't have five turnovers and win games," Brown said.
No worries. They didn't.
Demontre Hurst kicked off the party in the end zone with a 55-yard interception return to put Oklahoma up 27-3 in the second quarter.
Any halftime locker room dramatics didn't follow Texas onto the field. Frank Alexander sacked
Case McCoy
and forced a fumble, which David King casually picked up and strolled 19 yards into the end zone to make it 41-10 early in the third quarter.
"They were just out there flying to the ball, playing faster than us," said Texas running back
Fozzy Whittaker
, one of the bright spots for the Longhorns on Saturday. Whittaker ran hard all day, returning a kick 100 yards for a touchdown and carrying the ball six times for 43 yards.
"It's one of those things where you just have to stand back and give them credit for doing what they do best," he said.
Saturday was 60 minutes of reality setting in for Texas: It might be better than it was last year, but Texas needs some high-quality binoculars to get a glimpse of the national elite.
The Longhorns' No. 11 ranking was gone sometime in the second quarter, at some point between one of
Landry Jones
' 23 completions, 305 yards and three touchdowns in the first half.
"They've got all the athletes and stats for a reason," said Texas safety Blake Gideon.
Texas' offense? The only offensive touchdown of the day came with 2:31 left to play and the Longhorns trailing 55-10.
Texas had a great opportunity with a 1st-and-10 at Oklahoma's 14-yard line late in the third quarter.
Then came a bad snap. Then
David Ash
got sacked by speedy Tony Jefferson, who intercepted Ash earlier, too.
Then Ash got sacked by Ronnell Lewis, who forced a fumble and ... "Hey, how'd we end up with a 4th-and-49 on our own side of the field?"
Games like this, in raucous environments against very, very good teams, expose inexperience. Texas didn't have much covered when it was all over.
[+] Enlarge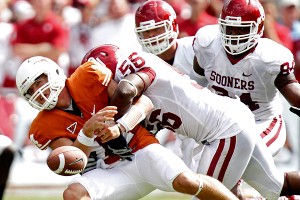 AP Photo/Mike FuentesRonnell Lewis sacks Texas quarterback David Ash, forcing a fumble.
"We mixed it up. We played man, we played some zone, we mixed up some man zones," said defensive coordinator Manny Diaz. "[Jones] knew where to go with the ball, he knew how to manage the play, he took what was there when it was there."
Diaz, despite Oklahoma's assertions after the game, said the youth of his cornerbacks wasn't to blame.
"Defending the run and defending the pass is an 11-man job," Diaz said.
Official numbers are sketchy, but the 11 men Texas put out on the field weren't getting much of a job done against an offense that the Longhorns couldn't compliment enough after the game.
"I can see why they're No. 1 in the country," Brown said, later noting that the coaches kept the Sooners at No. 1 while the media polls slipped the Sooners to No. 3, behind Alabama and LSU.
Wherever Texas falls in the polls after Saturday's forgettable turn at the State Fair of Texas, it'll be far, far behind Oklahoma.
And just like every Saturday, for this one, Bevo had the most enjoyable seat in the house.
October, 8, 2011
10/08/11
3:56
PM ET
DALLAS -- Oklahoma has already dished out a pair of lopsided beatings in the last decade of this rivalry, winning by 52 points and 49 in 2000 and 2003, respectively.
Chalk up another in 2011.
Oklahoma 55, Texas 17
.


Oklahoma jumped out to a big lead early and built on it with three defensive touchdowns throughout the game. The Longhorns won't be leaving Dallas with anything close to an upset or an idea that last year's struggles are far behind them in the rearview mirror.
How the game was won:
Oklahoma won the turnover battle, the battle on the line of scrimmage and just about everything else on Saturday in a dominating win.
Turning point:
Oklahoma was outplaying Texas early, but the game was still somewhat reasonable. Then Demontre Hurst scored the first of three defensive touchdowns on the day, picking off David Ash and returning it 55 yards for a touchdown. The lead was 27-3 and the rout was on.
Player of the game:
Landry Jones, QB, Oklahoma. Jones threw for 305 yards and three touchdowns in the first half, then took most of the fourth quarter off as the Sooners coasted to the easy win. Jones made big plays when he had to early and the gap between him and the quarterback(s) across the sideline from him looked astronomical.
Record performance:
Oklahoma's three defensive touchdowns tied a school record and were the most ever for a Bob Stoops-coached team. The loss was also the third-worst of Mack Brown's tenure at Texas. The only two worse came on this field, and Oklahoma delivered them.
What Oklahoma learned:
Maybe it's the No. 1 team in the nation after all. Texas was clearly overrated at No. 11, but the Sooners were the fourth team in the past three decades to slip to No. 3 in the AP poll without suffering a loss. Saturday's dominance was a pretty strong statement and proof that when it's at its best, Oklahoma can be nothing short of dominant.
What Texas learned:
So much for being all the way back. Even during last year's 5-7 season, Texas remained competitive in a 28-20 loss to a 12-win Oklahoma team. This year? Far from it. The inexperience on offense and at cornerback showed, and the Longhorns looked hapless for most of the game. How much better is Texas than last year's team? We'll find out as the season progresses.
What it means:
Oklahoma is still flying the Big 12's flag as the league's national title contender, but a Bedlam clash in Stillwater on Dec. 3 may be a pretty outstanding replacement for the defunct Big 12 championship game. Oklahoma looked just OK in a win over Missouri and made big plays late to beat what now looks like an overrated Florida State team, but Saturday was Oklahoma's best punch. Texas couldn't take it.
October, 8, 2011
10/08/11
3:13
PM ET
DALLAS -- Oklahoma already had a 48-10 lead, but that was hardly enough.
The Sooners kept starting quarterback
Landry Jones
in the game, along with the rest of the starting offense.
They even tried to convert a 4th-and-3 at the Texas 27-yard line.
Oklahoma reached that point by throwing seven passes on eight plays in the drive.
It's been a big day for Oklahoma, but the Sooners look like they want it to be even bigger.
October, 8, 2011
10/08/11
2:45
PM ET
DALLAS--Don't call it a comeback.
Granted, Oklahoma isn't providing much opportunity for anything resembling one.
Midway through the third quarter, Oklahoma has already scored on a pair of big plays and
leads, 48-10
. The party is on for the crimson half of the Cotton Bowl.
The stark reality of a disappointing day in Dallas is setting in for the folks in burnt orange. Time to drown their sorrows in some fried butter, perhaps.
Frank Alexander sacked
Case McCoy
and forced a fumble, setting up David King to return it 19 yards for a score. Later in the quarter,
Dominique Whaley
galloped 64 yards for another touchdown.
The day's been full of pain for Texas, reminiscent of beatdowns in 2003 and 2000, when Oklahoma cracked 60 points. Are the Sooners headed for for 60 once again?
October, 8, 2011
10/08/11
1:18
PM ET
DALLAS -- Give up a 3rd-and-25 while trailing by 10, and chances are it won't be a fun day.
But convert it?
That's what Oklahoma did on a gorgeous pass down the sideline from
Landry Jones
to
Jaz Reynolds
.
Kenny Stills
put the Sooners in the unfavorable spot with a touchdown catch that was wiped off the board with an offensive pass interference call.
More impressive was Jones' ability to make the throw with a defender on the way to plant him in the Cotton Bowl turf. Jones took the hit and completed the pass.
Oklahoma finished the drive with a five-yard touchdown pass to Broyles for a
20-3 lead
early in the second quarter.
Texas isn't showing a ton of fight early and Red River first-timers
David Ash
and
Case McCoy
have a turnover apiece, which neither had done so far this season.
McCoy fumbled on the opening drive to set up Oklahoma's second field goal, and Ash threw an interception to Tony Jefferson to set up Broyles' score.
Jefferson, who intercepted three passes last week, now has the most in the Big 12, with four.
Not an ideal situation for a young Texas team now sitting in its toughest spot of the year and with two quarterbacks who had thrown 57 career passes entering today's game.
They'll have to try to rally, but it's easy to see so far in this one: The odds and momentum heavily favor the Sooners thus far.
October, 8, 2011
10/08/11
1:04
PM ET
DALLAS -- Excluding a year in which the teams had equal rushing yards, the winner of the Red River Rivalry the last 12 years has outrushed the other.
Oklahoma may buck that trend this year after
taking a 13-3 lead
on the first play of the second quarter.
They've outgained the Longhorns 158-60, but Texas has been more physical in the running game, especially with a pair of speedy runs from
Fozzy Whittaker
.
Texas has 32 rushing yards to Oklahoma's five, highlighted by Whittaker's 28 yards on three carries.
The passing game, with an experienced quarterback in
Landry Jones
throwing to a deep receiving corps, is what Oklahoma does best. It's done so and taken control of this game in the first half.
There's still plenty of time for the Sooners to catch up on the ground, but we could see a very different game this year.
October, 8, 2011
10/08/11
12:41
PM ET
DALLAS -- Texas had to do two things to win today's game.
Don't get into a shootout.
Don't turn the ball over.
In the first quarter, one out of two isn't bad.
The Longhorns
trail, 6-0
, after giving up a whole lot of ground to the Sooners but stuffing OU inside the 10-yard line twice, forcing the Sooners to settle for a pair of field goals.
Texas is already losing the turnover battle, though, when Casey Walker planted
Case McCoy
and forced a fumble on the opening drive.
If Oklahoma wants to get upset, not converting in the red zone and settling for field goals is the best way to leave the door open for the Horns.
If Texas doesn't want to get its doors blown off, it has to turn this turnover battle in its favor. It's gotten good pressure on
Landry Jones
early, but he hasn't come close to making a game-changing mistake.
October, 7, 2011
10/07/11
7:35
PM ET
By
ESPN.com staff
| ESPN.com
David Ubben and Pat Forde look ahead to the Big 12 showdown between Oklahoma and Texas.
GameDay Live
: Join our ESPN.com college football experts as they break down one of the best rivalries in sports: it's Texas versus Oklahoma in the annual Red River Rivalry. Contribute your thoughts and questions beginning at noon ET. See you there.