NCF Nation:

Air Force Falcons
February, 20, 2014
Feb 20
5:00
AM ET
1. Only schools that have served NCAA time come around to the right way of thinking about the silliness of the rules. Oklahoma forcing three football players to cough up $3.83 apiece because
they ate too much pasta
at a team event is a great example. Look the other way? Nope. You adhere to the letter of the law, roll your eyes and move on. As Austin Woods, owner of one of the outlaw stomachs, tweeted, "That was some great pasta! We felt we ate more than $3.83 so we donated $5." Perfect.
2. The coaches against the 10-second defensive substitution period screamed, and on Tuesday, Air Force head coach Troy Calhoun, chair of the NCAA football rules committee, backpedaled like a corner. On
the ESPNU College Football Podcast
yesterday, Rogers Redding, the editor of the rulebook and the national coordinator of officiating, said the committee had plenty of support for the change before Alabama coach Nick Saban came in and made his presentation. Where are those voices?
3. Georgia's Mark Richt combines love and discipline as well as any head coach I know. In the wake of the dismissal of Bulldog safety
Josh Harvey-Clemons
, here's what Richt said to me last spring. "We try to really help these guys grow as human beings and as men and be very well-balanced human beings, you know? Mental, physical and spiritual. I mean it just all comes into play. I think if we don't do that, we're not doing the full job of what we should be doing as educators and people that care about these guys at a very critical stage of their life."
October, 2, 2013
10/02/13
5:00
AM ET
1. Never mind that when the federal government was shut down on Nov. 18, 1995, Army, Navy and Air Force all played. They all happened to be at home on that Saturday. Since Air Force is traveling to Navy, and Army is scheduled to play at Boston College, there are travel costs involved. But how is it that the Dept. of Defense didn't have an answer Tuesday as to whether the three athletic departments used appropriated funds to travel? Shouldn't someone have looked into this? It's not as if the shutdown snuck up on anyone.
2. No. 3 Clemson goes to Syracuse on Saturday, where the Orange have beaten a ranked team in each of the last four seasons. "
Teddy Bridgewater
[Louisville last year] has been in there and gotten beat with a top-10 team," Tigers coach Dabo Swinney said at his press conference. "
Geno Smith
[West Virginia in 2011] has been there with a top-10 team and gotten beat." The Mountaineers were No. 15, but let us not quibble. As to the Carrier Dome, Swinney pointed out that Clemson went 2-0 in the Georgia Dome in 2012.
3. Eleven teams move into October without a victory, and the good news is that Conference USA's oh-fers play one another Saturday. FIU (0-4) plays at Southern Mississippi (0-4), which hasn't won in two years. Both teams are winless because they have played teams they should have lost to, and that even may include FIU's 34-13 loss to FCS Bethune-Cookman on Sept. 14. The Golden Eagles should end their 16-game losing streak by beating the Golden Panthers. Hey, no remarks re: the mascots. You know what silence is.
September, 5, 2013
9/05/13
5:00
AM ET
1. You probably knew this already, but inflation has struck the scoreboard. Of the 10 longest scoring streaks in the history of the game, four are current: Michigan, which has scored in 353 consecutive games, is eight short of the record set by BYU (1975-2003). There's also No. 3 Florida (309 games), No. 9 TCU (255) and No. 10 Air Force (247). The Wolverines were last shut out, 26-0, by Iowa in 1984, one of only two shutouts that Hall of Fame coach Bo Schembechler suffered in 21 seasons in Ann Arbor.
2. Frank Fina, one of the prosecutors in the Jerry Sandusky case, told 60 Minutes Sports that he found no evidence that the late Joe Paterno took part in any effort to conceal Sandusky's child sexual abuse. "I'm viewing this strictly on the evidence," Fina said, "not any kind of fealty to anybody. I did not find that evidence." Fina agreed, using Paterno's own words, that the coach should have done more. That's a long way from the Freeh Report. So someone with subpoenas exonerated Paterno. Maybe now NCAA president Mark Emmert will realize that he overreached. Probably not.
3. With the commitment of West Monroe, La., offensive tackle
Cameron Robinson
to Alabama, the Crimson Tide has 14 players in the 2014 ESPN 300, including 10 in the top 120. However, only two of those prospects are from the state of Alabama. Head coach Nick Saban has commitments from players as far away as California, Oklahoma, and Iowa. That's a long way from 2008, when Saban found three future first-round draft picks in Alabama alone:
Julio Jones
,
Mark Barron
, and
Marcell Dareus
.
August, 22, 2013
8/22/13
10:30
AM ET
Pigskin, potatoes and blue-turf football fields are three things Idaho does very, very well. And again this season, it could be more of the same.
BOISE STATE BRONCOS
Coach Chris Petersen
(84-8 overall, 84-8 at Boise State)
2012 record:
(11-2 overall, 7-1 in Mountain West)
[+] Enlarge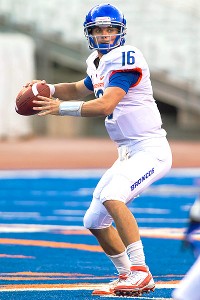 Otto Kitsinger III/Getty ImagesBoise State hopes QB Joe Southwick can be more consistent in the passing game this season.
Key losses:
RB DJ Harper, LB J.C. Percy
Key returnees:
QB
Joe Southwick
, LT
Charles Leno
Jr., C
Matt Paradis
, WR
Matt Miller
, WR
Kirby Moore
, DE
Demarcus Lawrence
, LB
Blake Renaud
, S
Jeremy Ioane
Newcomer to watch:
With a defense that's attempting to replace almost two-thirds of its starters, someone like freshman linebacker
Joe Martarano
could be one to watch. The 6-foot-2, 234-pound linebacker chose football over an MLB career and with the Broncos needing some help in their front seven, he could contribute immediately.
Biggest games in 2013:
at Washington (Aug. 31), vs. Air Force (Sept. 13), at Fresno State (Sept. 20) and at BYU (Oct. 25)
Biggest question mark heading into 2013:
Can the Broncos get it done on the road? Their three toughest games of the season will come on opponents' turf so they need to finish the job there. And it's not as though they'll have much of a warm up considering their season opener is a trip to Washington -- a team that they snuck past last December, in a 28-26 win in the MAACO Bowl Las Vegas. Boise State beat both Fresno State and BYU last season, but both were home games. If the Broncos can win on the road, they could be hosting the Mountain West championship game at home in early December.
Forecast:
Boise State has a good shot to win the Mountain West, and if it does, the Broncos could find themselves in a BCS bowl game this season. The defense only returns four starters from its 11-2 season a year ago, but if the Broncos can make stops and keep the offense on the field, they have a chance to have a really successful season.
It wouldn't be unprecedented for a Petersen-led group to overachieve, and since their schedule isn't the kindest on the road, they'll have the chance to do that. They'll need consistency from their players, especially early in the season. Boise State will face Washington, Air Force (whose offense is so hard to prepare for) and Fresno State in its first four games. That stretch alone could define the season in a very bad or very good way. But if they can kick it in to high gear early, they could go undefeated, and an argument for a national title game bid could be made. However, the Broncos could just as easily have a few missteps here, and the tight games they closed out last season could go the other way, leaving them with two or three losses heading into bowl season.
Southwick finished last season with 2,730 yards and 19 touchdowns. He had his moments when he didn't look like a polished passer. Five times last season he completed less than 67 percent of his passes. However, with Harper, the Broncos were able to turn three of those games into wins. This season, with a new running back, Southwick will need to be more consistent in the passing game. If he can excel and sophomore running back
Jay Ajayi
can be productive from Day 1 (and especially on the road), this team could be one we're talking about in December.
December, 29, 2012
12/29/12
3:17
PM ET
In a day dominated by backup quarterbacks, Rice took down Air Force
33-14
in the Bell Helicopter Armed Forces Bowl thanks to 26 unanswered points in the second half. It was Rice's first bowl appearance since the Owls beat Western Michigan 38-14 in the 2008 Texas Bowl.


It was over when:
Rice junior safety
Paul Porras
intercepted Air Force quarterback
Kale Pearson
's pass at the Falcons' 36-yard line with Rice leading 27-14 with 3:52 remaining in the fourth quarter. Rice scored four plays later to make it 33-14.
Game ball goes to:
Rice backup quarterback
Driphus Jackson
took over for starter
Taylor McHargue
late in the first half after McHargue suffered a head injury from a hit by Air Force's
Steffon Batts
. Jackson went on to complete 15 of 21 passes for 264 yards and two touchdowns.
Stat of the game:
Air Force entered the game averaging 435.9 yards of offense per game but was outgained 503-214 Saturday. That was a season low for the Falcons. Rice also registered 24 first downs to Air Force's 12. The Falcons recorded just two first downs in the second half.
Stat of the game 2:
The Falcons owned the nation's No. 2 rushing attack, averaging 328.8 yards per game, but registered only 166 yards against the Owls, which were allowing nearly 200 rushing yards per game. Rice's rush defense stepped up in the second half, as the Owls allowed just 24 rushing yards in the final two quarters.
Unsung hero of the game:
Jackson gave the Owls a nice spark in the second half, but he also got a lot of help from wide receiver
Jordan Taylor
, who caught nine passes for 153 yards and three touchdowns.
What it means for Rice:
The Owls finished the season winning six of their final seven games and claimed its first bowl win since its last postseason appearance in 2008. It was only the second bowl win for Rice in the past 57 years.
What it means for Air Force:
The Falcons ended the season losing four of their final five games, turning the ball over 17 times during that span. Air Force has lost two straight bowl games. For the first time since 2005, it lost to Army and Navy, lost its bowl game and had a losing season.
December, 29, 2012
12/29/12
8:30
AM ET
Here are three keys to today's Bell Helicopter Armed Forces Bowl between Rice and Air Force (11:45 a.m. ET, ESPN):


1. Keep that momentum going:
Rice enters today's game on a four-game winning streak and having won five of its past six games. Remember, this was a team that started the season 1-5 and was just getting eaten up by opposing rushing attacks. From that low point, the Owls completely transformed when it came to stopping the run, allowing teams to average a measly 116.2 yards over the final six games and giving up just nine total rushing touchdowns. The Owls outscored opponents by 80 points during their final five victories and averaged 432 yards of offense during their four-game winning streak. How well that rushing defense plays will be crucial against Air Force, which ranks second nationally in rushing offense (328.8 yards per game) and has 37 rushing touchdowns on the season. If the Owls can contain that triple-option rushing attack, they'll have a good chance to get a win in their first bowl game since 2008.
2. Hold on to the ball:
The Falcons might be able to run the ball down other teams' throats, but they have really struggled in the turnover department of late. During its first eight games of the season, Air Force turned the ball over just 12 times. But during the Falcons' 1-3 finish, they handed the ball to opponents 14 times. With how well Rice is playing right now, and with how efficient the Owls have been on offense, Air Force can't afford to turn the ball over and expect to win. With the way the Falcons can run the ball, and given how much Rice struggled earlier in the season to stop the run, it could be a major advantage for the Falcons if they can just keep feeding running back
Cody Getz
, who became the first player in school history to register three 200-yard rushing games in a single season, and have quarterback
Connor Dietz
make plays with his feet to keep that option attack going. Grinding it out will wear Rice down.
3. Act like you've been there before:
This is Air Force's sixth consecutive bowl game, while Rice is making its first trip to the postseason since 2008. That year, the Owls throttled Western Michigan 38-14 in the Texas Bowl. For the Owls, it's all about not getting cold feet and letting the nerves take hold. They had to work extremely hard to get six wins after the 1-5 start, so it's not the time to let the bright bowl lights intimidate them. As for Air Force, the Falcons have a ton of bowl experience, but the confidence might be lacking after such a bad end to the season. This team has to realize that it has been here before. It knows how to handle the magnitude of the final game of the season. Rice hasn't been in this situation in a while, so the Falcons will have the advantage when it comes to nerves today.
December, 29, 2012
12/29/12
8:00
AM ET
Rice (6-6, 4-4 C-USA) vs. Air Force (6-6, 5-3 MWC)


Who to watch:
Air Force senior running back
Cody Getz
. Air Force enters the Bell Helicopter Armed Forces Bowl with the No. 2 rushing offense in the country, averaging 328.8 yards per game. The main reason for the Falcons' ground success has been the play of Getz. He has 1,213 rushing yards and nine touchdowns despite missing two games this year because of an ankle injury. Getz became the first player in school history with three 200-yard rushing games in a season and averaged 6.4 yards per carry. He must be licking his chops at the thought of playing against a Rice defense that is tied for 91st nationally in run defense, giving up 192.8 yards per game.
What to watch:
Can Rice put pressure on Air Force's backfield? The Falcons have been very good at protecting quarterback
Connor Dietz
this season. Through the first nine games of the season, Air Force's offensive line didn't allow a single sack. What might have been more impressive about that is that the Falcons' line did it without starting center Michael Husar, who went down in the season opener. Air Force is tied for second nationally in sacks allowed (seven). Rice ranks 47th nationally in sacks this season with 26 on the year. The Owls are averaging 2.17 sacks a game, and defensive linemen
Cody Bauer
and
Hosam Shahin
have combined for 10.5 sacks on the year.
Why watch:
Who doesn't like culture clashes when it comes to offense? Air Force has that challenging triple option, but Rice owns a much more balanced offense. The Owls are averaging 201 rushing yards and 219 passing yards per game. Although Air Force has been very deadly running the ball, the Falcons really struggled down the stretch because of costly turnovers. Air Force finished the season with a 1-3 run, turning the ball over 14 times in the process after turning it over just 12 times in the first eight games. Rice comes in red hot, winning five of its last six games, including its last four. In the final six games of the season, the Owls allowed an average of only 116.2 rushing yards. Watching this Rice defense try to contain Air Force's potent rushing attack should be fun.
Prediction: Air Force 31, Rice 27.
Rice might have all the momentum on its side after such a good end to the season, but Air Force finally got a substantial break and thus got some much-needed rest. The Falcons played for 10 consecutive weeks, and you could tell this team was hurting for a break. That break has come, and, although the Owls have been very good against the run lately, Air Force's triple-option attack will be just too much for Rice in the second half.
September, 8, 2012
9/08/12
7:13
PM ET
ANN ARBOR, Mich. -- Michigan was hoping for a strong rebound performance Saturday against Air Force.
It didn't quite get it. But the Wolverines did get a
31-25 victory
in a game that came down to the final moments.


It was over when:
Michigan redshirt sophomore linebacker
Jake Ryan
batted down a
Connor Dietz
pass with 1:28 left in the fourth quarter, forcing a turnover on downs and giving the Wolverines the win. Air Force had been driving with a chance to win. Ryan also had a career-high 11 tackles.
Game ball goes to:
Michigan quarterback
Denard Robinson
. The Wolverines would have lost without him. He accounted for four touchdowns and 426 total yards of offense. He also was Michigan's sole running producer as starting running back
Fitzgerald Toussaint
had just 7 yards on eight carries.
Stat of the game:
Michigan freshman tight end
Devin Funchess
had four catches for 106 yards, the first time a tight end has had 100-plus yards for the Wolverines since Sept. 13, 1997, when Jerame Tuman had five catches for 126 yards.
What we learned about Michigan:
Michigan could have some major issues on defense. The Wolverines' defensive line struggled with being cut by Air Force's offensive line and then couldn't get around blocks when they weren't. The linebackers struggled to read the Air Force pitch correctly. The Falcons gashed their way to 290 yards rushing and left the Michigan front seven with questions for the second consecutive week. Robinson, though, played a lot better than he did against Alabama. He completed 14 of 25 passes for 208 yards and two touchdowns. He also rushed for 218 yards and two touchdowns.
Record performance:
Robinson had the fourth 200-yard rushing game of his career. His two touchdown passes gave him 43 in his career, moving him past Steve Smith (42 touchdown passes) into fifth in school history.