November, 25, 2014
Nov 25
12:00
PM ET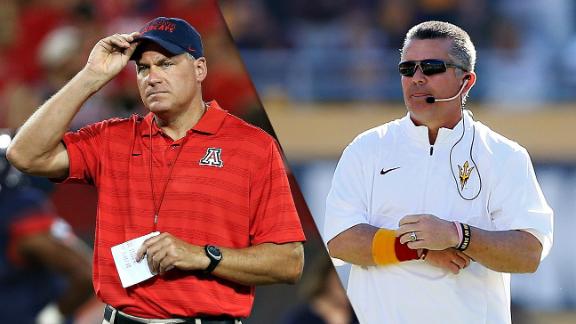 What makes a great college football rivalry? Two things: 1. Passionate and legitimate ill will; 2. National relevance.
Arizona and Arizona State have long had the former, with the bad feelings advancing beyond the typical state rivalry because of a handful of historical issues, including the University of Arizona fighting against "Tempe Normal School" becoming an accredited university in the late 1950s. That one still grates on Sun Devils elders, while snarky Wildcats fans will call ASU "Tempe Normal" just to be annoying.
[+] Enlarge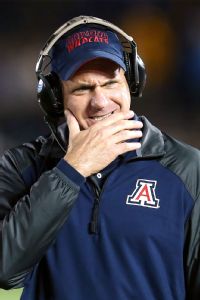 Stephen Dunn/Getty ImagesRich Rodriguez and the Wildcats get a shot at rival Arizona State on Friday.
Those bad feelings ticked another notch forward when Arizona hired Rich Rodriguez and Arizona State hired Todd Graham. They don't like each other.
They were once friends, with Rodriguez hiring Graham away from a high school job in Texas to coach at West Virginia in 2002, but that clearly is no longer the case. Neither says much about the other on the record, but during a visit to ESPN's offices by Pac-12 coaches shortly after they were hired, they stood in stony silence for several minutes just a few feet from each other without making eye contact, despite a certain charming reporter offering up some wonderful repartee that typically would inspire conviviality from even a pair of gargoyles.
That dislike extends through the coaching staffs. Arizona assistants Calvin Magee and Tony Dews, who worked for Rodriguez at West Virginia and Michigan, spent a single season coaching with Graham at Pittsburgh after Rodriguez was fired at Michigan. When they rejoined Rodriguez at Arizona, Graham called them "mercenaries," according to a
tweet from Paul Zeise of the Pittsburgh Post-Gazette
.
Yet history and personal feelings go only so far in the national college football conversation when your team is simply battling for bowl eligibility. Or one team is good and the other shows up only as a spoiler. That has been the case more often than not in the Territorial Cup, which was first contested in 1899, 13 years before Arizona became an official state in the union.
That is where Graham and Rodriguez have most enriched this rivalry: Both teams are now good. This will be the first time they meet as ranked teams since 1986. Both are 9-2. The last time they met as teams with at least nine wins? 1975. Arizona State has posted nine wins in back-to-back seasons for the first time since 1996-97. Arizona owns its best record since 1998.
Both are 6-2 in Pac-12 play. If UCLA should lose to Stanford in a game played simultaneously with the Territorial Cup at 3:30 p.m. ET, then the champion of Arizona also becomes the Pac-12 South Division champ and would play Oregon for the conference title on Dec. 5. Further, the winner also might set itself up to be selected as practically a home team for the Fiesta Bowl. That is, unless the winner somehow beats Oregon in the Pac-12 title game and slips into the College Football Playoff, a not outrageous scenario, by the way.
"This game is the single most important game every year for us and for our fans," Graham said. "Obviously it has a lot more meaning with both teams going for 10th win and Pac-12 South championship on the line. So, yeah, there's a little extra to it."
Said Rodriguez: "I don't believe that 'if you only win one game but you beat ASU, it's a good year,' but it is the most important game on our schedule because it is the rivalry game. The rivalry game is always the most important when you see it with no records. Now that we both have had pretty good years and have even more at stake, this makes it of added importance."
Of added importance to both coaches, though perhaps more for Rodriguez: Graham is 2-0 against Rich Rod since they arrived in the desert. No Arizona State coach opened his career in Tempe at 3-0 versus the Wildcats. While folks in Tucson appreciate the undeniably good job Rodriguez has done rebuilding the program, they also would really, really not like to spend a third year listening to Sun Devils fans squawking at them.
In the Sun Devils' last visit to Tucson, they overcame a 10-point fourth-quarter deficit to win 41-34. Last year, the Sun Devils rolled the Wildcats 58-21, a blowout win that earned them home-field advantage in the Pac-12 title game against Stanford.
[+] Enlarge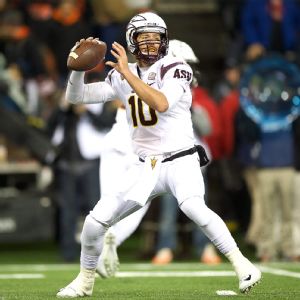 AP Photo/Troy WayrynenTaylor Kelly and the Sun Devils are looking to finish the season strong.
The intrigue this year is at quarterback. Arizona's starter, impressive redshirt freshman
Anu Solomon
, couldn't play the second half of the Wildcats' win last weekend over Utah because of an ankle injury that has been hounding him for some time. He's decidedly questionable, and senior
Jesse Scroggins
will make his first career start if Solomon can't play.
For Arizona State, there's senior
Taylor Kelly
. The three-year starter wants to finish his career 3-0 against the Wildcats. He has been inconsistent since returning from a foot injury, but he seemed to find his rhythm in the second half last week against Washington State. His life also will be easier with the expected return of receiver
Jaelen Strong
from a concussion.
Arizona's home-field advantage might not be much of an advantage. The Sun Devils have won five of the past seven in Tucson, and this rivalry has surprisingly not favored the home team of late. The visitor owns an 8-6 edge in the past 14 matchups, and the Sun Devils' win in Tempe last year ended a four-game winning streak for the road team.
Good news for those who like thrillers: Seven of the past 10 games have been decided by a touchdown or less. The four games before last year's blowout were decided by a total of 15 points, with a fourth-quarter comeback, two blocked extra points, a late field goal and a red zone stand being the difference.
Graham said the game is about the players, not the coaches. Rodriguez, though he probably doesn't want to be seen as agreeing with Graham, said about the same.
"There is a lot of stake," he said. "It is our 19 seniors' last home game, so I would be shocked if preparation wasn't at an ultimate high."