November, 30, 2014
Nov 30
12:01
AM ET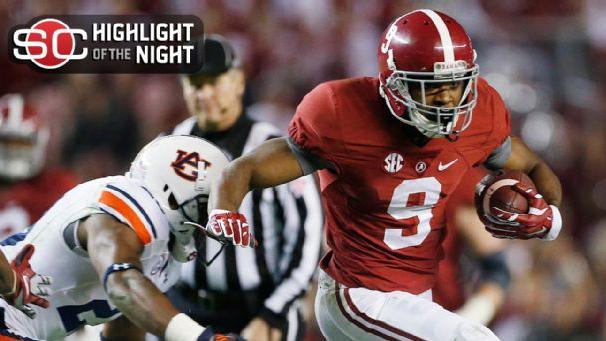 TUSCALOOSA, Ala. -- It was the Iron Bowl, so of course it wasn't going to be easy.
It didn't matter that
Alabama
was ranked No. 1 and on a roll with six straight wins. It didn't matter that
Auburn
had slipped to No. 15 and dropped its past two SEC games in unceremonious fashion. It didn't matter what it looked like on paper, because rivalry games don't care for appearances.
Instead, Alabama
survived a slugfest
with Auburn, winning 55-44 in an instant classic filled with big plays, momentum-swinging turnovers and one furious finish.
How the game was won:
Give Alabama's defense credit. Though the Tide gave up a number of big plays to
Nick Marshall
and the Auburn offense, it found a way to hold inside the red zone time and time again. Something about the pressure of being up against the wall gave Nick Saban's defense comfort. If it weren't for the four field goals Alabama forced inside the 20, Auburn might have run away with the game.
Game ball goes to:
Amari Cooper
. He couldn't be stopped. Though his quarterback,
Blake Sims
, struggled, Cooper played like a man on a mission. Three times he scored a touchdown, two of which came on plays on which he simply outran and outmaneuvered the coverage to get himself open. By the time it was all said and done, Cooper made his best case for the Heisman Trophy with 13 receptions for 224 yards and three scores.
What it means:
Alabama might be ranked No. 1, but it is not a flawless football team. It struggles against spread offenses that can run the football. It has a good, but not elite, quarterback. And when those two things come together at the same time, the Crimson Tide are beatable. Auburn showed us that, as Sims was intercepted three times and Saban's defense yielded the most yards it has all season. Against a better team, possibly in a playoff semifinal, Alabama has to hope that both flaws aren't exposed.
Playoff implication:
It wasn't pretty, but who said it had to be? Alabama, ranked No. 1 in the nation, isn't going anywhere, even if it struggled at home against Auburn. With just one loss and in position to win the SEC next weekend against
Missouri
, the Crimson Tide control their own destiny in the march toward the playoff.
Best play:
Alabama needed an answer. Down two scores with all the momentum on Auburn's sideline, Cooper took matters into his own hands. The Tide's star receiver left the defense in the dust for this wide-open touchdown grab.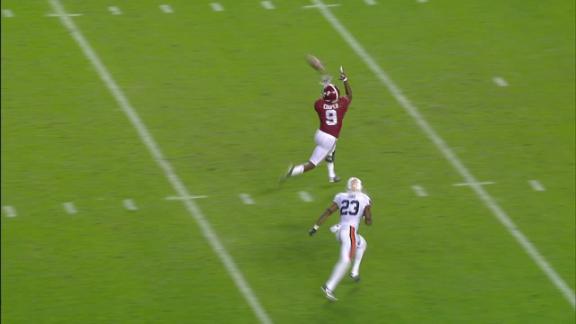 What's next:
For Alabama, it's on to the SEC championship game in Atlanta. The Crimson Tide get a Missouri team that inexplicably lost to
Indiana
earlier in the year and was steamrolled by
Georgia
but has stayed alive and won the East thanks to comeback wins in back-to-back weeks against
Arkansas
and
Tennessee
.