NCF Nation:

Big 12 Conference
December, 29, 2013
12/29/13
1:30
AM ET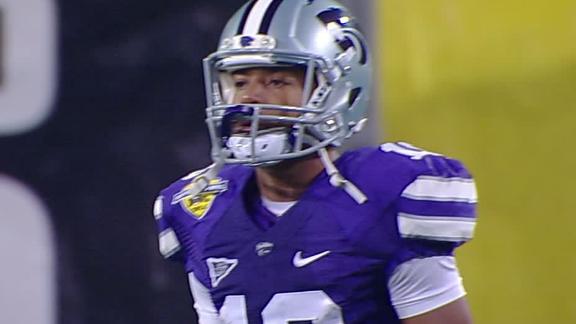 TEMPE, Ariz. -- Kansas State and Michigan finished the regular season headed in opposite directions, and that dichotomy was clear from the outset Saturday as the Wildcats cruised to a
31-14 win
in the Buffalo Wild Wings Bowl.


It was over when:
Shane Morris' third-down pass with 7:30 to play and Kansas State up by 18 fell incomplete, sending Michigan's punt team in for the fifth straight drive and effectively ending any chance at a comeback attempt. Michigan's offense was stuck in neutral throughout, and while Kansas State failed to cash in on several second-half opportunities to put the game away, there was never any real drama down the stretch.
Dante Barnett
's interception on Michigan's next drive ensured the final score was as one-sided as the play on the field had been throughout.
Game ball goes to:
Kansas State quarterback
Jake Waters
. The junior-college transfer was nearly flawless all night, completing 21 of 27 passes for 271 yards, three touchdowns and no interceptions.
Tyler Lockett
caught all three touchdowns and would have had a fourth if he didn't drop a perfectly thrown ball from
Daniel Sams
in the end zone. Waters was impressive with his arm, but he made his share of plays with his legs, too, racking up 42 rushing yards, including running for five first downs. Aside from the drop, Lockett was exceptional. He finished with 194 all-purpose yards -- his sixth game this season with more than 150 all-purpose yards.
Stat of the game:
22. That was Michigan's rushing total with 2 minutes left on the clock, a dreadful effort that effectively doomed any chance at moving the ball consistently. The ground game has struggled all season for the Wolverines, and Kansas State didn't seem to break a sweat shutting down Michigan's runners. A 14-yard run by
Devin Funchess
on a double reverse in the first quarter and a 40-yard scramble by Morris with less than 2 minutes to play provided the only highlights. The rest of the ground game amounted to just 11 yards on 13 carries, and Morris was forced to carry the load in his first career start.
Unsung hero:
Morris, a true freshman, stepped in for injured
Devin Gardner
, and he was solid. He wasn't asked to make too many tough passes -- particularly in the early going -- but he also got no support from the running game. Still, he completed 15 of 19 passes in the first half for 121 yards, converting a couple of big third downs and improvising when plays broke down. In the end, it didn't matter much, as Michigan simply couldn't overcome its many holes, and while Morris was calm, cool and consistent, the lack of support doomed his second half.
What Michigan learned:
It has a quarterback for the future, but there are plenty of other issues that need to be addressed. Morris was solid despite getting precious little help from his teammates, but even if he continues to develop over the offseason and unseats Gardner as the quarterback of the future, Michigan's prospects won't improve much if the defense and running game don't get much better. Kansas State ran with ease up the middle, had wide open receivers often and had little trouble completely silencing Michigan's ground game. It was a script far too familiar for the Wolverines in 2013, and Brady Hoke has his work cut out for him finding answers before the 2014 season begins.
What Kansas State learned:
There's no bowl jinx, and Bill Snyder can win games in December just as easily as he wins them in the fall. Kansas State hadn't won a bowl game since 2002, but the Wildcats dominated this one from the outset. The offense continues to evolve, and the defense completely shut down Michigan. After a slow start to the season, Kansas State finished as hot as anyone, winning six of its final seven games. More importantly, the pieces are in place for that success to continue into 2014.
To watch the trophy presentation of the Buffalo Wild Wings Bowl,
click here
.
November, 16, 2013
11/16/13
10:18
PM ET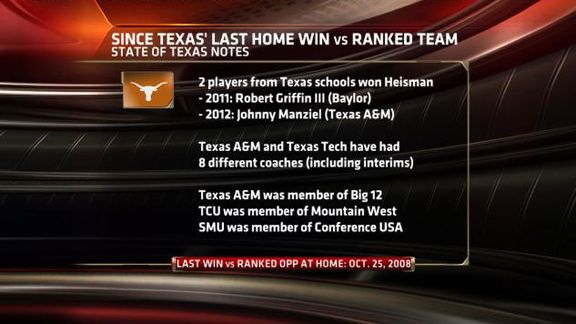 ESPN Stats & Information It's been five years and counting since Texas last beat a top-25 team at home.
AUSTIN, Texas -- Texas got handed a beatdown on Saturday. There's no other fair way to put it.
In a game billed as one of the Big 12's biggest of the season, between two teams streaking and in control of their conference title hopes, No. 12 Oklahoma State took control early and never let go in a
38-13 victory over the No. 24 Longhorns
.
[+] Enlarge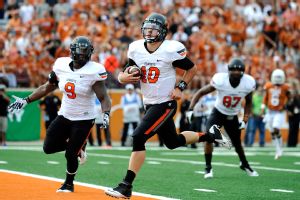 Brendan Maloney/USA TODAY SportsQuarterback Clint Chelf accounted for four touchdowns (two passing, two rushing) in the Cowboys' win over Texas.
The Cowboys handed coach Mack Brown the most lopsided home loss of his 16 years in Austin, and there was nothing fluky about it.
OSU won a big-time conference test with a stingy defense, a superior run game, far better special-teams play and three forced turnovers. All against a Texas team that had won six straight and truly believed it could play with the Big 12 title contenders.
"I'm disappointed," Brown said. "I don't get stunned about anything anymore."
The Longhorns, who hadn't lost in two months, never led in this game. They started slowly, rallied back to 14-10 and then gave the game away in a matter of only seven plays.
The first six came on a 67-yard touchdown drive sparked by a 29-yard pass from
Clint Chelf
to a wide-open
Jhajuan Seales
on third-and-10. Two plays later, Chelf sent a pass right into the hands of Texas safety
Adrian Phillips
that bounced off and into the grasp of receiver
Tracy Moore
for a 12-yard score.
"It's just a play I have to make," Phillips said. "I make that play every day. It just went through my hands. Sometimes when you roll the dice, it doesn't go your way."
Down 21-10 with 75 seconds left in the first half, Texas' offensive coaches opted to roll the dice and go for a score. They got one. OSU corner
Justin Gilbert
baited
Case McCoy
into throwing an out that Gilbert picked off and returned 43 yards to the end zone.
"Yeah, I was forcing things. There's no doubt about it," McCoy said.
McCoy threw two more interceptions on the day, including one swiped by linebacker
Caleb Lavey
that the Cowboys turned into a 21-yard touchdown one play later. That was the final score of the day, and with 1:54 left in the third quarter, the game was over.
"The quarterback goes out and throws three picks, you're not going to win the ballgame," McCoy said. "It's very rare that happens. So it's on me, my team knows it's on me and we're going to get it fixed and go win."
That's not to single out McCoy and Phillips. There were mistakes all over the field in this game, and OSU repeatedly capitalized. Texas had no answer in the second half. One field goal and no spark. No big plays, no momentum, no change. It hadn't faced that feeling in a long time.
And there's not much to second-guess. Oklahoma State was the far superior team. Brown was asked afterward about his usage of freshman quarterback
Tyrone Swoopes
, which remains one of the great red herrings of Texas' issues this season. Brown offered as honest an answer as he could have.
"You never make decisions when you're tired and when you're frustrated," he said. "I'd say we're both tonight."
The clichés his players will lean on after this one -- about 24-hour rules and not letting one loss become two -- are actually apt. Texas still has plenty to play for. This team needs help to get to the Fiesta Bowl, yes. But Texas (7-3, 6-1 Big 12) gets more than 10 days to prepare for a Thanksgiving meeting with Texas Tech. Win that one and it'll still be in the thick of things with a trip to Waco on the horizon.
For now, though, all the Longhorns can worry about is fixing themselves. They made things far too easy for a talented Oklahoma State team that had very little trouble doing what it wanted to do in.
Brown wasn't ready to assign much blame after the game. A thorough film session is needed before he can reach some conclusions, and he knows this season isn't over yet.
"There's a lot of football to be played," Brown said. "You just can't get your head down and lay down and quit when you have a bad night. You have to go back to work."
There's plenty of work to be done, even after the two-month run this team was on. Texas got its big moment on Saturday and got flat-out beat. Its Big 12 title hopes took a blow. We'll know in two weeks whether it was a fatal one.
November, 13, 2013
11/13/13
7:00
AM ET
For the past six seasons, I've covered the Pac-12 for ESPN.com. The decade before that, I was in Seattle, as a college football writer and columnist. And before that, I covered the SEC.
I know football on both coasts. But I don't really know the land-locked states. The states in the middle. States that some snotty folks in the Pac-12 might refer to as "the flyover states."
[+] Enlarge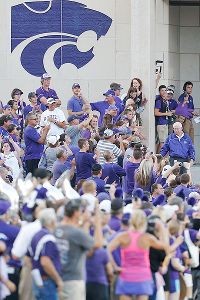 AP Photo/Orlin WagnePac-12 reporter Ted Miller will be taking in the atmosphere in Manhattan, Kan., this weekend.
But it's "Flip" week at ESPN.com. The idea is our regional college football writers are going to be leaving their regions -- their comfort zones -- for another, to search out the thrills and chills of college football in a different place. What makes that place different and special?
So I felt like it was right in my big-city wheelhouse when my bosses said I was going to Manhattan. Then they explained it was Manhattan, Kan., home of Kansas State, not the one on Hudson River. The Little Apple, not the big one.
That sent me to Google. And the more I read about Manhattan, the more I was intrigued. While the Pac-12 has a few neat college towns -- Eugene, Corvallis, Pullman, Boulder -- it's mostly big city football out here: Los Angeles, San Francisco, Seattle, Phoenix, Salt Lake and Tucson. Manhattan sounds like a quintessential college town.
After chatting with Kenny Lannou in the Kansas State sports information office, I found myself getting excited. This is going to be cool.
But I need to hear from you guys about what I should see and seek out. What is most important about Kansas State football? What is uniquely K-State?
My inquiry is about the Friday before and game day -- the tailgate and game itself. No stone should be left unturned.
I turned to our resident Kansas State alum, senior recruiting reporter Jeremy Crabtree. What should I see? And what should I expect?
Jeremy Crabtree
: Ted, the sightseeing on your trip to Kansas State should start even before you even arrive in Manhattan.
As you make your way West along I-70 from Kansas City, you'll notice a change in the scenery as you near exit 313 for Manhattan. You will be driving through a section of the Flint Hills, one of the few remaining sections of tallgrass prairie in America. You'll have to use your imagination some because it's winter and the grass is brown instead of green, but envision oceans of vibrant green grass untouched by man as far as the eye can see. As a native Kansan, I truly believe the Flint Hills rival some of the natural beauty you're used to seeing in Pac-12 territory.
[+] Enlarge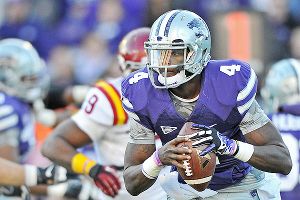 Peter G. Aiken/Getty ImagesQuarterback Daniel Sams and Kansas State take on TCU on Saturday at 3:30 p.m. ET.
Make sure you bring your clubs, because Colbert Hills Golf Course should be your first stop in Manhattan. From there you can experience some of the Flint Hills vistas yourself on a course designed by professional golfer Jim Colbert. You can see as far as 12 miles from some of the holes, and Colbert is a proud Kansas State alumnus, so the place is near and dear to Wildcat fans.
After you're done there, I would make a beeline to Aggieville, a six-square block section in town that's full of restaurants, bars and shops that serve as the social hub of Manhattan. You honestly couldn't go wrong with any of the places in Aggieville for lunch, but I'm a big fan of Coco Bolos, a Mexican wood-fired grill and cantina. The evil desert chicken is to die for, and if you're adventurous you can order it "truly evil" like I do. From there it's just a short walk to Varney's Book Store, Aggieville's anchor store and the only place to get everything purple you'll need for Saturday's game.
Your afternoon would also not be complete without a visit to the Call Hall Dairy Bar on campus. From there you can sample some of the 30-different student-made ice cream flavors. I've always been a big fan of purple pride, candy crunch and apple dapple.
On game day, make sure you get there early as the real pre-game show takes place in the parking lots.
Arrowhead Stadium in Kansas City has the best tailgating in the country, but you have to rank Bill Snyder Family Stadium right up there, too. With large blacktop parking lots on the east and west side of the stadium, there's plenty of room for cars, trucks and RVs to cram in and that creates kind of a tailgating utopia. With everyone packed in so tightly, a sweet-smelling combination of smoke from ribs, brats, steaks, burgers, brisket or whatever hangs in the air.
Also don't be shy if you see something you want to sample. Fans from opposing schools have always commented on how friendly the tailgating is in Manhattan, and K-Staters don't like seeing people go hungry, even if you come empty-handed.
Ted Miller:
Consider me intrigued. So Kansas State fans, if you have any suggestions for me to guide me on this trip, feel free to
drop them in my mailbag
or shoot me a note on Twitter
@ESPN_Pac12blog
. If you see me walking around Manhattan, don't be shy, say hello.
November, 7, 2013
11/07/13
4:30
PM ET
By
ESPN.com staff
| ESPN.com
Oregon-Stanford. Oklahoma-Baylor. Four top-10 teams. Conference and BCS implications galore.
It's almost certainly the biggest non-Thanksgiving Thursday in college football regular-season history and we know many of you will be working the remote and following social media during this titanic night. Keep Thursday Title Talk Live open throughout the evening – starting at 7:30 p.m. ET -- and we'll bring you real-time reaction and analysis from ESPN's stable of reporters, analysts and experts.
November, 6, 2013
11/06/13
3:00
PM ET
And then, there were four.
Oklahoma State all but knocked Texas Tech out of the conference race with its victory in Lubbock last weekend, bringing a little more clarity to the Big 12 title picture.
A quick refresher on the Big 12's three-way tiebreakers:
Head-to-head.
Records against the next highest placed teams.
BCS rank, unless two teams are ranked within one spot of the other; then, head-the-head is invoked again.
Here's what the race for the Big 12's automatic BCS bowl berth the looks like heading into the backstretch:

• Texas (6-2, 5-0 Big 12):
The Longhorns control their own destiny, with a victory over fellow contender Oklahoma in their hip pocket. The key game for Texas is Nov. 16 against Oklahoma State. If the Longhorns can hold off the Cowboys in Austin, they would be playing for a Big 12 title and the automatic BCS bowl berth at Baylor on Dec. 7 just by splitting games with West Virginia and Texas Tech.

• No. 6 Baylor (7-0, 4-0):
Baylor has been the most impressive team in the Big 12 so far. But the Bears still have OU, Texas Tech, OSU and Texas left on the schedule. While the Bears could knock OU out of the mix Thursday night with a win in Waco, they would still be alive with a loss. But they would have to win out, then hope someone like Oklahoma State could hand the Sooners a second loss.

• No. 10 Oklahoma (7-1, 4-1):
The Sooners are the only ones here that do not control their destiny. Even if they won out, OU would still need Texas to lose at some point. Possibly even twice, since the Longhorns claim the head-to-head edge. OU probably has the toughest remaining slate of the contenders, too, with road games at Baylor and Oklahoma State as well as surging Kansas State. Because of the Texas loss, the Sooners have no margin for error. But they could take a major step forward with a win Thursday.

• No. 14 Oklahoma State (7-1, 4-1):
Even with the loss at West Virginia early in the season, the Cowboys still control their destiny. The key game for them is Texas on Nov. 16. If they can topple the Horns in Austin, then the Pokes would have a chance to clinch the league with back-to-back home games against Baylor and OU.
October, 23, 2013
10/23/13
12:30
PM ET
LUBBOCK, Texas -- The first few days on the job as head coach, Kliff Kingsbury sat in his empty office looking out on to Texas Tech's practice fields.
The 33-year-old knew he should be doing something. He wanted to be doing something.
But what?
"Literally the first two days I got here, I sat in this chair and was like, 'I don't know what to do,'" Kingsbury said. "'I don't know the next move.'"
It was a rare pause for Kingsbury, who is known for moving fast, both in the offense that he runs and his career trajectory. In coaching since just 2008, he's already helped groom the NCAA's all-time passing leader (Case Keenum) and a Heisman Trophy winner (
Johnny Manziel
) as an assistant to Kevin Sumlin at Houston and Texas A&M.
To continue reading,
click here
.
October, 19, 2013
10/19/13
7:30
PM ET
MORGANTOWN, W.Va. -- With a chance to run the clock out and kick a field goal, Kliff Kingsbury went for the kill instead.
And with a freshman quarterback, no less, in his first career road start.
But in the final minute of the fourth quarter,
Davis Webb
answered his coach's cool confidence with a cool, confident touchdown pass, clinching
Texas Tech's 37-27 win Saturday at West Virginia
.
[+] Enlarge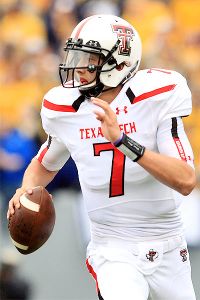 AP Photo/Chris JacksonFreshman quarterback Davis Webb, making his first road start, was 36-of-50 for 462 yards and two touchdowns in the Red Raiders' win over West Virginia.
"We talk about it all the time, fortune favors the bold," Kingsbury said. "We're going to go try win the game.
"We're not going to leave it on anybody else."
Kingsbury's play-to-win attitude has the preseason pick to finish seventh in the league sitting at 7-0. And it has solidified the Red Raiders as legit contenders in a wild, wild Big 12 season heading into next weekend's showdown at Oklahoma.
"That call showed how much trust Coach has in us," said tight end
Jace Amaro
, who hauled in the 10-yard touchdown pass from Webb at the back of the end zone that put the Red Raiders up by two scores with 1:01 to play.
Kingsbury's call especially showed trust in Webb, who has blossomed since losing the starting job in the preseason to freshman walk-on
Baker Mayfield
.
In Webb's first start last week, he broke the Texas Tech freshman passing record in a victory over Iowa State.
In Morgantown, Webb broke the record again.
He completed 36 of 50 passes for 462 yards and two touchdowns to also become the first Texas Tech freshman to throw for more than 400 yards in his first two starts.
"Losing the job really kicked him into overtime as far as determination and work ethic," Kingsbury said of Webb, who, as a freshman, remains off limits to the media. "He has handled himself very well since."
Webb was far from perfect Saturday. And his fumble at the West Virginia 1-yard line in the second quarter completely reversed momentum of the game. The Red Raiders led 13-3 and were primed to make it 20-3. But off a quarterback draw, Webb tried to embody his coach's play-to-win attitude and went for the touchdown instead of sliding. At the goal line, three Mountaineers converged on Webb and popped the ball loose and West Virginia recovered. The Mountaineers answered with a 99-yard touchdown drive, and scored on five straight possessions to take a 27-16 lead in the third quarter.
"That one I was mad about, because we talk about sliding all the time; he's not the most nimble to try and do something like that, either," Kingsbury said. "But he said, 'I got you, Coach. I'll make up for it.' That's the kind of kid he is."
Webb more than made up for the fumble.
And the Texas Tech defense, which was on its heels for two quarters, finally gave him the opportunity to do it.
After the Mountaineers took the 11-point lead, the Red Raider defense allowed just one first down the rest of the way over West Virginia's final five possessions.
"

Losing the job really kicked him into overtime as far as determination and work ethic. He has handled himself very well since.

"

Texas Tech coach Kliff Kingsbury on quarterback Davis Webb.
"West Virginia had a lot of opportunities there (to put the game away)," linebacker
Terrance Bullitt
said. "But we never panicked. We were like, 'Let's go, let's get this.' We knew we were going to stop them. We stepped up as a defense, then the offense stepped up and put the game away."
The drive before Webb's final touchdown pass, West Virginia quarterback
Clint Trickett
completed all three of his passes. But the Mountaineers still went three-and-out, as Texas Tech's Bullitt,
Derrick Mays
and
Bruce Jones
all made sure tackles to force yet another punt.
"We knew if we got that stop, we were going to win the game," said Amaro, who had another monster performance with nine catches for 136 yards and two touchdowns to fuel Texas Tech's comeback.
"We got that stop."
After that stop, the Red Raiders got the ball back with 4:30 still to play. But instead of just sitting on the ball, Tech gunned for first downs. On 3rd-and-6, Webb lofted a pass 27 yards downfield to
Jordan Davis
, who came down with the reception in coverage at the West Virginia 5.
Then three plays later on third-and-goal, Kingsbury called another daring pass. And Webb delivered.
"When we've had to have big drives, Davis has made them," said Kingsbury, who was the first to meet Webb at the hashmarks to celebrate the score. "I'm really proud of how he handled himself in the fourth quarter."
A fourth quarter Texas Tech played to win. And a win that stamped the Red Raiders as Big 12 contenders.
August, 23, 2013
8/23/13
5:00
AM ET
1. Oklahoma State head coach Mike Gundy has decided not to pick a starting quarterback between senior
Clint Chelf
and sophomore
J.W. Walsh
. Of all head coaches, you would think Gundy, a star quarterback with the Cowboys back in the day, would want to give that assurance to the player running his offense. Then again, no one shuffled quarterbacks more effectively than Steve Spurrier at Florida, and he won the 1966 Heisman playing quarterback. Maybe they know something we don't?
2. Bo Pelini has gone 9-4 or 10-4 in each of his five seasons at Nebraska, yet the whole feels like less than the sum of those parts. Flaws? There are the big games -- the Huskers are 0-3 in conference championship games and 0-for-their-last-three-bowls. There are the big losses -- in eight defeats in 2011-12, Nebraska allowed 46 points per game. His record reminds me of John Cooper, who won enough to get elected to the Hall of Fame but couldn't beat Michigan. Nebraska will be one of the most interesting stories in 2013.
3. For the 34 teams who play next Thursday night, the season starts today, the first day of their game week. That makes it official: We made it through the offseason with no major scandal(s), no head coaches being fired, and no schools jumping from one conference to another. Instead, we got the format for 2014 and the groundbreaking for the new College Football Hall of Fame. Hallelujah.
November, 24, 2012
11/24/12
8:04
PM ET
It was the definition of Bedlam. No. 13 Oklahoma defeated No. 21 Oklahoma State
51-48
in overtime at Oklahoma Memorial Stadium on Saturday. The Sooners kept their Big 12 championship hopes alive with clutch plays down the stretch. Here's how it happened:


It was over when:
Brennan Clay
ended the game with a 18-yard touchdown gallop in overtime. The Sooners' running game was very average for most of the night but after OU's defense forced OSU to settle for a field goal on the Cowboys' lone overtime drive, Clay punched in the winning score.
Stat of the game:
103. That's the total number of plays the Sooners' offense ran against the Pokes. It was obvious in the overtime period as OU needed just two running plays before ending the game with Clay's touchdown run.
Game ball goes to:
Landry Jones
. For the second consecutive week, Jones came up big when OU needed him. The senior led the Sooners on a game-tying touchdown drive late in the fourth quarter that was capped off by a 4-yard
Blake Bell
run. Jones finished 46-of-71 for 500 yards, three touchdowns and an interception.
Unsung hero of the game:
Bell. He capped off Jones' late drive with a tough touchdown run on fourth down with less than five seconds remaining in the game. If Bell doesn't weave his way into the end zone with a combination of vision and toughness, the Sooners lose.
What it means:
Oklahoma's hopes for a Big 12 title remain alive. Kansas State would have to lose to Texas for the Sooners to take the conference outright, but if the Sooners win against TCU on Dec. 1, they'll grab a share of the Big 12 title.
What Oklahoma learned:
The Sooners learned they need to have a better plan for stopping teams that spread them out then run the football. Baylor, West Virginia and OSU have run all over OU's defense in three straight weeks. For OU to win another Big 12 title anytime in the future, it will have to find answers to its problems stopping the run.
What Oklahoma State learned:
Maybe
Clint Chelf
should have been starting all season. The junior is the most experienced quarterback on the roster and he handled tough road environments at Kansas State and OU like a veteran should.