NCF Nation:

Kent State Golden Flashes
November, 19, 2013
11/19/13
2:00
PM ET
By
Adam K. Moussa
| ESPN.com
Days after arriving at Kent State as a true freshman in 2009, running back
Dri Archer
received a message from assistant coach Jerry McManus that has served as inspiration for his improbable All-America career.
"When I first got to campus, I was really homesick, and I thought a lot about leaving. But, Coach McManus sat me down and convinced me to stick with it," said Archer, a native of Laurel, Fla. "Coach told me that it was only a matter of time until I broke almost every school record in the books. He has truly had my back since day one."
"Dri was probably the most homesick player that I've ever coached," said McManus, who began his career in 1978 and now serves as an assistant at Louisiana-Monroe. "If he would've gone home, Dri probably would've joined the military and never played a down of college football. Instead, he made the decision to stick it out, and that persistence has paid off big-time."
[+] Enlarge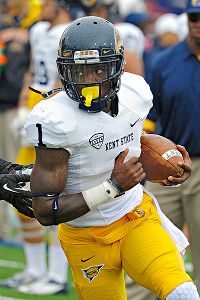 AP Photo/G.M. AndrewsThe Steelers hope Kent State running back Dri Archer can cause matchup problems for opposing defenses.
Through Archer's freshman and sophomore seasons, the 5-foot-8, 175-pound speedster accounted for more than 1,400 all-purpose yards and six touchdowns as the Golden Flashes' backup ball carrier and returner.
"A lot of coaches told me that I couldn't play D1 ball because of my size," said Archer, whose only FBS scholarship offer came from Kent State. "It was definitely a tough adjustment, but Kent State believed in me when no one else did, and that meant a lot."
With two seasons of experience under his belt, Archer appeared poised to assume the role of starting running back in 2011, until an unexpected academic issue delayed his forward progress.
"Dri retook a class and, for whatever reason, it didn't count towards the credits that he needed," McManus said. "He ended up being forced to sit out the entire season, and that experience really made him grow up a lot."
After a year of being relegated to a scout-team role, Archer returned to action in 2012 and led KSU to an 11-3 record, a BCS ranking and the team's first bowl appearance in 40 years. Along the way, Archer accumulated more than 2,500 yards and 23 touchdowns -- including 1,429 yards rushing and 561 receiving -- and became the first Walter Camp All-American in school history.
"Having to sit out a year made me so hungry for success, and I focused all of that energy into last season," said Archer, who returned three kickoffs for touchdowns in 2012. "We shocked a lot of people with what we were able to accomplish, and that meant a lot to Kent State."
After spearheading one of the most successful seasons in school history, Archer's explosiveness garnered the attention of NFL scouts, who ranked him as high as a third-round draft pick. But, instead of bolting for the NFL, Archer decided to return to Kent State for his senior season.
"I thought very seriously about leaving, but we lost the MAC Championship and our bowl game," said Archer, who has played for three different head coaches during his college career. "I didn't want to look in the faces of the guys in the locker room and end it on a loss.
"After every touchdown, my guys always pick me up in the air. Every single time I feel like I'm 100,000 feet high and on top of the world. I came back because of that feeling right there. Those moments with my teammates honestly make all of the ups and downs worth it."
Archer returned to the gridiron this year only to suffer an ankle injury on the season's first offensive series.
"This year hasn't played out how we expected," Archer admitted. "But, I truly believe that everything happens for a reason. If I could do it all over again, I'd do everything the exact same."
With only one game remaining in what has been a roller coaster college career, Archer has begun to look forward to what lies ahead.
"My goals right now are to finish the season on a high note, train hard and break
Chris Johnson
's 40-yard dash record at the NFL Combine," Archer proclaimed.
As for Archer's mentor, his belief in the budding star remains steadfast.
"If he sets his mind on breaking the record, I think it's realistic," said McManus, who coached Chris Johnson at East Carolina. "People are going to say he's crazy, but Dri has been dealing with doubt and proving people wrong his entire life. He knows that 40 time will help determine his NFL future.
"Throughout his journey, Dri has been on top of the mountain and in some very low valleys. I don't know exactly what the future holds for him, but I do know that Dri is incredibly driven. He'll be successful in whatever he does, on or off of the field. As for everything else, only time will tell."
September, 21, 2013
9/21/13
9:05
PM ET
STATE COLLEGE, Pa. -- Bill O'Brien, the offensive guru who's had to insist on more than one occasion that he's no rock star, took to the dais Saturday evening and cut himself short as he waxed poetic on the Lions' improved rushing attack.
"You guys need to ask me some defensive questions. They're all offensive questions right now," Penn State's head coach said following a 34-0 victory over Kent State. "The defense just pitched a shutout, and you guys were all over them last week and they just pitched a shutout. So, can we get some defensive questions or what? No?"
O'Brien, with a blue cap pulled close to his eyes, waited a moment and then continued on between scattered laughter.
"I thought the defense played a helluva football game. They pitched a shutout, and I think John Butler and that crowd of coaches over there and that crowd of football players over there did a f- …" said O'Brien, pausing to change words in midstream. "… hell of a job."
For a minute there, one reporter told him, it sure sounded like O'Brien was going to say
he had a bunch of "fighters."
"You know what?" O'Brien said with a smile. "I do. We have a bunch of fighters and fantastic kids. Anyone that debates me on that -- it's like my mom, she still doesn't believe I said 'fighters.' Do I look like a guy who swears? You're kidding me."
[+] Enlarge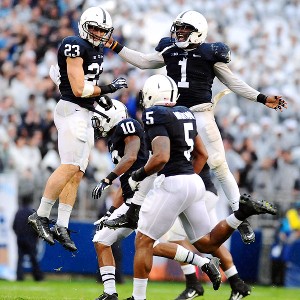 Evan Habeeb/USA TODAY SportsThe Penn State defense had plenty to celebrate as it notched its first shutout since 2010.
O'Brien's mood told the tale of the day. Last week, after his defense surrendered 34 points and 507 yards, he crossed his arms and countered most questions by saying he'd have to watch the film. He glared, and his anger was evident. This time, he laughed and smiled -- and his players shared that sentiment.
Cornerback
Jordan Lucas
pumped his fist as he jogged underneath the tunnel. Linebacker
Nyeem Wartman
embraced DT
Tyrone Smith
, and the dimple-chinned coach didn't have to stop any players from prematurely jogging into the locker room. They stayed and swayed to the alma mater.
O'Brien even lingered a bit and high-fived students who leaned over the rail. Last week, the players stared at their feet and looked as if they had heard a eulogy just minutes before. This week? It seemed as if the Lions were in the midst of a celebration -- probably because they were.
This marked the first Penn State shutout since Sept. 18, 2010, which also just so happened to come against the Golden Flashes. It was also a statement game, one that said the defense wasn't a pushover liked it seemed last week.
PSU surrendered 15 plays of 10 yards or more last week. It gave up just 190 total yards this week.
"It feels good for our defense. But we can't stop there, man," linebacker
Stephen Obeng-Agyapong
said. "We got to keep striving because we definitely made mistakes today, and we just have to keep improving."
Of course, comparing UCF's offense to Kent State might just be like comparing Ohio State to Ohio. Some players believed last week didn't seem as bad as the media made it out to be. But, by the same token, this week's shutout likely isn't the watershed moment for the defense either.
It's more of a confidence boost for the defense than an indicator -- even if some defensive players seemed to take offense at that notion.
"I don't think it was the opponent," Wartman said. "I think it was more us."
Defensive players didn't believe there were big changes between last Saturday and this Saturday. Obeng-Agyapong just chalked the loss to UCF up to one of those days when nothing goes right.
This shutout doesn't mean the Nittany Lions will enter the conference season and limit Indiana's high-powered offense to 200 yards. But it does give Penn State something to build on, something for the defensive players to smile about and something for the fans to look forward to.
The shutout was undoubtedly important to this Penn State team, Kent State or not. And, heading into the bye week, it sure makes a 3-1 record easier to swallow.
"When you can shut any team out, it feels good," Obeng-Agyapong said, "because you stop them from scoring the whole game. That's pretty difficult at times, you know?
"You always feel good when you win. When you lose, you feel crappy. It's as simple as that."