April, 2, 2012
4/02/12
8:14
AM ET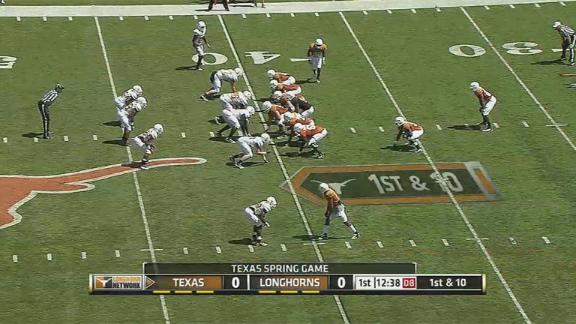 AUSTIN -- The lesson of the day for Texas' passing game?
One you might've already known:
Jaxon Shipley
is still the Longhorns' most consistent passer.
The question of the day that emerged from Texas' two-hour Orange-White spring game on Sunday is another familiar one, one that can't be answered now but absolutely must be solved this fall.
[+] Enlarge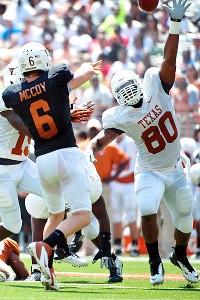 Brendan Maloney/US PresswireCase McCoy showed his willingness to throw deep more in Texas' spring game.
Will Texas be capable of winning a game through the air if the run game is slowed down?
Mack Brown is adamant he already knows the answer.
"Yes. Yes," he said. "Because we're going to be really good at the running game. If they're going to stop it, they're going to have to put some extra folks up there and it's going to leave people open."
It's a smart answer, a precise answer. Brown knows his quarterbacks will have opportunities. Whether they will take advantage of them remains to be seen, especially after rather pedestrian performances in the spring game.
David Ash
completed five of his six passes for 83 yards, threw a touchdown to Shipley and scrambled for a 1-yard score. He showed promise in his efficient operation of the offense and effective scrambling. Still, he was once again only asked to be a game manager.
"We didn't want to show all our cards right now when it doesn't count," Ash said.
Case McCoy
slung it around much more -- for better and for worse. He led all passers with 139 yards on 9-of-15 passing. He also threw two picks and nearly a third.
And Shipley? All he did was throw another touchdown pass, this one a 54-yard lob to
D.J. Grant
in the second quarter.
Though spring game stats don't count for much, Shipley has now thrown for scores on four of his five career passing attempts.
"Jeez. Might need to put him back there and throw it a few more times," McCoy said. "He's good."
Brown seems certain he has two good quarterbacks. So certain, in fact, that he's already lowering his expectations for Connor Brewer's freshman season.
"If you can, you'd like to redshirt Connor," Brown said. "That gives him a chance to grow up. You'd like to have your freshman redshirt if you can, and we told Connor that during the recruiting process."
Brewer was solid and steady in his Longhorns debut at 4-of-7 passing for 63 yards and a touchdown, though he did so against Texas' third-team defense. Brown's willingness to let him redshirt is the wise thing to do, of course, but it's also a vote of confidence.
Brown insisted that Ash and McCoy can't be fairly judged by one scrimmage. Over the course of three public practices, though, the improvements became more noticeable.
Ash is more confident. He knows how to run a huddle now. He's making better reads and didn't throw one bad ball all day.
And McCoy is throwing the ball downfield with a more aggressive mentality, something he sorely lacked last season. He's also demonstrating better maturity in the pocket.
"I think either one of those guys can run the offense we're running and help us win," Brown said. "That puts us in a great place. … I think they're both so much better than they were. I'm really excited about where we're heading with those guys."
Which one is better so far? Offensive coordinator Bryan Harsin said the battle remains even, that both passers had their good and bad days this spring. Brown still says he's OK with a two-quarterback system.
What will set one apart from the other still hasn't changed: turnovers and leadership.
"I think we all know that to be on the field and run that position you can't turn the ball over," McCoy said. "You can paint all the pictures you want, but if you turn the ball over you're not going to play."
There's no disputing what the painting of the Longhorns' offense looks like. Running backs will carry the team this fall.
But can this offense throw the ball when it must? That remains the question of the summer, and perhaps even the season.
January, 25, 2012
1/25/12
1:00
PM ET
AUSTIN, Texas -- Whether Mack Brown was campaigning for it or not, he received four more years.
And to think, no one even got to vote. Not that a vote was needed. A few rumors that Brown might retire, and Texas' athletic director DeLoss Dodds got to work to make sure it wouldn't happen. The sage septuagenarian decided he wanted to keep his best asset for a bit longer, or at least until Dodds himself rides off into the burnt orange sunset. Dodds is 74, after all.
It was the wise and prudent move. Brown and his program have allowed Texas, and Dodds, to build the richest and most powerful athletic department in the country. Sure, there have been a few blips -- 5-7 and 8-5 immediately come to mind. Those two seasons, the worst of Brown's career, had some fans questioning whether the coach had become complacent or incompetent.
Brown will even own up to the complacency charge. He and his staff lived on the name brand they had built and neglected to develop talent, innovate and, most of all, win.
As for the incompetence, well, from the suites to the cheap seats just about everyone believes they are better than the guy on the sideline.
In this case, they're not.
For Carter Strickland's full column, click
here
.
January, 24, 2012
1/24/12
10:30
AM ET
University of Texas regents are
considering making changes to football coach Mack Brown's
contract.
The regents scheduled a Thursday telephone meeting. Brown's contract, which runs through 2016, is the only agenda item and details were not released.

A source told the Austin American-Statesman that the board will extend Brown's contract by four years through the 2020 season. The Statesmen also reported that Brown will continue to receive annual $1,000 raises with the extension. Brown, 60, is one of the highest-paid coaches in the country at $5.2 million per year.
The sad truth is this move might just be necessary for Brown. Ever since bringing on Will Muschamp and naming him coach-in-waiting, questions persisted about when Brown would be done.
Muschamp left. Brown insisted he was reinvigorated.
Yet, after the season, rumors persisted that Brown was leaving or being pushed out.
Generally, contracts as long as Brown's are a bad idea, but how else was Texas going to get rid of a distraction? Repeated denials and statements of confidence didn't do much to quash rumors.
This might help.
The negative recruiting consequences are debatable, but from Brown and Dodds' perspectives, the talk had to get old. Maybe this won't end it, but it's the last step to making it happen.
Going 13-12 over the past two seasons doesn't warrant a raise, but Brown's done enough to earn the confidence of his bosses,
who aren't exactly scrounging for cash
.
Brown looks like he's in for the long haul. Texas looks happy to have him.