October, 24, 2014
Oct 24
11:00
AM ET
Shanking an extra point off an upright and getting stuffed on a two-point conversion attempt is an easy way to turn a kicker into a goat.
It actually turned out to be an ingenious move to set the stage for kicker
Ryan Santoso
to become a hero.
Maybe the Minnesota redshirt freshman would have preferred a simpler script. The team almost surely would have been better off avoiding the late-game drama they were facing last weekend against Purdue.
[+] Enlarge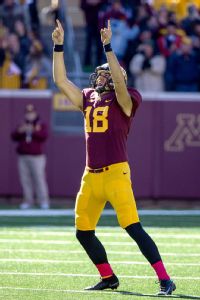 Jesse Johnson/USA TODAY SportsRyan Santoso's fourth quarter field goal sealed the game for the Gophers and kept them undefeated in conference play.
After shaking off the miss that helped create the 2-point deficit in the fourth quarter, Santoso replaced all the bad memories with what could be a pivotal moment in a season that is shaping up to be special for the Gophers.
"Oh yeah, I had a lot of ups and downs," Santoso joked to ESPN.com. "A lot of learning opportunities. But you just have to come back and take it one kick at a time, hit the restart button, reset your mindset. I knew that I would have to kick again.
"You know, everything happens for a reason, and everything played out well, I guess."
There's certainly no reason for Santoso or the Gophers -- the leaders in the West Division -- to complain about the way things worked out in the end, and his 52-yard game-winner clearly overshadowed the earlier missteps.
The long-range field goal also turned him into something of a celebrity,
earning him a shout-out from Pearl Jam's Eddie Vedder
and making him more recognizable around campus after bouncing back to protect Minnesota's perfect start in league play.
Perhaps because his reputation could have easily gone a completely different direction, Santoso was quick to shrug off the publicity that has come with a clutch performance for a conference contender. And despite what his field goal might mean down the stretch for the Gophers, he also stressed repeatedly that it was a team win and he wasn't looking for any extra credit for the part he played.
Both reflect the mental approach that allowed Santoso to move on from a couple points left on the field. His physical tools have never really been in doubt at 6-foot-6, 245 pounds with a powerful leg that has banged in kicks from 60 yards on the practice field.
"His personality doesn't change any and his work habits won't change any," Minnesota coach Jerry Kill said. "He's worked hard since he's been here and he handles things well.
"I don't usually say too much to him. I'm like most coaches with kickers and just leave them alone. But he's done a good job, he's done a good job in practice and he's transferring that into the game."
That work is mostly paying off now in Big Ten games after a sluggish start to the season.
Santoso only had 3 attempts in 4 matchups outside the league, and he missed a pair of them. But since then, and not counting the extra point he drilled off the post, Santoso has been perfect. He's hit on all six of his attempts in conference play, and more important, he delivered when the Gophers absolutely needed him -- regardless of how that make-or-break situation came to be.
"Coach Kill wouldn't put you out there if he didn't believe in you, so I just had to do my part for the team," Santoso said. "The team has confidence in me and I have confidence in my ability, I just had to go out there and stick it for them."
Maybe that hero moment wasn't a product of some brilliant design, and it easily could have gone another way. But neither Santoso nor the Gophers have to worry about the alternative now.