October, 22, 2014
Oct 22
2:30
PM ET
LINCOLN, Neb. -- The last time Nebraska and Rutgers met in football, the game was played in New York on the Tuesday of a presidential election at a stadium demolished 50 years ago.
The Cornhuskers won 28-0 at the Polo Grounds. It was 1920, the year Babe Ruth arrived in the Bronx.
Safe to say Nebraska won't carry any lingering momentum into Saturday at Memorial Stadium (noon ET, ESPN2) as the Scarlet Knights visit in the first Big Ten matchup between two of the league's recent additions.
Geographically, there's no larger gap in the Big Ten than the nearly 1,200 miles as the crow flies between the Nebraska campus and Rutgers.
[+] Enlarge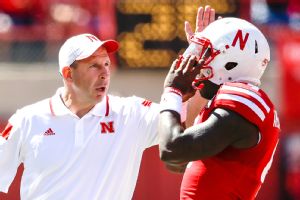 AP Photo/Nati HarnikBo Pelini and his Huskers team take on the Big Ten's newest team, Rutgers, on Saturday at noon ET.
Yes, Nebraska-Rutgers is a Big Ten game. What a strange world it is today in college football.
"There's been a lot of changes, a lot of changes since I've been here," Nebraska defensive tackle
Kevin Williams
said. "But I feel like it's a great opportunity to play a team from the East Coast."
Nebraska fans felt similarly when Miami visited last month and when Penn State came calling for the first time as a Big Ten foe in 2011.
But Rutgers?
"It's like playing a new opponent," Nebraska coach Bo Pelini said.
It's not
like
playing a new opponent. It
is
playing a new opponent.
"There's not a lot of history there," he said.
Look, whatever disconnect that exists within the Big Ten as a result of conference expansion means little to the bottom line of the league. It would mean next to nothing on any level in many other conferences.
But the Big Ten prides itself on tradition and trophy games. If the league could pull it off, it would name its divisions Tradition and History. Actually, didn't the Big Ten try that?
There's nothing traditional about Rutgers-Nebraska. Or Maryland-Wisconsin, also on the docket for Saturday.
A faction of Husker Nation in 2012 rolled its eyes when Rutgers and Maryland accepted invitations to join the Big Ten. Really, they thought, just a year after we jumped on board? And when the divisions realigned to rob Nebraska of its annual game with Michigan, promised back in 2011, more grumbling ensued.
It was unfounded sentiment. As a new member itself, Nebraska lost the right to a driver's seat in the league's policy discussions.
The three new schools enhance the Big Ten in their own ways. It's just that, when they get together, it doesn't feel much like the Big Ten.
Give it time -- like a decade or so -- and that figures to change.
As for this week, football coaches tend to view work on a microscopic level, especially after a loss like the Scarlet Knights endured
four days ago at Ohio State
-- Rutgers' official introduction to the 100,000-seat stadium collection in this league.
So it's no surprise Kyle Flood looks at Saturday as something similar to what his team has faced often.
"The challenge is you have to really evaluate where your team is at this point in the season," Flood said, "and give them every opportunity to feel as good as they can when we kick it off."
That's the right answer -- and very much coachspeak. Flood and Pelini can't concern themselves with the exterior dynamics of this game, that it feels more like an awkward postseason pairing than a pre-Halloween clash with ramifications in the league standings.
Williams, the Nebraska defensive tackle, was recruited to Lincoln from Ohio when the Huskers played in the Big 12. He knows of Rutgers because his mother grew up in New Jersey. Two of Williams' cousins attended the school.
He said yes, Saturday does feel, in preparation, more like a non-conference game.
"But it's a conference game," Williams said. "We've got to handle it accordingly."
Six years shy of the 100-year anniversary of their only meeting, Nebraska and Rutgers are blazing a trail on Saturday. This is college football. Love it or not, this is the new look of the Big Ten.