February, 27, 2015
Feb 27
12:00
PM ET
The Big Ten is exploring the idea of a "year of readiness" for freshmen. Perhaps the league should consult with Northwestern's
Justin Jackson
.
He arrived in Evanston last summer and immediately had to adjust to the school's rigid academics, familiarize himself with a slew of new teammates, and absorb the Wildcats' playbook. Any thoughts he might be eased into a role were dismissed early in preseason camp, when starting running back Venric Mark decided to transfer.
"I do see where they're coming from, because it's really tough [as a true freshman]," Jackson said. "But I also see the downside of it. You have a lot of guys who may be the best at their position, and if they can't play, it would really hurt their football team."
[+] Enlarge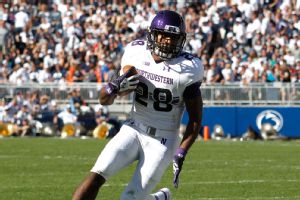 Justin K. Aller/Getty ImagesNorthwestern's Justin Jackson had six 100-yard performances as a freshman last season.
Imagine where Northwestern would have been last season without an eligible Jackson. He led the team in rushing in all 12 games and had six 100-yard performances. He was one of seven Big Ten backs to run for at least 1,000 yards, and he begins 2015 as the second-leading returning rusher in the conference, behind only Ohio State's
Ezekiel Elliott
. He was easily the best offensive player on a 5-7 team.
Jackson did all that without a full offseason to train, something he's getting now as the Wildcats opened spring practice on Wednesday.
"I feel so much better," he said. "Some of the guys who were injured last year but are the same year as me had their first practice this week, and I was like, 'That was me last year in the fall.' It was crazy out there. Now I'm much more comfortable, I know the playbook a lot better and I can help the other guys."
Jackson, who was listed at 185 pounds last season, says he's put on about 10 pounds this winter. He hopes that helps him get ready for another potentially heavy workload, after he had 245 carries in 2014.
But rather than hit a freshman wall, he seemed to get stronger as the season went on. He ran for at least 130 yards in each of his final three games, including a memorable 149-yard day in the overtime upset win at Notre Dame.
The great news for Northwestern is that Jackson is not remotely satisfied with his impressive first year. In addition to the extra weight, he's worked hard on his flexibility and explosiveness after ripping off only two 40-plus yard runs last season.
"I had a lot of those runs that were right there, where it would be 15, 17 yards and I was close to breaking them," he said. "I'll never be the best at it, because I'm not Venric Mark. I'm not a 4.3 [40-yard dash]-type dude. But I can try to improve my speed and my strength so I can break out of tackles and be that guy. You don't have to have 4.3, 4.4 speed to break long runs. You just have to be smart about it and use what you have to your advantage."
Jackson's main advantages thus far have included his vision and how hard he runs. Plus his dedication to getting better through study. "Whenever I'm bored," he says, "I just pop on the film."
It's that kind of attitude that ensured Jackson was more than ready as a true freshman.
"I think that would be a tough sell," he said of the freshman ineligibility idea, "because a lot of freshmen right now are coming in more prepared to play. It's tough, but if you have great teammates and a great support system, you can definitely do it."
Not every freshman can be as good as Jackson, of course. But we're very curious to see how good he can be as a sophomore.