February, 20, 2015
Feb 20
10:00
AM ET
CORVALLIS, Ore. -- In one of the very first meetings of the year, new Oregon State coach Gary Andersen sat down his team and gave a very blunt message. For the players who had been around for a couple of seasons with Mike Riley -- who's often billed as "the nicest man" in college football -- it was probably a bit of a change of pace.
"There aren't 105 kids that are going to buy into you," Andersen said. "And I told them that one of the first days. I said, 'You all won't make it at the end of the day. I want you to [make it]. Prove me wrong.'"
[+] Enlarge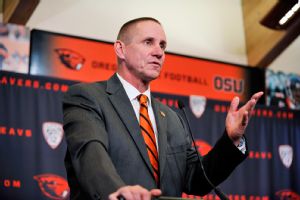 Susan Ragan/USA TODAY SportsGary Andersen is aiming to upgrade an Oregon State run game that finished 11th in the Pac-12 in 2014.
Very un-Riley-like, indeed.
But Andersen said that he has made the exact same statement at each of his previous head coaching stops -- at Wisconsin in 2013, at Utah State in 2009, at Southern Utah in 2003.
"I don't mean that in a negative way that they're not going to make it, like they're going to get kicked off the team. I just mean that there's going to be change and with the change you have to either accept it and believe in it or you need to change what you're doing to be happy," Andersen went on. "I think we run the best program in the country for kids … but again, you're not going to make 105 of them happy."
For the Beaver players, it's going to be a completely new program -- that's not unique to this coaching change.
But what makes it unique is how this change came after Riley, a coach that held a 14-year tenure -- one of the longest in the nation. Just over two months ago, this team thought its coach would be in Corvallis until he retired. Now, they're learning new verbiage and schemes.
And, there's very little connection to the previous regime -- just wide receivers coach Brett Brennan and a handful of graduate assistants.
But the transition is going as well as it could, according to Andersen.
The players got iPads so they could begin learning the new system and verbiage, which will most likely sound and look pretty different from the past few seasons in Corvallis.
"There will be carryover but I would say it will be limited," Andersen said.
Offensively, Andersen is describing his offense not as a pro style or spread, but instead as a "wide open" offense. Essentially meaning that he's hoping the Beavers will be able to play fast when need be, to play slow when they need to, and to be able to function from several formations.
Some of the biggest schematic differences were already made clear when Andersen inked his first recruiting class after less than a month on the job. The Beavers signed a single quarterback in the 2015 class -- 6-foot-3 dual-threat QB
Seth Collins
.
And the other five quarterbacks on the Oregon State roster? Not dual-threat players.
On top of that, Andersen's offenses have featured the likes of
Robert Turbin
and
Melvin Gordon
. Last season, despite Riley speaking ad nauseum about wanting to create a run game, the Beavers finished 11th in the Pac-12 and never created anything that was consistent or effective.
In the spirit of change, the Beavers signed four running backs, three of which are in their top six-ranked signees.
Defensively, the same amount of change can be expected but it might be easier to input considering the Beavers lost nine defensive starters. So rather than having players who've already contributed and adjusting them into different roles, Andersen will be building more from the ground up with guys who've had less game experience.
For Andersen, he's billing it as a positive rather than a negative that so much of the defensive contributors from a season ago need to be replaced.
"It's a tremendous opportunity that's presented for a bunch of young players," he said.
Though there might be "opportunities" on either side of the ball, those will be earned by the players who can adjust themselves into Andersen's program and the Beavers' new way of life.
Though how many of those 105 players make it through remains to be seen, and Andersen is being realistic and honest about that. But so far, so good for the first-year coach.
"I think that [statement] took them back a little bit," Andersen said. "But so far they've proven me wrong."