November, 12, 2011
11/12/11
4:13
PM ET
ATHENS, Ga. -- Georgia overcame early jitters and Auburn overcame an early deficit.
Things have been pretty fun so far "Between the Hedges" as we are
tied at seven
after Georgia and Auburn's opening drives.
Word of South Carolina's win against Florida must have crept into Georgia's huddle because the Bulldogs came out sloppy, with a false start and delay of game penalty, along with some happy feet and some over throws by
Aaron Murray
.
He and his line adjusted as he found some rhythm with a 44-yard strike to
Malcolm Mitchell
, who is back after suffering a hamstring injury. After an 8-yard touchdown pass to
Tavarres King
, this crowd exploded.
However, Auburn just marched down the field. And it did so throwing the ball. Most expected
Michael Dyer
to be Auburn's top option today, but the Tigers came out throwing.
Clint Moseley
threw the ball five times before a trick play that ended with
C.J. Uzomah
throwing to
Philip Lutzenkirchen
tied the game.
We knew Auburn would come in pumped and ready and the Tigers haven't disappointed. Let's see how the Dawgs respond now that they know what they're up against and what is no at stake.
July, 20, 2011
7/20/11
11:05
PM ET
HOOVER, Ala. -- SEC commissioner Mike Slive says college sports have problems "from the Atlantic to the Pacific, from the Gulf to the Great Lakes."
But it's hard to see Slive even getting much support from within his own conference for the radical changes he proposed on Wednesday for college sports.
Among Slive's suggested changes (which he presented as an "agenda to stimulate a national discussion, an agenda for change"):
[+] Enlarge

AP Photo/Dave MartinSEC commissioner Mike Slive proposed raising academic requirements at SEC media days.

Raising the academic entrance requirements for incoming freshmen, from a minimum 2.0 GPA to 2.5. Slive also suggested prospective student-athletes would be required to complete a minimum number of core courses during each year of high school. Slive proposed that recruits who didn't meet minimum academic requirements would be admitted as partial qualifiers and would be able to practice, but couldn't play in games during their freshman seasons.
Slive also proposed offering cost-of-education scholarships, which would pay more than just standard room and board, tuition, books and other fees. Under that plan, NCAA schools also would pay for things like health insurance, clothing, travel and other education-related costs. Slive also offered up making scholarships four-year contracts, instead of one-year deals that currently exist. Slive said student-athletes would still have to perform academically and stay out of trouble to keep their scholarships. "It's not a free pass to act how you want to and it's not a free pass to not go to class," Slive said.
Slive also wants to modernize NCAA recruiting rules and allow coaches to text players and contact them via social media like Facebook and Twitter. Under current rules, coaches have only limited contact with prospective student-athletes and can only talk to them in person, via e-mail or over the phone. "It's time to push the reset button," Slive said.
Slive said schools across the country must also be ready to support and cooperate with the NCAA's enforcement efforts. Slive hopes schools will produce a streamlined NCAA manual that "governs only enforceable issues, of core importance that goes to the heart of what we do."
Not every SEC coaches agrees with Slive's recommendations. In fact, South Carolina coach Steve Spurrier, who earlier this spring suggested paying his football players a $300 stipend for each game played, said he disagreed with most of Slive's proposals.
"I think most coaches feel like a one-year [scholarship] is more fair," Spurrier said. "That's a terrible idea, Commissioner. If you go bad, don't show up to work, your butt will be out on the street. Everybody has to earn your way in life. Go from there, that's the way I believe."
Spurrier also said the NCAA's minimum academic requirements for incoming freshmen were already difficult enough.
"We think they're tough enough," Spurrier said. "So I'm going to disagree with him on that one, too. I'm 0-for-2 with him."
Arkansas coach Bobby Petrino said he wasn't opposed to making academic requirements more difficult, but felt like each school had to ensure their students were staying eligible.
"Let's make these guys all take the same classes their freshman year," Petrino said. "Let's take care of our business in college."
May, 26, 2011
5/26/11
3:00
PM ET
Fellow SEC blogger Chris Low started things off by discussing the players in the SEC's Eastern division with the most to prove, so it's time to put some pressure on some guys out in the West.
Here are my five players who have to show us more this fall:
[+] Enlarge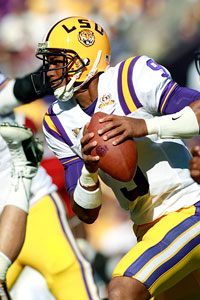 Tyler Kaufman/Icon SMISolid play from Jordan Jefferson could be all LSU needs to make a national title run.
QB Jordan Jefferson, LSU:
Sure, Jefferson led the Tigers to an 11-win season, but did you see the numbers he (didn't) put up? Jefferson passed for 1,411 yards and seven touchdowns in 2010 and ended the year with a passing efficiency of 114.7. This spring, new offensive coordinator Steve Kragthorpe made it his goal to transform the senior's passing technique and presence in the pocket. Things worked out well, with coach Less Miles calling this the best spring Jefferson has had. The next step is for him to show what he learned this spring when it counts this fall. This is Jefferson's last go-round with the Tigers and this team has the talent to compete for a national title. The Tigers go the way Jefferson goes and if he should falter, Miles might not hesitate to put in junior college transfer Zach Mettenberger in, who probably has the most skill of any of LSU's quarterbacks.
RB Trent Richardson, Alabama:
Yes, one of the country's most complete backs still has to show us something. He has the power and speed to be a stud now that this is his backfield, but is he truly ready to be the guy in Tuscaloosa? On paper, it would appear so, but things change when the lights go on and the pressure mounts. Not to mention, he's replacing a Heisman Trophy winner. Alabama will be breaking in a new, young quarterback this fall -- whether it's
AJ McCarron
or
Phillip Sims
-- so the Tide's offense will be leaning heavily on Richardson. Alabama has one of the top teams in the nation and Richardson will be a key component in the Tide's run to multiple championships.
WR Russell Shepard, LSU:
Shepard has all the ability to be quite the playmaker for the Tigers. He was second on the team with 33 receptions a year ago, but only managed 254 yards and a touchdown. He's better than that. With Terrance Toliver gone, the junior-to-be will be called upon to really step up alongside
Rueben Randle
. We've been waiting to see Russell's true athleticism and he's confident people will this fall. It's time for him to take his game to another level.
DE Kentrell Lockett, Ole Miss:
Lockett missed most of last season after suffering an ACL injury in the third game. Fortunately for he and the Rebels, he was granted a sixth year of eligibility and should be back to full health this fall. But with linebacker and team leader D.T. Shackelford suffering a season-ending ACL injury this spring, Lockett enters the fall with new responsibilities. Not only does Lockett have to provide a much-needed presence on an unproven defensive line but he has to become the emotional leader this team desperately needs. This defense has a ton of questions and having a guy like Lockett step up on the field and in the locker room will provide some juice for the unit.
WR Chad Bumphis, Mississippi State:
Bumphis has led the Bulldogs in receiving the past two seasons and is arguably the team's best playmaker at receiver. However, Bumphis has the ability to play all over the field, kind of like Percy Harvin did at Florida, but hasn't reached his potential. As the go-to guy, he has just 1,009 yards receiving and nine touchdowns in two seasons and has rushed for 204 yards and one score. Bumphis is a player that should be getting the ball as much as possible and in as many different situations as possible. He's got the speed and athleticism to really frustrate defenses, but we've yet to see him really turn the corner. He can be an elite weapon in this offense and could be the difference in making this one of the more potent offenses in the SEC.