NCF Nation:

Tulsa Golden Hurricane
December, 12, 2014
12/12/14
8:30
AM ET
Marcus Mariota's Oregon career has included decidedly few interceptions and decidedly little drama. The Ducks' quarterback has been machine-like in his efficiency, providing superb stats but not much suspense.
Suspense should be in short supply Saturday night
in New York during the Heisman Trophy ceremony. Mariota and fellow Heisman finalists Melvin Gordon of Wisconsin and Amari Cooper of Alabama will sit nervously next to each other as the winner is announced. But deep down, all three know it will be Mariota, who
picked up two more honors
-- the Maxwell Award and the Davey O'Brien Award -- Thursday at the Home Depot College Football Awards at Disney World.
As a Heisman voter, I'm not allowed to reveal my vote until after the ceremony. But I can make predictions about the voting: it'll be Mariota in a landslide.
The Heisman was a legitimate two-man race entering championship weekend, as Mariota and Gordon both had strong cases. Then Mariota had his typical performance in the Pac-12 championship (313 pass yards, five total touchdowns), while Gordon was bottled up in the Big Ten title game (76 rush yards, no touchdowns).
August, 4, 2014
8/04/14
11:18
AM ET
Compiling a list of the top 16 seasons in college football history is no easy task.
There's no debating the inclusion of many of the players atop our list. Barry Sanders' record-shattering season is a lock for the top seed. Derrick Thomas' 27 sacks left a lasting impression.
But one name on the list stands out: Howard Twilley.
The Tulsa receiver isn't well-known in college football history. But on a list of exceptional individual seasons, Twilley fits right in.
Long before the Run and Shoot or the Air Raid were generating video-game numbers, Tulsa was pitching the ball around.
In 1965, Twilley became the first receiver in college football history to eclipse the 100-reception mark, catching 134 passes for 1,779 yards and 16 TDs for a Tulsa team that went 8-3 and played a schedule which included Houston, Arkansas, Oklahoma State and Tennessee. His 13.4 receptions per game is still best in FBS history.
He set five other NCAA single-season records that year: passes caught in a game (19) and caught in a season, touchdown passes caught in a game (five), TD receptions in a season and receiving yards in a season.
The 5-foot-10, 180-pound Twilley was also a kicker for Tulsa, and became the first player to lead the nation in scoring and pass receptions in the same season, going 23-of-29 on extra points and catching four passes for two-point conversions.
Twilley was named a consensus All-American and finished second in the Heisman voting to USC's Mike Garrett.
"If there was anybody who deserved the Heisman, it was Howard Twilley," former Tulsa quarterback Jerry Rhome told ESPN.com in 1995. "He was so far ahead of every receiver."
[+] Enlarge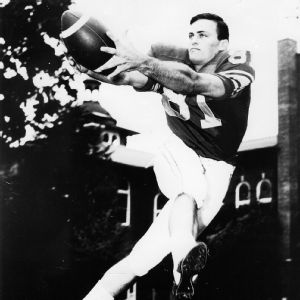 Courtesy of TulsaTulsa's Howard Twilley put up record-breaking numbers by a receiver before it was cool.
Twilley was also named the UPI lineman of the year in 1965, one of the major awards of the era (offensive and defensive linemen were eligible, including offensive ends). Twilley earned 90 votes in the UPI voting that season. Legendary Texas linebacker Tommy Nobis was the runner-up with 27. Dick Butkus won the award the previous season, and Bubba Smith followed Twilley in 1966.
There have been other legendary seasons by wide receivers, obviously, that are easy to compare to Twilley's numbers.
Randy Moss caught 96 passes for 1,820 yards and 26 TDs in Marshall's first Division I-A season in 1997 and finished fourth in the Heisman voting.
The next season, Troy Edwards caught 140 passes for 1,996 yards and 27 TDs for Louisiana Tech. Edwards famously torched Nebraska for 21 catches and 405 yards -- in a game the Bulldogs lost by 29 points.
But Twilley's huge season came nearly 30 years before either of them, in an era where passing offenses -- and quarterbacks -- were nowhere near as polished. And while both Moss and Edwards won the Biletnikoff Award, Twilley also led the country in receptions in 1964, with 25 more catches than the runner-up, Fred Biletnikoff.
Twilley, who came out of high school in the Houston area at 5-8, 159 pounds, was deemed too small to play for the hometown Cougars -- or any other school.
"I don't worry about my size being up against me," Twilley said in 1965. "Whenever the ball is up there, it's as much mine as it is theirs."
Longtime NFL coach Ken Shipp, who recruited Twilley to Tulsa, discussed Twilley's confidence when the receiver was playing for the
Miami Dolphins
.
"I liked what he said before one of the Tulsa bowl games," Shipp told the Miami News in 1975. "This television announcer asked Twilley how many passes he was going to catch. 'As many as they throw me,' Twilley told him. I thought that was great. That's a heckuva statement for a college kid to make on national TV."
April, 14, 2014
4/14/14
11:00
AM ET
At this time last year, Texas A&M was the epicenter of college football during spring practice. The Aggies' 2013 spring game drew a record crowd. ESPN televised the game, "Johnny Football" was the face of the sport and it helped swing in-state recruiting momentum from the Longhorns.
It would only make sense that Texas A&M coach Kevin Sumlin was ready to do it all again this spring.
"No, it's not for me," Sumlin said in March. "I'll be honest with you, you guys know me, that second half [of spring games] goes real quick. I'm ready to get out of there."
The spring game in many ways goes against the core belief of Sumlin, and really every coach, of using every practice to get better. So the Aggies went without a game this spring, and will do so again in 2015 as Kyle Field's renovations continue.
[+] Enlarge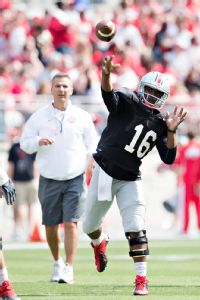 Greg Bartram/USA TODAY SportsOhio State coach Urban Meyer likes the opportunity to get young players, such as redshirt freshman quarterback J.T. Barrett, some playing time in a spring game.
Spring games are at somewhat of a crossroads in college football. They're hardly fighting off extinction as 54 FBS programs held games this past weekend. But the watered-down product is giving coaches reason for pause. The argument against holding the spring game is picking up steam, and coaches are questioning the value in using the final spring practice on a half-speed "dog-and-pony show," as Tulsa coach Bill Blankenship puts it.
A handful of programs aren't holding spring games this year. Oklahoma State coach Mike Gundy did not plan a spring game, and Pittsburgh coach Paul Chryst believed it wasn't in the program's best interest to have one, either.
Both Chryst and Gundy have young rosters. Only Utah State returns fewer starters than the Cowboys. Chryst is still trying to put his stamp on a program that has had more head coaches than winning seasons in the last decade, and he is breaking in a new quarterback. To Chryst and Gundy, it did not make sense to waste a practice day for a haphazard game.
"Truly looking at this from the inside of the program and what this group needs, it was, 'What's the best use of the 15 opportunities we get in the spring,'" Chryst said. "I felt like we didn't have a group where we're going to take just one full day and scrimmage. Bottom line is we wanted to make sure we're maximizing our opportunities."
Two coaches not questioning a spring game finale are the leaders of programs with some of the best odds to win the first College Football Playoff. Both Florida State's Jimbo Fisher and Ohio State's Urban Meyer are in favor of the model most programs still subscribe to: 14 practices, mix in a few scrimmages and hold a game at the end of camp. Fisher and Meyer believe it's the only time in the spring to get an accurate read on how players react to a fall Saturday game atmosphere.
"What you get is the people in the stadium, you get pressure, you get outside people watching you get the lights on the scoreboard and [the game] matters," Fisher told ESPN.com last week. "You get a game environment. It might not be the one in the fall, but it's as close as you'll ever get out in this practice field. To get a guy in front of 40,000 people and watch how they play in front of them, to me, I put more value in that."
However, Meyer acknowledges the issues the modern-day spring game presents. Ohio State star quarterback
Braxton Miller
was out with an injury, but
Joey Bosa
,
Noah Spence
and
Adolphus Washington
were healthy scratches. Fisher elected to sit starting running back
Karlos Williams
, leaving a fullback and a handful of walk-on running backs to carry the spring load Saturday. The sustainability of the spring game could come down to depth, but rosters are thinner with the 85 scholarship limit, and coaches are keeping their proven commodities out of harm's way.
"

To get a guy in front of 40,000 people and watch how they play in front of them, to me, I put more value in that.

"

-- Florida State coach Jimbo Fisher, on the value of spring games
Northwestern coach Pat Fitzgerald said the lack of numbers at certain positions causes the few available players to "double dip" and play both sides, opening those few healthy players up to injury. The emphasis on preventing and identifying concussions has grown substantially in the last few years, and Blankenship added that "a lot more guys are missing practice today with concussion-related symptoms, and that's been consistent across the board with other coaches I talk to."
Meyer said spring games are often a "great opportunity to get scout-team guys a chance to play," which in itself can be considered an indictment of the spring game's inherent value.
"One time at Florida we had only five or six offensive linemen and they had to play both ways," Meyer said, "but the experience of playing in front of [fans], if you want to have a practice but arrange how the receiver has to be the guy, to be in coverage and catch a pass and hear the crowd, that's real."
There are only so many programs that consistently draw 30,000 or more fans for a spring game, though. Those other programs don't have the benefit of putting their players in a game-day atmosphere when only a few thousand fans fill the bleachers.
Blankenship understands he needs to promote his Tulsa program and bring in as many fans as possible. So last year, they tried a new spring game model. Instead of a traditional game of the roster being split, Blankenship operates on only 50 percent of the field and allows fans to sit on the other side of the 50 to get a more intimate view. The game resembles more of a practice as the team works on situations such as red zone and fourth down instead of keeping score.
A piece of him still wants a sound 15th practice, though.
"I do think [the spring game] is worth it from the fan standpoint," he said, "but the coach in me would like to have another practice."
[+] Enlarge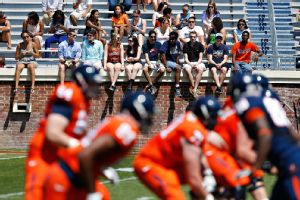 Geoff Burke/USA TODAY SportsThese Virginia students received a better-than-front-row view of the Cavaliers' spring game.
Fans and alumni are maybe the most overlooked part of the equation of whether it is realistic to ditch the spring game. Florida State director of marketing Jason Dennard said it would be nearly impossible to change the Seminoles' spring game model, which begins with downtown events Friday. The school even receives grant dollars from the local economic development council to fortify the weekend lineup.
"It's a complete home run," Dennard said. "After what we've built, it'd be hard to scale it down. People have come to expect this to be a big deal. It's an investment into the future of our program."
While Pittsburgh has struggled to draw fans for its spring games in recent years, Chryst was still cognizant of the program's fans when he decided to cancel the spring game. So Chryst met with the marketing department at Pitt and helped introduce a football clinic for young players and offensive and defensive breakdowns of the Panthers' schemes for the Xs-and-Os fan.
"It was different at first and people said, 'What, no spring game?' But when Coach Chryst announced the Field Pass, the response was overwhelming," said Chris Ferris, associate athletic director for external relations at Pitt.
Could that union of a standard 15th practice with an added day of fan interaction be the union that seals the fate of spring games? Maybe.
"I think it is," Blankenship said. "We're much closer to that in our part of the country. I think the tradition of the spring game is something we're all kind of tied to, but we're all figuring out there's a better way."
March, 5, 2014
3/05/14
10:30
AM ET
Setting up the spring in the American Athletic Conference:

CINCINNATI
Spring start:
Feb. 27
Spring game:
April 5
What to watch:
Gunner Kiel: Attention has followed the former high school sensation for years, from Indiana to LSU to Notre Dame and now to Cincinnati. He enters his redshirt sophomore season having never taken a college snap. With sixth-year senior Munchie Legaux still recovering from last year's leg injury, the show is Kiel's to run this spring.
Hank Hughes' defense: The former Cincinnati defensive coordinator returns after coaching last season at UConn. There, he orchestrated a rushing defense that finished 23rd nationally despite a 3-9 campaign. He will keep a 4-3 base but loses three all-conference performers from last season: Greg Blair, Jordan Stepp and Deven Drane.
RDA IV: Ralph David Abernathy IV has been a playmaker out of the backfield for the Bearcats in recent seasons, but he has moved to the slot this spring. He will probably still line up in the backfield at times, but seeing what the 5-foot-7, 161-pounder can do in space is definitely worth keeping an eye on, especially if the man throwing him the ball, Kiel, lives up to the hype at quarterback.

EAST CAROLINA
Spring start:
March 21
Spring game:
April 12
What to watch:
Carden's ascent: Shane Carden could be a dark-horse Heisman Trophy candidate in 2014. He enters his fifth year in the program coming off a season in which he completed better than 70 percent of his throws for more than 4,000 yards, totaling 43 combined touchdowns between passing and rushing. Similar numbers in a new league will get him much more attention.
Replacing Jeremy Grove: The redshirt senior linebacker recently announced that he was hanging up his cleats after several shoulder injuries. The former freshman All-American led the Pirates in tackles for two years running before being limited last season. Expect bigger roles for Zeek Bigger and Brandon Williams, who together last season totaled 10 tackles for loss and three forced turnovers.
Filling the backfield void: East Carolina says goodbye to Vintavious Cooper, who turned in consecutive 1,000-yard seasons. While signee Anthony Scott looks like a player who could contribute right away upon his summer arrival, the burden for now falls on the shoulders of three backs who totaled 548 yards on the ground last season.

HOUSTON
Spring start:
March 3
Spring game:
April 11
What to watch:
O'Korn looks to take next step: John O'Korn started 11 games last season at quarterback, proving to be efficient through the air and on the ground while taking the Cougars to a bowl game in their first season in the American. Now he's running an offense that, including him, returns eight starters. He set the bar pretty high as league rookie of the year, but incremental improvement could mean big things for Houston in 2014.
CB battles: Zach McMillian and Thomas Bates have graduated, taking their combined 10 forced turnovers from last season out the door with them. Two transfers could find themselves in the mix, as Lee Hightower (Boise State) and Tyler White (Utah) look to battle for starting spots on a defense seeking help in the secondary.
Trevon Randle: The former LSU linebacker and three-star recruit now finds himself in more of a pass-rushing role after sitting out the 2013 season for undisclosed reasons. The move is interesting for the 6-foot-2, 218-pound Randle, but the talent is certainly there for Randle to become a playmaker, wherever he ends up playing on the field.

MEMPHIS
Spring start:
March 2
Spring game:
April 11
What to watch:
Paxton Lynch's growth: Lynch made a name for himself by unseating Jacob Karam as the starting quarterback during fall camp last season. He followed with an up-and-down season for the 3-9 Tigers, showing flashes of playmaking ability and a penchant for turning it over. He is now the hunted, not the hunter, with redshirt freshman Brayden Scott now in the role Lynch played last season in hoping to steal the No. 1 job.
Hayes' return: The biggest coup of the offseason was the NCAA granting Brandon Hayes a sixth year of eligibility. The former walk-on was the team's MVP and leading rusher last season, and he will help take plenty of pressure off of whoever emerges as the starting quarterback.
Defensive growth: The Tigers were ranked 39th last season in total defense, and eight starters return. The unit gave the offense chances to win last season against league heavyweights Louisville and UCF before falling by a 24-17 margin in both games, and the Tigers welcome two new coaches in Ricky Hunley (line) and Ryan Walters (corners).

SMU
Spring start:
March 4
Spring game:
April 5 (no spring game)
What to watch:
Replacing Gilbert: SMU opened practice Tuesday with five men in the mix to become its starting quarterback, with Neal Burcham carrying the front-runner status after starting the final two games last season in place of Garrett Gilbert (knee), who totaled nearly 3,800 yards rushing and passing last season, accounting for 27 scores.
Receiver depth: The Mustangs are relatively thin at the position following the graduation of two of its top three receivers from last season, as Jeremy Johnson and Keenan Holman each tallied more than 1,000 yards in 2013. Deion Sanders Jr., meanwhile, will miss spring practice because of a shoulder injury.
The next Acker: Cornerback Kenneth Acker starred with the Mustangs, earning second-team all-conference distinction after finishing second in the league in passes defended (16) and tallying a team-best three interceptions on the season. Jay Scott, who forced three turnovers himself last season, is also gone. Talented safety Shakiel Randolph could see his role increased after showing plenty of promise in his first two seasons, including a 37-tackle campaign last season.

TEMPLE
Spring start:
March 24
Spring game:
April 26
What to watch:
Receiver help: Temple will open spring practice without Robbie Anderson, the Owls' top receiver from last season, who is no longer with the team. Both Anderson and the graduated Ryan Alderman combined for more than 1,300 yards last season, so the pressure will be on Jalen Fitzpatrick and John Christopher to carry bigger workloads going into 2014. They'll have a familiar Philly face coaching them, with former QB Adam DiMichele now the Owls' receivers coach.
Aerial attack: One silver lining from a 2-10 campaign last season? P.J. Walker, who rebounded after losing the preseason quarterback battle and ended up starting the season's final seven games, threw for 2,084 yards. He was part of a group that passed for the most yards ever (2,996) by a Temple team, a promising sign moving forward for the second-year player (and his second-year coach, Matt Rhule).
Tyler Matakevich: The kid just keeps on getting better, as the linebacker followed up his impressive rookie season by tallying 137 total tackles — including 11.5 for loss — picking off one pass, recovering two fumbles and forcing three more. He wears a single-digit jersey, No. 8, to signify his toughness, and he is a great central piece for the defense to build around. Temple was ranked 109th overall in yards allowed last season.

TULANE
Spring start:
Feb. 7
Spring game:
Feb. 26 (no spring game)
What to watch:
Injuries: The situation is a little different here with Tulane, which is already finished with its spring season, allowing us to instead look back. And the Green Wave even ended up finishing earlier than anticipated, as coach Curtis Johnson ended it after Feb. 26, cutting the final two practices because of injuries. Among the walking wounded throughout last month: Linebacker Nico Marley, running back Sherman Badie and linebackers Sergio Medina and Edward Williams, who both missed all of spring because of pre-existing injuries.
QB battle: Tanner Lee is seemingly the front-runner to start in 2014 after redshirting as a freshman this past fall. A local prospect from Jesuit High, he passed for nearly 4,000 yards in high school while tallying 39 touchdowns and just nine interceptions, and he received a much heavier workload this spring after the Green Wave struggled with consistency in the passing game in 2013.
Filling the backfield void: Orleans Darkwa is gone after totaling 920 yards and 12 touchdowns last season. Tulane might be turning to another redshirt freshman, with Badie getting plenty of attention this spring before suffering a concussion down the stretch. Senior Rob Kelley (420 yards in 2013) and three other backfield contributors from last season return to give this unit a bit of depth.

TULSA
Spring start:
March 11
Spring game:
April 19
What to watch:
Defensive stability: No one in the program is happy following a 3-9 campaign last fall, but the Golden Hurricane bring back plenty of experience from last season as they move into Year 1 in the American. Ten starters are back on defense. Despite finishing just 102nd in yards allowed last season, that gives the program a nice foundation as it welcomes in a tougher slate of opponents.
Josh Blankenship and the offense: Head coach Bill Blankenship's newest hire is his son, Josh, who was brought in to coach quarterbacks and rework an offense that finished 100th overall last season. The former Muskogee High head coach is part of a restructured offensive staff after coordinator Greg Peterson left the program and Bill Blankenship gave up coaching the QBs.
Backfield holes: Trey Watts and Ja'Terian Douglas are gone after totaling nearly 1,700 rushing yards and 13 touchdowns last season. Reinforcements are on the way in three running back signees from this recruiting cycle, with one of them, juco transfer Tavarreon Dickerson, enrolling early and looking to make an impact after averaging 8.5 yards per carry last season at Trinity Valley.

UCF
Spring start:
March 12
Spring game:
April 12
What to watch:
Like after Bortles: Blake Bortles will be examined and re-examined in the public eye daily before the NFL draft, and his replacement back at UCF has some major shoes to fill. His backup last season, Justin Holman, is the most experienced of a three-man group that includes early enrollee and former SMU commit Tyler Harris.
Replacing Storm Johnson: Johnson is gone after rushing for 1,139 yards and 14 touchdowns last season, and Will Stanback will likely have to prepare for a much bigger role in his sophomore year after getting 105 carries in his rookie campaign of 2013. There are plenty of other bodies back there, but none managed the workload Stanback carried last season as a freshman.
Offensive line depth: Brent Key is now the assistant head coach of the offense, and he will serve as offensive line coach as well. The spring will be very important in helping to sort out the chaos up front, and one player worth keeping an eye will be Chester Brown, who saw limited action last season after switching from the defensive line in fall camp.

UCONN
Spring start:
March 10
Spring game:
April 12
What to watch:
New leader: Bob Diaco had an introductory news conference like few others. The former Notre Dame defensive coordinator is filled with energy, and he certainly brings a new approach atop the program following the Paul Pasqualoni and Randy Edsall eras. He already has made some cosmetic changes in the training facility, but bringing immediate change on the field is a bigger challenge in 2014.
Casey Cochran. The Huskies won their final three games last season, putting up 28 or more points in all three contests. Cochran passed for a school-record 461 yards in the finale, and seeing how he and the rest of the quarterbacks develop under this new staff will go a long way toward determining what UConn can do next season.
Defensive replenishments. For all of their struggles in recent years, the Huskies haven't lacked for talent or effort on the defensive side of the ball. That shouldn't change under Diaco, who won the Broyles Award as the nation's top assistant coach as Notre Dame's defensive coordinator in 2012. But replacing standouts such as Shamar Stephen and Yawin Smallwood won't be easy.

USF
Spring start:
Feb. 26
Spring game:
March 29
What to watch:
QB battle: Penn State transfer Steven Bench was named the starter at midseason in 2013, but he found himself behind freshman Mike White after an injury. Both quarterbacks turned the ball over way too much last season, and increased production from that position is crucial if Willie Taggart wants to get this program turned around in his second season as head coach.
Running backs: The battle to replace Marcus Shaw is on after his 765-yard season in 2013. Mike Pierre, Willie Davis and Darius Tice are the men being counted on now in the backfield, but no player from that trio carried the ball more than 41 times or topped 141 rushing yards for the season.
Jamie Byrd: Byrd enrolled at USF this January following a stint at Iowa Western Community College, and he has two years of eligibility remaining. He had 53 tackles, two interceptions, seven passes defended and a fumble recovery last season, and the hard-hitting speedster could make an early impact with the Bulls in the secondary.
August, 13, 2013
8/13/13
10:30
AM ET
This year Tulsa has decided to introduce a dog ambassador for games and among the most important of Goldie the golden retriever's tasks will be actually retrieving the kickoff tee after kickoffs -- reason enough to tune in for at least one game.
TULSA GOLDEN HURRICANE
Coach:
Bill Blankenship (19-8, 19-8 at Tulsa)
2012 record:
11-3 (7-1 Conference USA)
Key losses:
LB DeAundre Brown, C Trent Dupy, OG Brian DeShane, OT Jared Grigg, and the entire defensive line -- DE Jared St. John, DT Daeshon Bufford, DT Derrick Jackson and DE Cory Dorris
[+] Enlarge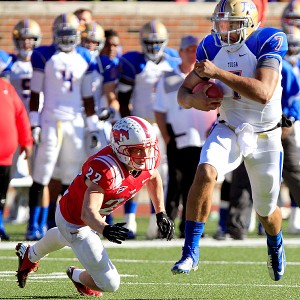 AP Photo/John F. RhodesCody Green is one of the few returning starters that will have to lead a young Tulsa team.
Key returnees:
QB
Cody Green
, WR
Keyarris Garrett
, WR
Jordan James
, RB
Trey Watts
, DB
Marco Nelson
, LB
Shawn Harris
Newcomer to watch:
CB
Will Barrow
. Tulsa lost three top guys in its secondary (including both corners) and Barrow comes in as the Golden Hurricane's top defensive back in the 2013 class. This one-time Texas Tech commit has great instincts for the ball and is a player who could step in and contribute immediately.
Biggest games in 2013:
at Oklahoma (Sept. 14), vs. Rice (Oct. 5), at East Carolina (Nov. 9), vs. Marshall (Nov. 16)
Biggest question mark heading into 2013:
Can Tulsa get the same kind of defensive pressure while attempting a wholesale change of its D-line? Last season, the Golden Hurricane defensive line could regularly get to opposing quarterbacks without needing to blitz. This freed up its linebackers and secondary to make plays, specifically Brown, who accounted for 125 tackles during his senior campaign.
The starting D-line accounted for 144 tackles (including 41.5 for losses), 26 sacks and four forced fumbles. But with those four players gone, the chances that the D-line can build that kind of chemistry and accomplish the same amount for the defense just seems farfetched.
Forecast:
A lot of production -- both on the offensive and defensive sides of the ball -- are gone and fresh faces will be replacing those. And with the number of replacements that Blankenship needs to make, it seems doubtful that this year's Golden Hurricanes will be the same as last season.
The defense, which ranked in the top 25 nationally in several categories -- tackles for a loss (fifth), red zone defense (fifth), sacks (third), total defense (25th), rushing defense (16th) -- just won't be the same.
Even with that kind of changeover, though, another run at the Conference USA title isn't out of the question completely for the Golden Hurricane.
Green returns for his senior season. In 2012 he threw for 17 touchdowns and more than 2,500 yards. Like much of the team, his receivers will be new but the run game (which actually does return some experience) will open up the passing game for Tulsa.
And Green isn't the only bright spot -- their kickoff return game could be freakishly good. Tulsa finished the season last year as the third best return team in the nation with an average of 27 yards per return. Place kicker
Daniel Schwarz
also returns. He was 12-of-18 on field goals last season and 52-of-59 on extra points made. Another year of practice and maturity should help both of those numbers go up.
So while there are several question marks surrounding this transitioning team, it's not all bad news. In its final year in Conference USA, Tulsa could definitely make a run for the title. Or they could end up being nowhere close. That's the joy of a young team and Blankenship gets to try and make it work.