September, 15, 2014
Sep 15
5:00
PM ET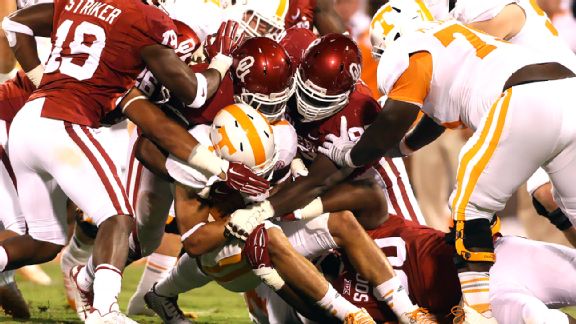 J.P. Wilson/Icon SportswireThe Oklahoma Sooners return to Morgantown with an improved defense.
NORMAN, Okla. -- The Sooners' maiden trip to Morgantown two years ago resulted in the lowest point in the history of the Oklahoma defense.
The Sooners somehow prevailed in a 50-49 shootout. But West Virginia running back Tavon Austin turned the defensive culture that Jerry Tubbs and Lee Roy Selmon and Brian Bosworth built over six decades into a punch line.
The Sooners looked slow chasing around Austin, who set a Big 12 record with 572 all-purpose yards, including 344 rushing.
The Sooners looked discombobulated, with each defensive bust leading to another play bigger than the one before it.
And, perhaps most troubling at the time, Oklahoma looked as if it had no defensive identity, an unforgivable transgression for a program with so much tradition on defense. Defensive coordinator Mike Stoops was so disgusted despite the win that he declined to glance at the box score sheet after it was handed to him during a postgame interview.
But as they prepare for a return to Morgantown this week, the Sooners are none of the things they were two years ago.
They are fast. They are focused. In Stoops' new 3-4 scheme -- whose impetus traces back to the West Virginia debacle -- Oklahoma has fashioned a new identity centered on its ability to harass opposing quarterbacks with defenders from many angles.
"Both Bob and Mike Stoops have done a great job revamping [the defense]," West Virginia coach Dana Holgorsen said Monday. "They're everywhere right now."
Just ask Tennessee quarterback
Justin Worley
, who was sacked five times Saturday while facing the most recent Oklahoma onslaught.
"We're totally different, in every aspect," said a succinct Bob Stoops, when asked Monday for the contrast between this defense and the 2012 one. "Simplest way I can put it."
This West Virginia offense, however, isn't all that different from the one that torched the Sooners for 778 total yards -- the most an Oklahoma defense had ever surrendered since the school began recording statistics.
The Mountaineers no longer possess a versatile talent like Austin, who probably still haunts Mike Stoops' nightmares. But West Virginia quarterback
Clint Trickett
is second in the nation in passing QBR and trails only Ole Miss'
Bo Wallace
by a tenth of a point for the nation's top completion percentage. Trickett also has two of the most lethal wideouts in the Big 12 at his disposal in
Mario Alford
and
Kevin White
, who is second in the country with 460 receiving yards.
"We're going to have to play a lot better than the last time we went there," Mike Stoops said. "That was a bad night for all of us. Bad game plan, bad execution, bad everything."
Plenty of good, however, came out of so much bad for the Sooners.
The defensive collapse in Morgantown spearheaded the biggest coaching shakeup of the Stoops era, which included the aggressive pursuit and hire of Michigan defensive line coach Jerry Montgomery. Since, Montgomery has whipped Oklahoma's front into one of the most disruptive and deepest in the country. Under Montgomery, end
Charles Tapper
and tackle
Jordan Phillips
have developed into All-Big 12-caliber performers. And outside linebacker
Eric Striker
has emerged into arguably the most ferocious pass-rusher at his position in the country -- even drawing comparisons in "destructiveness" from Bob Stoops on Monday to former Oklahoma 2001 All-American Roy Williams.
But the front isn't where the reconstruction effort stopped.
The Sooners have also assembled a sure-tackling, ball-hawking defensive backfield, which has matched the swagger of the Oklahoma defensive line. Saturday in the first quarter,
Quentin Hayes
blindsided Worley off a safety blitz to force and recover a fumble. Cornerbacks
Zack Sanchez
, who how has an interception in five of his last six games, and
Julian Wilson
both picked off Worley in the end zone. Wilson returned his interception 100 yards for an exclamation point touchdown.
"The secondary is playing great right now," said Wilson, who had to play middle linebacker at the West Virginia game two seasons ago because they had no better option. "But we still have room to improve."
That's a scary thought. Since last bowl season the Sooners have now produced the third-most sacks and third-most interceptions in college football. And that combination of an overwhelming front and an opportunistic secondary has given this Oklahoma defense the potential to become one of the school's all-time.
"They've got their guys, defensively, playing as good as they have," Holgorsen said, "since I've watched tape on them going back to the 2000 season."
Holgorsen has his guys playing well, too. And a game that appeared to be a cakewalk for the Sooners in the preseason now looks to be one of the toughest games on their schedule.
Just like its last visit to Morgantown, the Oklahoma defense will be severely tested. But this time -- thanks to the foundation forged out of that West Virginia trip two years ago -- the Sooners will be equipped for it.