NCF Nation:

West Virginia Moutaineers
September, 28, 2012
9/28/12
5:00
AM ET
1.
Josh Nunes
of Stanford played Thursday night a lot like
Zach Mettenberger
of LSU played last Saturday night. Both first-year starting quarterbacks, faced with their first conference road game, didn't play nearly as well as they did in their earlier starts at home. Their spotty performances don't bode well for Wisconsin freshman
Joel Stave
, who must go into Nebraska on Saturday night against a team (and fans) that remember the beating the Huskers took in Madison a year ago.
2. The National Football Foundation's list of 50 Campbell Award semifinalists includes three ESPN.com preseason All-Americans: USC quarterback
Matt Barkley
, Alabama center
Barrett Jones
and Notre Dame linebacker
Manti Te'o
. It means that three seniors who turned down the opportunity to leave early for the NFL draft are equally accomplished in the classroom. That's beyond refreshing.
3. Of the 119 other FBS schools, West Virginia has played only 78. Baylor, which on Saturday becomes the Mountaineers' first Big 12 opponent, will be No. 79. West Virginia will have to wait until Thanksgiving Friday, when it plays at Iowa State, to pick up No. 80. West Virginia has played the other seven Big 12 schools. The most prominent schools that WVU has never played? Alabama, Tennessee, UCLA and Washington.
February, 6, 2012
2/06/12
11:00
AM ET
Signing day has come and gone.
NFL decisions have been made.
Coaching staffs -- the major moves, at least -- have been settled.
The league membership looks close to being settled.
With all that stuff behind us, it's time to update our Big 12 Power Rankings with
spring football quickly approaching.
I mentioned this in our last update, but I'll reiterate just how wide open the Big 12 is going to be in 2012. That won't change for awhile. In 2011, the league only had three teams that could realistically win the Big 12: Oklahoma, Oklahoma State and Texas A&M.

This year, I could see each of the top six teams winning the league. Oklahoma's the favorite, but nowhere near as heavy a favorite as it was in 2011. The preseason voting should be interesting.
Here's how I slate it:
1. Oklahoma:
The Sooners brought in old defensive coordinator Mike Stoops but lost Brent Venables to Clemson. Stoops' biggest task will be fixing a secondary susceptible to big plays by big offenses in 2011, but Oklahoma will need its strong recruiting class of receivers to contribute immediately.
2. Kansas State:
K-State, in accordance with the founding principle of Bill Snyder's coaching method, should be a much-improved team by the fall. Snyder will keep his squad close to the vest this spring, but there won't be nearly as many new faces on the field in 2012. This 10-game winner will be a Big 12 title contender in 2012.
3. West Virginia:
The Mountaineers are still fighting the Big East to leave for the Big 12 in 2012 instead of 2014, and it may cost them more than the $5 million exit fee they originally planned to pay. On the field, though, the Mountaineers have tons of returning offensive talent, a play-making QB and an innovative mind running it. Even if your defense is awful, Baylor proved that offense will get you a long way in this league.
4. Oklahoma State:
The Cowboys' program has stabilized, and even while breaking in a new quarterback and new top receivers, the defense should be improved and the running backs are capable of carrying the offense. The Cowboys won't throw the ball 595 times this year like they did in 2011, but this is probably an eight- or nine-win team that has some upside.
5. TCU
: TCU's definitely a Big 12 title contender, but in a deep league, there's no telling how it'll handle the jump from the Mountain West to the Big 12. The offense is loaded. The defense should be better. But the transition will be a bit easier for West Virginia. We'll see how TCU handles the week-to-week grind.
6. Texas:
The Longhorns must develop some offensive consistency, but I'm banking on UT having the best defense in the Big 12 once again. Texas' D was dominant at times in 2011, which is difficult in a league with the kind of offenses the Big 12 has. The running game will be great, but the QB spot must be settled and excellent for UT to have any chance to actually win the league.
7. Baylor:
Baylor has the athletes on defense, and it should be better in Year 2 under defensive coordinator Phil Bennett, but without Robert Griffin III elevating the team and making plays, it'll be tough for the Bears to win more than 10 games like they did in 2011. Nick Florence has experience and should be a good replacement, but he's no Heisman winner.
8. Texas Tech:
Tech has a lot of upside, and should get back to a bowl game in 2012, but it'll have to prove it for now. Injuries have hounded this team for two years, but the Red Raiders have more returning starters than any team in the Big 12 and all but one team in college football. They'll be missing 15 players in the spring, but Tech's time at the bottom of the Big 12 would seem to be ending.
9. Iowa State:
Iowa State's trying to build, and it slid in another good building block in 2011 with six wins, a bowl berth and two benchmark wins over Iowa and Oklahoma State. The Cyclones will return a solid team, but in a deep Big 12, its athletes will be tested.
10. Kansas:
The Jayhawks' road back up begins now. Is Charlie Weis the man to make it happen? Plenty of folks don't think so, but that doesn't matter all that much. For now, he's already provided an instant talent upgrade at important positions like QB and receiver. KU needs a lot more after losing six games by more than 30 points in 2011's 2-10 campaign.
July, 20, 2011
7/20/11
11:22
AM ET
HOOVER, Ala. -- The stars will be out in force this week at the SEC media days.
Alabama's
Trent Richardson
will be here. So will the South Carolina tandem of
Marcus Lattimore
and
Alshon Jeffery
, not to mention Georgia quarterback
Aaron Murray
and Arkansas running back
Knile Davis
.
The spotlight will be bright for all of those players and probably won't dim much during the season.
But what about those players who haven't received the pub they deserve? You know, the guys who are outstanding football players in their own right, but seem to fly under the radar for some reason.
We've already sized up the coaches' preseason All-SEC team. The media's preseason All-SEC team will be unveiled on Friday.
So while we're picking teams, here's our stab at the 10 most underrated players in the SEC:
[+] Enlarge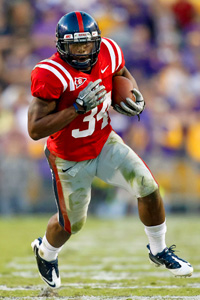 Derick E. Hingle/US PresswireOle Miss running back Brandon Bolden found the end zone 17 times last season.
1. Ole Miss RB Brandon Bolden:
He's one of the most complete running backs you'll find anywhere in college football. The 5-foot-11, 221-pound senior rushed for 976 yards last season and averaged 6 yards per carry. He also led the Rebels with 32 catches and scored 17 touchdowns. But try finding Bolden's name on the coaches' preseason All-SEC team for the 2011 season. He didn't even make third team.
2. Arkansas LB/S Jerico Nelson:
Arkansas defensive coordinator Willy Robinson will tell you that Nelson is the guy who sets the tempo for the rest of the Hogs' defense. He's small for a linebacker (5-foot-10, 211) and also has some safety responsibilities, but he's incredibly productive. He was second on Arkansas' team with 87 tackles last season, including 11 for loss. Nelson is also another player you won't find anywhere on the coaches' preseason All-SEC team.
3. Tennessee RB Tauren Poole:
There's no denying that the running back position in the SEC is insanely talented, but Poole rushed for 1,034 yards last season and rarely gets mentioned among the top backs in the league. One of the most respected players on Tennessee's team, Poole recorded six 100-yard rushing games a year ago, which tied for the SEC lead. Where's the love?
4. LSU S Brandon Taylor:
When the Tigers lost Taylor to that ankle injury in the Alabama game last season, they were never quite the same defensively. LSU defensive coordinator John Chavis said Taylor adds a presence to the LSU secondary that's irreplaceable. The 6-foot, 195-pound senior was also selected to wear No. 18 this season, which is one of the Tigers' top honors as a player.
5. Vanderbilt S Sean Richardson:
The 6-foot-2, 215-pound senior has started in 18 consecutive games, including all 12 at free safety a year ago. He's been overshadowed at times by others in the Vanderbilt secondary, but Richardson is the real deal. He set single-season career highs a year ago in total tackles (98) and tackles for loss (7) and finished fourth in the SEC in solo tackles (5.2 per game).
6. South Carolina C T.J. Johnson:
He's the guy who makes it go up front for the Gamecocks. The 6-foot-3, 314-pound junior has started every game in his first two seasons at South Carolina, all 13 at right guard as a redshirt freshman and all 14 at center last season. He's tough. He's smart, and he's one of the strongest leaders on South Carolina's team.
7. Georgia CB Brandon Boykin:
More pub is starting to flow his way leading into this season. Boykin was a second-team preseason All-SEC selection by the coaches. Of course, he'll readily tell you that he doesn't think there's a better cornerback in the league than him, and he'll get a chance to prove that this fall. When you throw in his return skills, Boykin rates right up there with any of the SEC's two-way players.
8. Auburn WR Emory Blake:
Here's a quick trivia question: Who led the Tigers in touchdown catches last season en route to their BCS national championship? Some might be surprised that it was Blake, who had eight touchdown catches. He's also Auburn's leading returning receiver and averaged 16.8 yards per catch. So when you start listing the top receivers in this league, don't forget about Blake.
9. Kentucky OG Stuart Hines:
The Kentucky guard getting all the love right now is Larry Warford and deservedly so. He's an excellent player, but don't sleep on the Wildcats' "other" guard. The 6-foot-4, 296-pound Hines is one of the better pulling guards in the league and has made 24 starts during his career. It's no secret that Kentucky will lean heavily on its offensive line in 2011, and Hines -- rock-solid in every way -- is a big reason why.
10. Mississippi State S Charles Mitchell:
He's been an integral part of the Bulldogs' secondary since he was a true freshman and has played in all 37 games of his college career. The 5-foot-11, 205-pound senior is a big-time hitter and collected 93 total tackles a year ago. He's the Bulldogs' enforcer in what should be a very productive secondary in 2011.