March, 11, 2015
Mar 11
1:10
PM ET
The difference between winning one game and five games in a college football season is competence -- showing up with legitimate Power 5 conference players and knowing what you're doing. The difference between winning five games and winning nine or 10 or 11 games, pushing into the top 25 and competing for championships is, as every coach will tell you, "the little things."
Well, that and budding NFL talent at most positions, but you get the point.
California improved from a dreadful 1-11 in coach Sonny Dykes' first season to 5-7 in 2014. The 2013 record in every way reflected how terrible the Bears were, particularly on defense, and the record last fall showed dramatic improvement in just about every area. With 17 returning starters, second most behind UCLA in the Pac-12, it's not difficult to project forward to 2015 in a positive way.
[+] Enlarge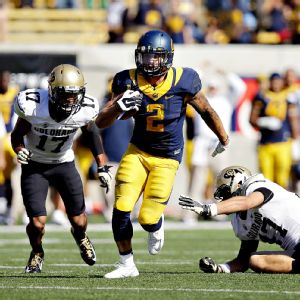 Ezra Shaw/Getty ImagesDaniel Lasco leads the Bears' ground attack, finishing for 1,115 yards and 12 TDs last season.
"We don't set limits," Dykes said of rising expectations. "If we start talking about success for us being eight wins, nine wins, then we might be selling ourselves short."
Dykes, whose Bears began spring practices this week, then started listing things that matter for his team: fewer stupid penalties, third-down efficiency on both sides of the ball, the ability to operate a "4-minute offense," which can slow down from an up-temp, no-huddle base scheme and possess the ball, assert its will and finish off the game clock in victory formation.
He then added, "We've also got to stop onside kicks and Hail Marys."
Ah, a dose of humor is good. Cal fans, perhaps, get the reference? A little game at Arizona? Losing the fourth quarter 36-14, the final six coming on a Hail Mary pass from Wildcats redshirt freshman QB
Anu Solomon
, making his first Pac-12 start, following a successful onside kick? A
49-45 defeat
that became the most obvious weekend to point to when bowl eligibility was ultimately missed?
Of course, fortune smiled at Cal more than a few times in 2014, too, just ask Washington State and Colorado fans. A missed 19-yard field goal from the Cougars? Cal's defense, the worst in the Pac-12, producing a goal line stand?
The benefit of winning and losing creatively is teachable moments and valuable experience, and that experience as well as improving depth is a big reason why Cal stacks up as a North Division dark horse. You've got a third-year starter at quarterback in
Jared Goff
, an NFL prospect, a deep crew of receivers and an underrated 1,000-yard rusher in
Daniel Lasco
. While the offensive line doesn't stack up as dominant, it should be at least serviceable.
The defense? In 2013, it combined injuries, youth and a lack of direction to become one of the worst crews in the conference's past decade. Last season, it was still young and still had injury problems, but it was sound and lined up correctly.
"It didn't show up statistically on defense, but we were a lot better than the year before," Dykes said. "We played harder and lined up better and we were more fundamentally sound. We weren't good by any stretch of the imagination but we were much improved."
In Year 2 under coordinator Art Kaufman, the expectation is the unit should advance from bad -- 39.8 points per game -- to at least middling. Dykes talks about having 19 defensive linemen on the roster and 14 linebackers, which compares favorably to the almost comically unworkable five he had in 2013.
"That's what real football teams have," he said. "For the first time in two years, we have depth in spots. We're still a little thin at safety but seven DBs are coming to help us."
The issue is pass defense. While the Bears' run defense was mostly solid, opposing QBs tossed 42 touchdown passes last season, which is five more than any other FBS team yielded. Cal's 8.1 yards per attempt ranked 115th in the nation. Yes, those numbers are as bad as they sound.
A big reason for all that success through the air? No pressure. While the Bears were decidedly undermanned at safety, they also managed just 16 sacks, which ranked 113th in the nation. That's why the Bears really need JC transfer
Devante Wilson
to quickly develop, senior
Kyle Kragen
to come back strong after missing last year due to injury and sophomore
Noah Westerfield
to mature. Those three ends could make up for oft-injured
Brennan Scarlett
's transfer to arch-rival Stanford.
Then when you combine
Mustafa Jalil
and the promising
James Looney
, a transfer from Wake Forest, inside, you have a potentially solid D-line, which can make up for a potential youth moment in the secondary.
The defense doesn't have to be dominant for the Bears to advance in the Pac-12 pecking order -- Goff, Lasco and company should average 40 points per game. But it does need to get better. Dykes, not surprisingly, seems confident that Old Blues are going to see improvement everywhere, and that should translate to the North standings.
"Last year I think we showed we are taking steps in the right direction," Dykes said. "By no means are we where we are going to be or where we want to be. But we are certainly a better product and we return virtually our entire football team. We're fired up about this year."