Florida defensive end Carlos Dunlap put Urban Meyer in a tough spot. He put his teammates in an even tougher spot.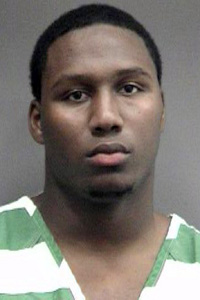 AP Photo/Alachua County Department of Corrections
This photo, released by the Alachua County Department of Corrections Tuesday, shows Florida's Carlos Dunlap after he was arrested and charged with driving under the influence.They will be without one of their best defensive players Saturday in their biggest game of the season when Florida takes on Alabama in the SEC championship game.
As expected, Meyer announced Tuesday that Dunlap has been suspended indefinitely and won't play this weekend against the Crimson Tide. What his status is with the team after that remains to be seen.
Really, Meyer had no choice. When one of your players is popped for DUI at 3:25 in the morning four days before the most important game of the season, what's it say to the rest of the players on the team if you allow him to play?
The tough part for the coach in making a decision to suspend a key player for such a crucial game is that you penalize the entire team because of one player's selfish actions.
That's something Dunlap has to live with if the Gators lose this game.
Justin Trattou will start in Dunlap's place at defensive end, and tackle Jaye Howard may also play some at end. Sophomore William Green and junior Duke Lemmens are two other guys who may see their roles increase.