Ugly end to Leavitt's career at South Florida
January, 8, 2010
1/08/10
10:56
AM ET
South Florida
has fired
the only coach it has ever had.
[+] Enlarge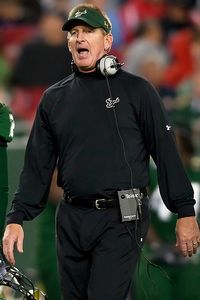 J. Meric/Getty ImagesJim Leavitt compiled a 95-57 record over 13 seasons.
Bulls officials have told Jim Leavitt that he is out after 13 seasons. Leavitt has been under investigation for allegations that he grabbed and slapped walk-on
Joel Miller
at halftime of the Louisville game earlier this year.
Findings of that report will be released later today, but -- similar to the Texas Tech situation with Mike Leach -- it appears that the Miller investigation was more of a last straw than anything else with Leavitt and the Bulls.
Leavitt was hired in 1995 to build the program from nothing, and he always liked recounting how the team only had a couple of trailers to call its own in those first few years. He deserves tremendous credit for quickly making the Bulls a legitimate program and guiding the school into the Big East in 2005, just eight years after the team's first-ever game. He will finish his tenure with a 95-57 record, five straight bowl appearances and two consecutive bowl victories.
But Leavitt's hard-charging personality -- he was known for sprinting onto the field, head-butting players in their helmets and yelling himself hoarse -- also began to wear thin on many around the program. There's a reason why he had great trouble filling open coaching vacancies, including his defensive coordinator position, this offseason. Leavitt had built the reputation of being very difficult to work with, demanding his assistants work long hours that seemed extreme even by workaholic coaching standards.
And while Leavitt's emotional, fiery attitude got his team pumped up for big games, the Bulls seemed to rise and fall on emotion. They could come out sky-high one week and completely flat the next week. In the past three seasons, the team started out the nonconference schedule undefeated and broke into the Top 25 -- rising as high as No. 2 in 2007 -- only to crash back to earth in Big East play.
The team never finished with fewer than three conference losses and was just 5-9 in the Big East the past two years. Some believed that Leavitt worked the players too hard during the season, with long, two-plus hour practices that may have led to fatigue and those midseason swoons. Leavitt had talked this year about dialing things back, but he also boasted about putting the players through physical, full-contact practices the week before the Florida State game.
There was a general feeling around the program that Leavitt had gotten South Florida to respectability, but that he would never be able to take the program to the next level. This investigation, then, offered the school a way out. Leavitt just finished the second year of a long-term contract that pays him $1.6 million a year, making him the second-highest paid coach in the Big East. The Bulls are not flush with cash as an athletic department, and buying out the rest of Leavitt's deal -- which runs through 2014 -- would have been cost-prohibitive.
And so the school will say it's firing Leavitt with cause to avoid paying the entire contract. Thus ends the tenure of the only football coach South Florida has ever known.