Tony Franklin honestly thought Middle Tennessee was going to be his last stop.
After working three different offensive coordinator jobs in three years, Franklin was ready to settle down and Middle Tennessee, which was near both his parents and his in-laws and seemed like the right fit.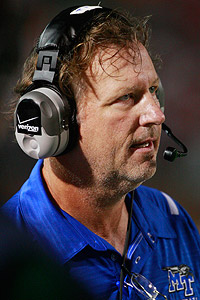 AP Photo/Dave Martin
Louisiana Tech's Tony Franklin is in his fourth offensive coordinator position in four years.But earlier this month, Franklin got a call from Sonny Dykes, an old friend he'd worked with at Kentucky. Dykes had been named the head coach at Louisiana Tech and wanted Franklin to be his offensive coordinator.
A fourth job in four years.
Franklin didn't want to be known as a guy with happy feet, but he also couldn't pass up teaming his offensive style with Dykes, who has been lauded as a spread offense genius.
"It's always a good thing when your boss believes in what you believe in and you're not always having to convince somebody," Franklin said. "That's a huge advantage on my part. It's the first time I've probably done this where the boss believes in the same stuff that I do."
Franklin has been credited with turning both Troy and Middle Tennessee's programs around with his wide open offensive style. He said he thought he could have performed a similar makeover at Auburn if he'd been given more than half a season, but he was fired when pressure started to mount on head coach Tommy Tubberville.
Last year, Franklin's offense helped Middle Tennessee to a 10-win season, the first 10-win season by any team in the Sun Belt Conference. The Blue Raiders total offense ranked 27th in the country with 421.69 yards per game after ranking 70th the year before. Quarterback Dwight Dasher, who was a part-time player when Franklin arrived, finished 2009 ranked seventh in the country in total offense with 303.31 yards per game.
"Dwight was a great players, but he was a guy that sat on the bench the year before I got there, so it wasn't just like he was lights out before we came," Franklin said. "He did some good stuff and we were able to work well together. Part of being a good coach is trying to figure out what your guys can do and adjust the offense to them rather than the other way around."
Franklin inherits a Louisiana Tech offense that was a lot like Middle Tennessee's was when he got there. He's got a few guys to choose from at quarterback and several players who played because of injuries to starters last year. However, he loses running back Daniel Porter and tight end Dennis Morris, who provided the bulk of the offense for the Bulldogs a year ago.
Franklin said one of the fun things about working in the Sun Belt, especially for Troy, was getting to match wits against coordinators from schools such as Georgia and Florida. Working in the WAC, one of the most offensive conferences in the country, Franklin said he's excited to match offensive wits for conference wins.
Franklin's never coached in a conference that played in the Western part of the country. Almost all of the places he'll travel this year will be new.
It's a fresh start for him and Louisiana Tech and relationship that he hopes will last more than a year.
"We would like this to be a place that we stay," said Franklin, who's recruiting his daughter to transfer from Troy to Louisiana Tech. "My wife is excited about being here. We hope to come down here and make this thing something we can be proud of for a long time. It takes time to do that and that's what we want."