Middle Tennessee senior quarterback Dwight Dasher burst onto the national scene last season by leading the Blue Raiders to a 10-3 season and a win in the New Orleans Bowl.
Dasher, who had never been a fulltime starter, thrived under first-year offensive coordinator Tony Franklin and finished seventh in the country in total offense. He led the Blue Raiders in both passing and rushing and was second on the team in scoring.
But with Franklin gone to Louisiana Tech, Dasher must take what he learned last year and apply it to new offensive coordinator Mike Shultz's system.
Dasher took a couple minutes to answer a few questions about Franklin, his senior season, and moving forward.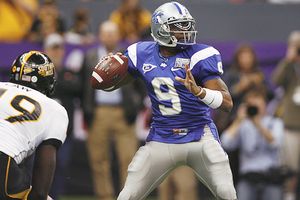 Aaron M. Sprecher/Icon SMI
Middle Tennessee quarterback Dwight Dasher will be adjusting to a new offensive coordinator this offseason.
How do you feel about coach Franklin leaving?
Dwight Dasher: He had to do what he had to do. No one's mad about it. Coach Franklin had to do what he had to do at the time and I've still got a lot of respect for him.
How much of what coach Franklin taught you last year do you continue to use especially with the amount of success you had?
DD: It's a lot of adjustment with a new coach because he's trying to do some more things. But I'm still going to use what coach Franklin taught me to do. I'm confident and like I said, he was a good coach. He taught me really the main thing about being a quarterback. So, I'm going to still stick with that.
How hard has it been for you learning under three offensive coordinators in three years?
DD: It's kind of difficult. It's just a lot of things. Each coach wants to do different things and it's just a lot of adjustments. I'm just going to work through it.
So what did you do in the offseason when coach Franklin was gone and you were waiting to hear about another coordinator?
DD: I was just working out. Just going out there and doing the drills that coach Franklin taught me. Working on my footwork. Just keeping everything in place.
Now that you're the cemented starter, what do you need to do this spring to have an even better season that last year?
DD: Everybody trusts me now and I'm just out there giving my all. Everybody looks up to me. I'm making sure everybody's doing their job. We've all been working hard building relationships on the field this offseason.
Are you working on a certain part of you game?
DD: I'm trying to get better each and every day and every day I want to learn something new. Hopefully someone teaches me something new every day that I wake up.
I know you were unhappy with the amount of interceptions you had last year. Is that something you've been thinking about?
DD: I'm trying to work on my passing and keep turnovers out of sight. I turned the ball over a lot last year, but I'm not trying to do that this year. It comes with experience. Like I said, you learn something new every day. That was a mental thing. Hopefully this year it won't be the same.
For you individually, was last year better than what you thought it would be or about what you thought it would be? What's your assessment of your play last year?
DD: Everything was good about last year especially coming out with a 10-3 record. After we lost to Mississippi State, everyone said we weren't going to lose anymore. Everybody got tired of losing. The biggest game that we lost last year was Troy and I still think about that one. Now, we're looking at this year and to beat them. I'm trying to beat everybody, but I want to beat them the most.
Is that because that's what standing in the way of you guys and a conference title? The one thing you didn't get last year.
DD: Yes, ma'am.
So with a new offensive coordinator, how different do you think your role in this offense is going to look as opposed to last year?
DD: I don't think it's going to change too much. We're still doing the same thing, just throwing in some new stuff. I've just got to adjust to that and adjust to [coach Schultz]. We're doing that. We'll get those vibes from each other. He's teaching me something new, I'm learning, and hopefully it's going to be a good thing.