Utah State running back Robert Turbin is taking a big step in his recovery today -- he's going to jog.
Turbin, who tore his ACL during offseason workouts six weeks ago, will lightly jog on the treadmill at the bottom of Utah State's HydroWorx pool in hopes of regaining strength and range of motion in his leg and getting his quad muscle to begin firing again.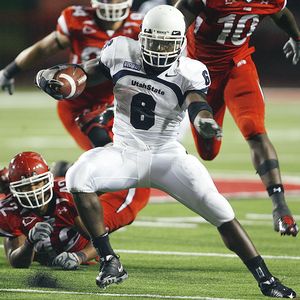 AP Photo/Steve C. Wilson
Utah State running back Robert Turbin is taking his rehab slow.
"I don't want to rush anything, but to hear that I can start jogging is good news," said Turbin, Utah State's leading rusher last season. "This is the best it's ever felt. The swelling is down. I walk just fine. I feel good."
The thought of running is a little daunting, though. It was a simple sprint in the Aggies indoor facility that caused Turbin's injury in the first place. One slight misstep turned his knee awkwardly and snapped his ACL. The PCL, MCL and cartilage remained intact. However, it forced surgery and likely will cause Turbin to miss the 2010 season.
"It was just a freak accident," Turbin said.
When Turbin first suffered the injury, doctors told him that he'd probably miss the 2010 season. Although he's progressed well these first six weeks and nearly has his range of motion completely back, he's trying to take his rehab slowly.
"[Doctors] understood that as a player I wanted to do everything I could to be back as soon as possible and get back on the field and play again, but they kind of felt like that's not always the best decision," Turbin said. "So, they expect me to be out this season, but if I'm good enough and healthy enough and I feel good enough, I can come back and play this season. They're going to do everything that they can to get me back on the field as soon as possible and they've done a good job so far."
The injury has curtailed the training regimen Turbin wanted to execute this offseason. His focus was to work on his endurance and stamina as well as increase his long distance running. Now, he said, his focus is being able to lock out his leg when he walks.
"There were things that I wanted to do this offseason as far as training to better myself as a football player and some of those things, obviously, I'm not going to be able to do," Turbin said. "If I sat, I'd be able to train exactly the way I wanted and then some because I'll even have extra time to do even more training than I would if I were getting ready to play this fall. So, the only part of me that wants to sit out is to be able to train exactly the way I wanted to train."
Utah State coach Gary Andersen said he would leave the decision in Turbin's hands later this summer, but he agreed that Turbin would have more time to accomplish his goals if he waited until he was 100 percent before coming back. Should Turbin miss the season, he will be eligible for a medical redshirt and have two years remaining to better his 1,296 rushing yards and 13 touchdowns he had this past season.
Andersen said the Aggies don't have a running back that can do everything Turbin did, but that this spring will be important in finding the right combination among Michael Smith, Derrvin Speight and Kerwynn Williams to put on the field in 2010.
"I think it will be a committee situation, I really do because our backs are very different," Andersen said. "The thing that Robert brought to the table was he caught the ball very well. He was a very good zone runner, he was a physical runner and he was also a tremendous pass protector. I can't say that another back we have has all of those areas where he's such a quality player, but they'll work at it."
Turbin has been working with the other running backs, sitting in on meetings, watching drills and encouraging the teammates that might take his place. Turbin is disappointed that he's not on the filed, but he's also has made peace with the prospect of not playing this year.
"I think initially I didn't know how to approach tearing my ACL and the fact of how I did it at the same time. It was frustrating," Turbin said. "I was running straight and all of a sudden there goes my ACL. It was frustrating at first, but I'm a pretty patient guy and I always have been. Now it's not as frustrating anymore. I'm fine with playing this season or not. I'm just taking it one day at a time."