TAMPA, Fla. -- Skip Holtz has finally emptied the moving boxes in his office.
Now he has to find some time to actually organize the contents of those cardboard carriers instead of just throwing old playbook binders on whatever shelf space was available. Framed pictures still sit on the floor, leaning against walls and bookcases. And those boxes? They're empty, but they haven't managed to leave the office yet.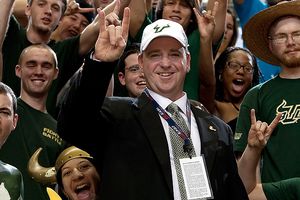 J. Meric/Getty Images
New South Florida coach Skip Holtz has gone out of his way to accommodate both players and media alike since arriving in Tampa.Interior decorating must wait for Holtz, who hasn't had many spare minutes since being named South Florida's second-ever head coach Jan. 14. He had to quickly assemble and retain a recruiting class, charm the local media and boosters and learn something about the guys he'd be coaching. Spring practice is now in full swing.
So unpacking remains a low priority. But Holtz has already handled perhaps the toughest transition he'll face.
The former East Carolina coach arrived in Tampa amid a cloud of controversy, taking the job a week after the school fired Jim Leavitt following an investigation into accusations he grabbed and choked walk-on Joel Miller at halftime of a late-season game. Several players were interviewed for the university's report into the incident, with some supporting Leavitt's side and others saying he did assault Miller.
Add in the fact that Leavitt was the only coach South Florida has ever known, and the potential for a divided locker room or for players to resist a new coach seemed ripe.
It's telling, then, that no players have left or transferred since Holtz took over. The attitude around the team and the entire South Florida community appears to be one of unison and enthusiasm.
"Change is different for everybody," Holtz says. "Some people are comfortable with change and some are not. But I don't feel like we had anybody here who didn't want to get on board because of everything that transpired here."
To be sure, the team played a large role in that. Quarterback B.J. Daniels said the players held several closed-door meetings before Holtz was hired, where they talked about staying together no matter who the next coach would be.
Still, Holtz knew the players would be anxious to hear from him, which is why he told athletic director Doug Woolard that he needed to address team as soon as possible after the hiring. Woolard acknowledges that "it was probably not an easy thing" for Holtz to do, and Holtz offered no easy solutions.
"I didn't have any, 'Hey, everything is going to be OK' type of talk with them," Holtz said. "It was all about where we're going. I told them, 'We've got two choices. We can be negative and mope, groan, gripe and complain. Or we can look forward, be positive, upbeat and energetic and make some decisions to be good.'"
After that, Holtz had to hit the road for recruiting. But during the week of signing day, he set aside 10 minutes to meet with each player individually over the course of three days. The players appreciated that personal touch.
"He has an open-door policy, and the way he talks to you makes you feel better as a person," running back Mo Plancher said.
Woolard says he didn't go looking for someone with great PR skills to replace Leavitt, who often acted like he who was late for a flight during his media sessions. But Woolard could have scarcely found someone better at changing the conversation than Holtz. He is, after all, the son of Lou Holtz, one of the best motivational speakers in coaching history. And his first job in coaching came under another great communicator, Florida State's Bobby Bowden.
Holtz's people skills have been on display ever since he came to Tampa. He has filled his schedule with nearly nonstop appearances in the community. Every day the Bulls practice, he blocks out an hour in his office for any reporter who wants to come by and chat, in addition to talking after practice. South Florida has marketed his personality, with billboards around town featuring his picture and the slogan, "a Holtz new era."
Ultimately, though, his popularity will stem from how much he wins on the field, not whether he wins the news conferences. It's not lost on the Bulls that Holtz is coming off two straight Conference USA championships, while South Florida has never lost fewer than three league games in a season.
"We want to get over the hump we've been stuck on the last couple of years," senior defensive end Craig Marshall said. "We're ready to try whoever can get us there."
This could be the perfect marriage of coach and opportunity. At his last two stops, Connecticut and East Carolina, Holtz says people had to work to find Storrs and Greenville. Prospects and coaches routinely drop by South Florida, which is located in one of the most fertile recruiting areas in the country. The school is in a major media market, boasts a rapidly growing alumni base and has facility upgrades on the way.
"We feel like this is a place that's ready to explode, if we do a good job recruiting and coaching and teaching," defensive coordinator Mark Snyder said.
It's up to the second coach in Bulls history to build on what the first one established. Holtz has not spoken to Leavitt since taking the job because of the continuing controversy (Leavitt has filed a lawsuit against the school). He often says he hates the situation that led him to South Florida, but he loves the fact that he's there.
Imagine how comfortable he'll feel when his office is organized.